Amazon Makes a Risky Bet on Woody Allen's Tarnished Prestige
Will a viewer boost for the controversy-prone director's new project be worth the potential damage to the Internet giant's reputation?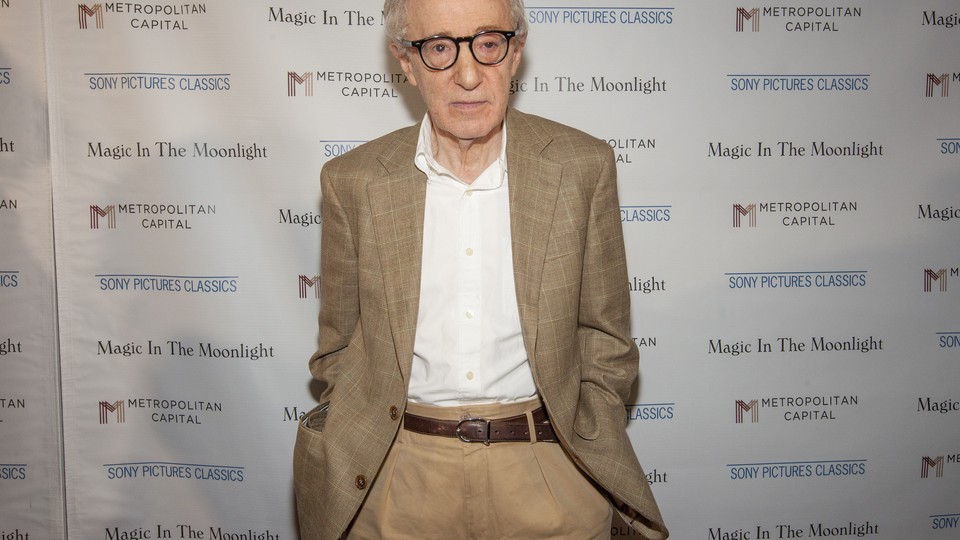 The announcement of Woody Allen's new deal to create an untitled television show (his first in a 50-year career as a writer/director) for Amazon might have come as a surprise, but in context, it's just the latest, albeit most shocking, development in the increasingly cutthroat world of streaming television. Granted, Allen breaking from the one-film-per-year formula he's faithfully observed since the '80s is both unexpected and another sign that television's reputation as an art form continues to swell. But on the face of it, the brunt of the risk is borne by the Internet giant, which is throwing its burgeoning "Amazon Studios" brand in with someone who just last year had to address his adopted daughter Dylan Farrow's allegations that he sexually abused her as a child.
Allen is never going to stop working, and while the publicity storm over Farrow's allegations has the potential to reawaken, it's clearly made no dent in the filmmaker's ambitions. His latest effort, Magic in the Moonlight, was released last summer to negative reviews and a tepid $10.5 million domestic box office, but that didn't stop Allen's next project from being greenlit. Backed by his usual indie European investors, the film (also untitled) stars Joaquin Phoenix and Emma Stone among others, and tells the particularly Allenesque story of a philosophy professor who embarks upon a relationship with a college student.
Amazon's motive in signing Allen up for his first TV series is a smart one—as online studios further fracture the TV landscape, the value of a well-known brand is crucial. Amazon Instant's biggest problem is that people already pay for Netflix, and maybe Hulu—making them less willing to chip in the extra bucks for another dedicated streaming service. So far Amazon has followed the same playbook as Netflix, mixing a smart development slate with some big names. Projects like House of Cards (with David Fincher and Kevin Spacey) and popular revivals like Arrested Development draw people in, but companies can keep them interested with original, acclaimed content like Orange is the New Black. Yahoo is currently trying the same thing by picking up Community for a sixth season, and Hulu allied with Late Night's Seth Meyers for his original series The Awesomes.
After a couple of "pilot seasons," Amazon finally has its first prestige hit—the wonderful comedy/drama Transparent, which captured two Golden Globes last Sunday and saw its creator Jill Solloway and star Jeffrey Tambor give moving, deferential speeches about the transgender-rights movement. The company has also made inroads on the established brand pillar, giving pilot orders to The X-Files' Chris Carter, Lost's Carlton Cuse, and directors like Whit Stillman and Steven Soderbergh (Soderbergh's Red Oaks has been picked up to series). But, for better or worse, the celebrity status of Woody Allen (a four-time Academy Award winner) far eclipses any of them, and unsurprisingly his untitled project will bypass Amazon's usual process that lets viewers help choose which pilots will be ordered to series.
Will the viewer boost outweigh whatever hit Amazon's prestige might take? It's hard to say. Thinkpieces will undoubtedly flood the Internet, but despite the chilling nature of Dylan Farrow's public letter, when actors who worked with Allen were asked about it, they mostly referred to the matter as a complicated family issue too sensitive to wade into, and the furor eventually died down. Other networks have worked with unappealing creative personnel without really harming their brand—FX gave accused serial domestic abuser Charlie Sheen 100 episodes of Anger Management in 2012, but remains best-known for highly praised original programming like Louie, The Americans and Justified.
The even bigger question is whether Allen will produce anything remotely watchable. He won an Oscar just three years ago for writing the breezy Midnight in Paris, and within the past decade Blue Jasmine and Vicky Christina Barcelona have both won high praise for their performers. But Allen's output has been undoubtedly scattershot since the mid-'90s, with a series of duds usually surrounding every mild-to-moderate hit.
This surprise foray into television seemingly echoes Allen's recent penchant for inserting himself into unfamiliar territory. After years producing mostly New York-set comedies and dramas, he moved to London for the Dostoyevskyian thriller Match Point, which, while nicely photographed, seemed to imply that Londoners mostly spent their time in rooftop cafes overlooking the Thames or at stately countryside estates. His other European jaunts—recent settings have included Rome, Paris, Barcelona and the French Riviera—have clung to that surface-level approach, featuring lots of pretty location shoots but no dimensionality beyond that.
Will Allen grapple with television in a similarly glancing way? He came up writing for television in the 1950s, working with Sid Caesar and Ed Sullivan among others, before breaking into stand-up comedy. Needless to say, the landscape is a little different now, and it's hard to tell if Allen's somewhat lackadaisical approach to plotting would really suit him to a 13-episode story arc. The director was typically self-effacing in his brief statement on the series pickup, saying, "I don't know how I got into this. I have no ideas and I'm not sure where to begin. My guess is that [Amazon Studios exec] Roy Price will regret this." Indeed he might—whether deliberately or not, Allen still has the ability to attract attention, sometimes for all the wrong reasons.