Why Is Disney Trying So Hard to Dilute Its Brand?
News of a Beauty and the Beast remake indicates that the corporation is less and less worried about approving unoriginal products as long as they're guaranteed moneymakers.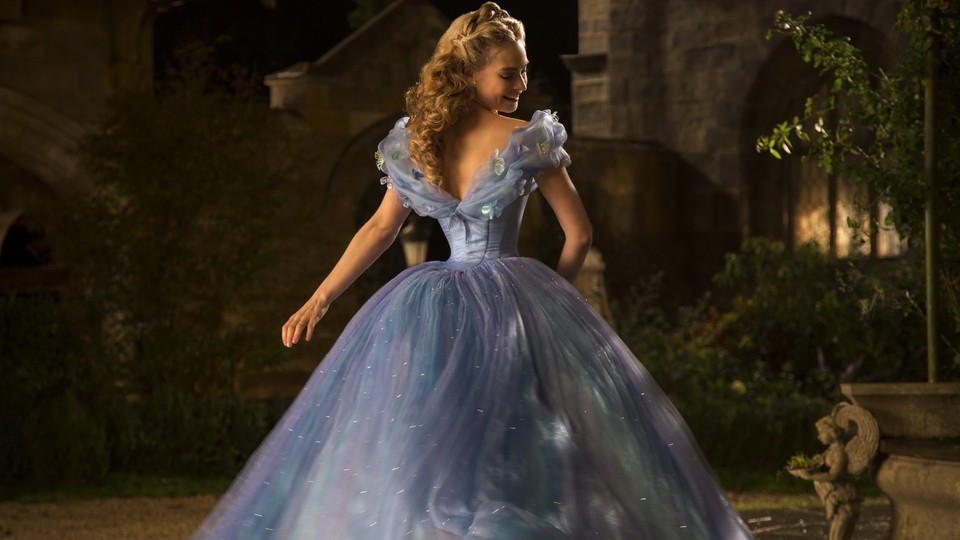 On Monday, actress and feminist icon du jour Emma Watson announced via her Facebook page that she's committed to starring as Belle in the upcoming live-action Disney adaptation of Beauty and the Beast. Yes, that Belle, in that Beauty and the Beast, the film Disney made in 1991. The news comes just before the March release of Disney's live-action Cinderella (directed by Kenneth Branagh) and The Jungle Book (directed by Jon Favreau, due in 2016). All are timeless tales based on stories much older than the Disney canon, but these films are also explicitly remakes, using the same character names that belonged to their animated forbears. In this golden age of franchises, every studio is digging through its greatest hits for material—like Universal's monster movies or Warner Brothers' Harry Potter license. But Disney's move somehow feels more shocking—it's an admission that it can no longer keep such a tight rein on its brand.
A crucial part of the Disney magic has always been its total control over "the vault," its 80-year-old catalog of animated features that are only released for sale for a limited time before becoming artificially scarce again. This policy maintains movies' already-enshrined "classic" status by ensuring that, should someone want to buy Beauty and the Beast on DVD or Blu-Ray, they'd better have $60 to pony up for a used copy. The vault has lost some of its significance as more and more viewers stream movies at home, and last year Disney struck an exclusive deal with Netflix for the rights to some of its library, but even the classic films included there flit in and out of availability.
So why the live-action remake binge? It's not that Disney has given up on animation, although it's refocused its attention from hand-drawn work to computer-animated hits like Frozen and Big Hero 6—a reflection of industry trends more than anything else. Rather, the move is a focused expansion into territory Disney has cautiously explored for years. In 2010, the studio released The Sorcerer's Apprentice, a big-budget fantasy-adventure film vaguely inspired by Fantasia's famous sequence. It bombed, partly because it was hard to tell if it was being pitched at kids or teenagers, and partly because its source material was barely identifiable beyond the film's title.
Disney has made similar mistakes in the past, mistakes that usually fall along the same lines: abandoning what works. After dominating the animated film sphere in the '90s with its renaissance of sorts, the studio started producing more niche non-musicals like Atlantis: The Lost Empire and Treasure Planet, both of which which tanked, and doomed the tradition of hand-drawn animation. Now Disney has bounced back with the old is new again approach: The Rapunzel retelling Tangled and the Hans Christian Andersen-inspired Frozen both took the classic formula of an established tale, an exotic locale, and some songs, and turned them into smash hits.
The live-action remakes offer a safe road, too, and the Tim Burton remake of Alice in Wonderland and last year's Maleficent had much in common. Neither was well-reviewed, but both earned staggering grosses worldwide by leaning in to the recognizable: big stars (Johnny Depp and Angelina Jolie), the imagery of beloved Disney classics, and, of course, a juicy CGI budget. Both films had enough action to expand beyond the constricting label of children's entertainment without entirely leaving that territory behind (both were rated PG, an increasing rarity among big-ticket blockbusters).
But Disney's live-action approach is more than easy money—it's a way to expand demographics without having to worry too much about quality. Both Disney and its subsidiary Pixar make plenty of children's films that adults can enjoy, but usually to pull that off the movies actually have to be good (for example, Up and Wreck-It Ralph). Remakes allow the studio to avoid that problem. A Cinderella reboot that features Cate Blanchett vamping it up as the Wicked Stepmother can get every generation on board, kids or not. Disney was clearly careful to produce something that would satisfy a wide age range, even parting with the film's original director Mark Romanek because he had too dark a vision in mind.
The Jungle Book will have all the elements that made the original animated work such a favorite—the song "The Bare Necessities," talking animal friends—but it also has Idris Elba voicing Shere Khan and Bill Murray as Baloo, and seasoned action director Favreau (Iron Man, Cowboys and Aliens) at the helm. Beauty and the Beast, which will be directed by Twilight: Breaking Dawn's Bill Condon, can be pitched at the kids who grew up with Emma Watson playing Hermione Granger, the grown-ups who saw Disney's original take in theaters 24 years ago, and everyone else in between. Even Watson had to acknowledge the cross-generational appeal, saying on her Facebook page, "It was such a big part of my growing up, it almost feels surreal that I'll get to dance to 'Be Our Guest.'" She has the right idea, but the wrong choice of word: As surreal as the movie industry may sometimes seem, the reality is much more calculated.