Johnny Depp's Strange Has Become Ordinary
For more than a decade the actor has seemed reluctant to play an actual human being, but his shtick is starting to feel like parody.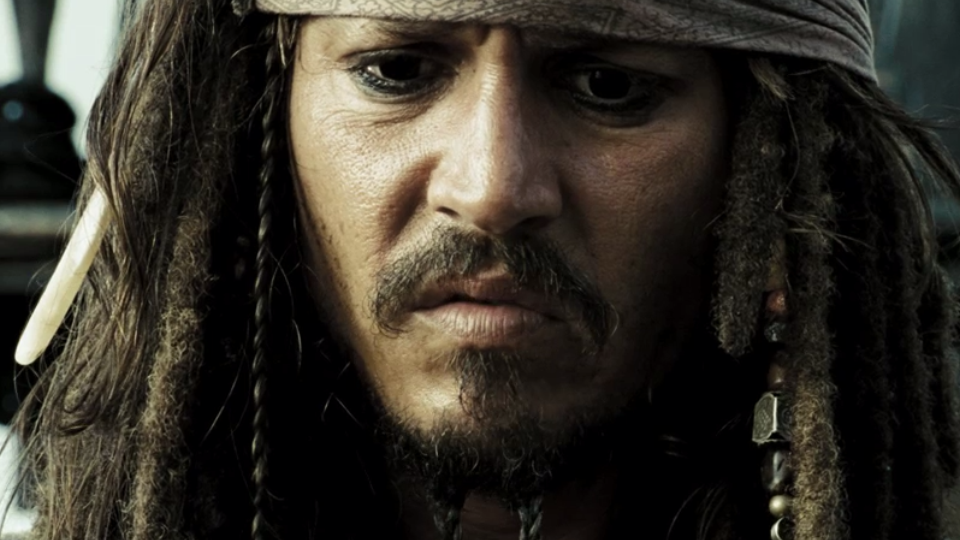 If there were a recipe for creating a Johnny Depp role, it would read as follows: Add one part heavy makeup, two parts hammy accent, and one vanity cane (or other old-timey gentleman's prop). Combine with a slightly altered gait and cartoonish facial expressions. Season with facial hair (to taste).
The latest example is Depp's new movie Mortdecai, which comes out January 23 and stars the 51-year-old as Charlie Mortdecai, a wealthy English art dealer who searches for a stolen painting containing the code to a Nazi bank account. Mortdecai has the all the ingredients of the Johnny Depp recipe: the British accent (check), the comically twirled mustache (check), the exaggerated hand gestures (check) and yes, the cane (check). Based on the trailer, it looks like Depp is trying to channel some sort of strange hybrid of Inspector Clouseau and Salvador Dali.
It isn't unusual for actors to regurgitate their signature shtick so many times that it starts to resemble a Saturday Night Live skit more than an actual movie. Look no further than comedian Eddie Murphy, who was praised for creating eccentric characters in Coming to America and The Nutty Professor but panned for missing a similar mark in The Adventures of Pluto Nash and Norbit. Adam Sandler's outlandish and legendary 1990s title characters in Happy Gilmore and Billy Madison were followed years later by similarly outlandish but not-so-legendary roles in Jack and Jill and You Don't Mess With The Zohan.
Despite the precedent, it seemed unlikely that Depp would fall into the trap. After all, the three-time Academy Award-nominated actor has typically been considered someone who subverts expectations rather than reinforcing them.
This reputation was first forged in 1990, when the then-27-year-old traded his teen idol image in exchange for what became a decades-long artistic partnership with Tim Burton. Working with the acclaimed director, Depp transformed his youthful looks to fit characters like the Frankenstein-ish Edward Scissorhands, the eccentric and macabre Ed Wood, Sleepy Hollow's brooding Ichabod Crane and London's demon barber Sweeney Todd. When he wasn't appearing in Burton's movies, Depp won critical praise for roles in numerous other films including What's Eating Gilbert Grape and Finding Neverland—the latter earning him an Academy Award nomination in 2004 for his portrayal of J.M. Barrie, the Scottish playwright who created Peter Pan.
Ironically, Depp's current struggles with playing a specific type of role may be the result of his greatest success, his performance as Captain Jack Sparrow in Disney's Pirates of the Caribbean: The Curse of the Black Pearl. In 2003, Time Out London summarized Depp's Academy Award-nominated performance in the following way.
Depp invests this overfed, action-tractioned swashbuckler with a voluptuous wit and spry spontaneity it surely doesn't deserve. Resplendent in beaded dreadlocks and kohl, he plays Captain Jack Sparrow as a purring East End dandy ... When the actor's on screen he singlehandedly makes the film not only bearable but—dare we say it?—recommendable.
Since The Curse of the Black Pearl, Depp's "spontaneity" has all but evaporated. Over the past decade the series has repeated the same formula in three successive sequels, each of which has relied on squeezing every ounce of life out of Captain Jack, then filling him back up and doing it again.
When he hasn't been playing the beloved pirate, Depp has spent much of his time trying (and failing) to recreate the magic of the Captain in other roles. This was perhaps most evident in The Lone Ranger, which saw Depp team up with Pirates director Gore Verbinski and producer Jerry Bruckheimer, and don whiteface, a headdress, and a jilted speech pattern to play the Indian chief Tonto. "They're putting Pirates of the Caribbean in a saddle and pretending we won't notice," wrote film critic Peter Travers in his review for Rolling Stone.
Since Sweeney Todd in 2007, Depp has enjoyed virtually no critical success. What's worse, he's overplayed his shtick so many times that it's become almost like parody. In 2010's Alice in Wonderland, Depp's Mad Hatter had all the components of characters like Edward Scissorhands, Sweeney Todd, and Jack Sparrow—heavy makeup, lipstick, eccentric hair, a British accent, stylized gestures—with none of the substance. As Manohla Dargis put it in her review of the film for The New York Times, "Mr. Depp doesn't have much to do, which he proves as he wildly flirts with the camera."
With similarly "little to do" in subsequent roles, Depp has, ironically, been doing way too much. Nowhere was this more evident than in his last collaboration with Burton, 2012's Dark Shadows, in which Depp played Barnabas Collins, an 18th century vampire who returns to his childhood home during the 1970s. Writing about Dark Shadows for The Atlantic, Christopher Orr aptly summarized the Johnny Depp fatigue as "weariness amid the weirdness."
It's not that Depp has simply starred in bad movies of late (a given for any actor who's been around for more than 20 years). It's that he's become content to serve up the same character with slight tweaks (a mustache here, orange hair there) again and again.
Part of the reason for Depp's success as Jack Sparrow was both that the role was unique and unexpected and that Captain Jack was the only quirky character in the film. Much of the hilarity of The Curse of the Black Pearl is that both Depp and Captain Jack seem to be trolling the rest of Disney's painfully earnest cast of characters. Over the last few years, Depp's characters have seemingly been jockeying for position as the quirkiest person in fictional worlds that are already stuffed to the brim with talking rabbits, witches, Davey Joneses, and Lone Rangers. When he's opted for more traditional fare in films like The Tourist and Transcendence, both the movies and Depp have fallen flat (The Tourist was one of the worst reviewed movies of 2010 and Transcendence was short-listed for a Golden Raspberry Award for 2014's Worst Picture of the Year).
Unfortunately, Depp seems intent on continuing to beat the same old drum for the foreseeable future: Next up is a sequel to Alice in Wonderland in 2016, followed by the fifth (yes, the fifth) installment of Pirates of The Caribbean the following year.