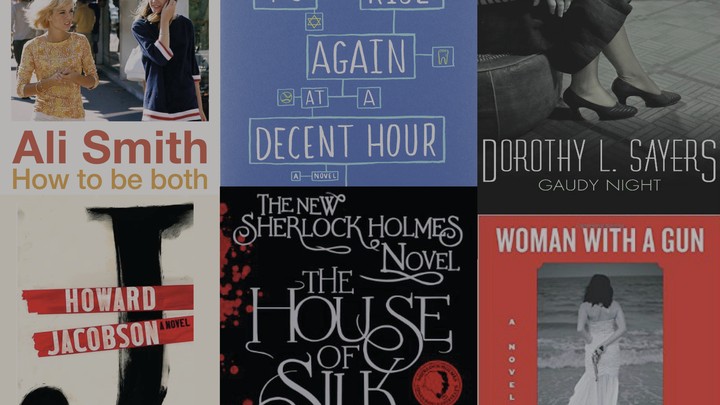 We're getting a head start in the New Year here at 1book140 by selecting our February read a month early. We're also catching up from the holiday hustle by voting on our January book now.
The theme for January is mystery—from cozies to warm your bones to thrillers that freeze the marrow. In February, we'll turn our attention to the Booker Prize shortlist.
As always, make your selections from the list below. Voting will close Monday at noon Eastern time.
January
The House of Silk by Anthony Horowitz
Billed as the first official Sherlock Holmes novel since 1927 (though in 2011, Holmes expert Leslie S. Klinger told the National Post that "It's just false that this is the first novel authorized by the estate"), The House of Silk pulls from the files of Doctor John H. Watson to tell a story "too shocking to reveal until now." Ian Sansom at The Guardian writes, "The characters are, as Conan Doyle himself would have it, as close to cliché as good writing allows… Mr. Corsairs, the troubled dealer in fine art, who is being watched by a mysterious stranger in a flat cap with a 'livid scar on his right cheek.' Corsair's wife, the mysterious foreign adventuress… The dastardly Boston Irish gang… The creepy reverend who runs a home for boys… Dorothy L. Sayers understood the rules of the Holmesian game when she remarked that 'it must be played as solemnly as a county cricket match at Lord's: the slightest touch of extravagance or burlesque ruins the atmosphere.' Horowitz plays a perfectly straight bat. This is a no-shit Sherlock."
Missing Person by Patrick Modiano
A 1978 Prix Goncourt winner originally published in France as Rue des Boutique Obscures, Missing Person tells the story of Guy Roland, a private detective in search of his own past. A trail of fragile documentary evidence—photographs, diaries, newspaper clippings—leads him back into the clinging horrors of the Second World War. The author, Patrick Modiano, received the 2014 Nobel Prize in Literature, "for the art of memory with which he has evoked the most ungraspable human destinies and uncovered the life-world of the occupation." John Sturrock, of the Times Literary Supplement, once wrote that "Modiano's method is to sidle up to subjects of mystery and horror, indicating them without broaching them… He opens dark doors into the past out of a sunlit present."
Woman With a Gun by Phillip Margolin
Booklist called Woman With a Gun "hands down the best thing Margolin has written in years." Photographer Kathy Moran won a Pulitzer Prize for her portrait of Megan Cahill, the widow of millionaire Raymond Cahill. The photo shows Megan standing on the beach in her wedding dress, gazing out at the water, "a long-barreled six-shooter… held behind her back in her right hand, barrel down." Captivated by the photograph, writer Stacey Kim learns that Raymond Cahill was murdered on his wedding night, and while Megan was suspected of killing him with a six-shooter, the murder was never solved. Stacey sets out to discover what happened that night—but Kathy Moran, who may know the truth of the story, isn't talking.
Gaudy Night by Dorothy Sayers
In Gaudy Night—the tenth Lord Peter Wimsey mystery and the third starring his future wife, crime writer and former murder suspect Harriet Vane—a rash of nasty pranks and threatening letters highlights the dangerous undercurrents coursing through Harriet's alma mater, Shrewsbury College, Oxford. It's up to Harriet and Lord Peter to discover the culprits and expose their true motives. Randi Sørsdol, at the University of Bergen, called it the "first feminist mystery novel" for its focus on the struggles of ambitious, educated women in the 1930s.
The Brimstone Wedding by Barbara Vines
In The Brimstone Wedding, Ruth Rendell, writing as Barbara Vines, introduces us to Genevieve "Jenny" Warner, a nursing-home attendant who's cheating on her husband, and Stella Newline, an elderly woman who takes Jenny as her confidante. Stella's past, in some ways, mirrors Jenny's present. The New York Times described The Brimstone Wedding as "a dark, hypnotic story of romantic obsession," and Kirkus Reviews called it "A quiet but ultimately searing double portrait of two women's doomed affairs."
February
To Rise Again at a Decent Hour by Joshua Ferris
A misanthropic New York dentist in search of the person or persons unknown who've been setting up social media accounts in his name begins to suspect that his online persona is a better man than he is. To Rise Again at a Decent Hour is a darkly funny exploration of dentistry, mortality, and faith, which The New York Times calls "the first novel by Mr. Ferris that really lives up to the reputation he established too quickly."
The Narrow Road to the Deep North by Richard Flanagan
Richard Flanagan's father Archie, who died in 2013, was one of the last surviving Allied prisoners of war forced to build a railway between Thailand and Burma during the Second World War. The Narrow Road to the Deep North, which takes its title from a travelogue by the great Japanese haiku writer Bashu, tells the story of that railroad through the eyes of Dorrigo Evans, a young Australian surgeon whose memories of his brief affair with Amy, his uncle's wife, give him strength to survive the hell of the POW camp. After the war, Evans dutifully returns to his fiancée, but reintegration eludes him. "Through the decades following the war, he felt his spirit sleeping, and though he tried hard to rouse it with the shocks and dangers of consecutive and sometimes concurrent adulteries, outbursts, and acts of pointless compassion and reckless surgery, it did no good."
We Are All Completely Beside Ourselves by Karen Joy Fowler
Every unhappy family is, famously, unhappy in its own way, and Rosemary's family is no exception. Her brother is missing, her sister is too, and she won't talk about her parents. At 22, she's a student at the University of California, Davis, and her friendship with a suitably dramatic theater major is about to catalyze Rosemary's rediscovery of her past. It's impossible to say more without spoiling the book that Barbara Kingsolver calls "so readably juicy and surreptitiously smart, it deserves all the attention it can get."
J by Howard Jacobson
Set in a dystopian future with no clear memory of its past, J tells the story of Kevern, a woodworker, and Ailinn, who sells flowers in the marketplace. Their relationship shelters them from the mysterious brutality of their world, which has been stained by an event referred to only as "What Happened, If it Happened," but who wanted them to fall in love, and why? The Independent calls J "a snarling, effervescent, and ambitious philosophical work of fiction that poses unsettling questions about our sense of history, and our self-satisfied orthodoxies."
The Lives of Others by Neel Mukherjee
In The Lives of Others, Neel Mukherjee illustrates late-1960s India through the overlapping stories of the wealthy Ghosh family. Each generation lives on a separate floor of the house, their hierarchy mirroring that of Indian society. Purba, the widow of the patriarch's youngest son, ekes out a meager existence in a storage room on the ground level. Cross-eyed, dark-skinned Chhaya torments her "low-caste" sister-in-law. Supratik, the eldest grandson, is a communist enraged by his family's lifestyle and its effect on their servants and employees. Writing for The Guardian, A. S. Byatt called The Lives of Others "a very ambitious and very successful novel" that "terrifies and delights us simultaneously."
How to Be Both by Ali Smith
Winner of the Goldsmiths prize and the Costa novel award, How to Be Both tells the parallel stories of Georgia, known as George—a teenage girl mourning her mother's death in 1960s Britain—and Francesco, a 15th-century Italian artist. The stories can be read in either order, and which you start with may be determined by which copy of the book you buy—it's been printed in a double edition, one set beginning with Francesco, and the other beginning with George. The characters' stories are intertwined—George has seen Francesco's frescoes in Ferrara, and Francesco's ghost has seen George with her iPad, which he imagines as a "holy votive tablet." The Man Booker Prize describes it as "a fast-moving genre-bending conversation between forms, times, truths and fictions."
We want to hear what you think about this article. Submit a letter to the editor or write to letters@theatlantic.com.
Chia Evers
is a writer, editor, and researcher based in Cambridge, Massachusetts