VH1's Hindsight Binges on the Past
The network's newest original scripted series caters well to '90s obsessives but is weighed down by the conventions of the time-travel genre.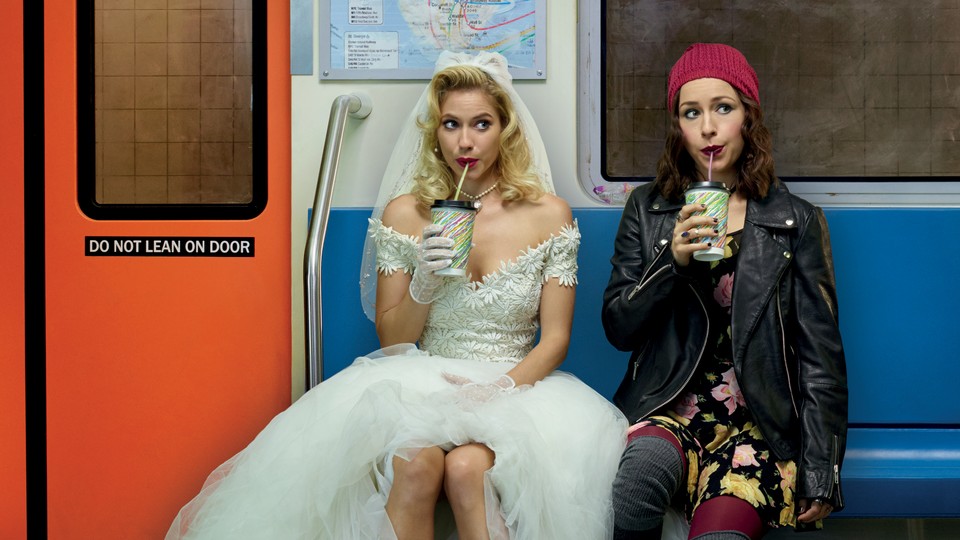 A once-divorced woman gets pre-second-wedding jitters and begins obsessively questioning her life choices. A mysterious bespectacled man she meets on the street randomly imparts a Buddhist proverb to her about time. Ominous music swells as she gets into an elevator that turns out to be a time-travel machine. And lo and behold, the woman wakes up 20 years earlier, possibly in the position to change her own destiny.
If this reminds you of a million movies you've seen before, it's supposed to. Everything about VH1's original scripted series Hindsight, which premieres tonight, is supposed to feel familiar. As the trailer for the show telegraphs quite clearly, familiar means fun.
Hindsight is a rom-com born out of the questions of "What if?" and "Remember when?" The main character, Becca, is a 40-something who, in the midst of a present-day crisis, inexplicably finds herself as a 23-year-old again (She's played by 32-year-old Laura Ramsey, perhaps best known for her role as Don Draper's Palm Springs fling Joy on Mad Men). It's 1995, Ace of Base is playing, and Becca's iPhone has been replaced with a pager. More importantly, she's no longer estranged from her erratic but lovable best friend Lolly (Sarah Goldberg), nor has she married her first smoking-hot Australian fiancee, which prompts her to think that maybe she's traveled back in time to make better choices in work, love, and life. Who hasn't ever wanted that?
Hackneyed plot aside for a moment, Hindsight is a fun, light-hearted watch whose first two episodes are already superior to a lot of current TV comedies. Ramsey and Goldberg shine as Becca and Lolly, and their friendship is fun, endearing, and a good vehicle for a bit of "modern female escapism" (even if their pairing isn't as raucously hilarious as the BFF-ship of Broad City's Ilana and Abbi). It's a show that, if the entire first season were to drop on Netflix, would make for great, lazy binge-watching material.
Now for the bad: In some ways, the time-traveling plot is the show's weakest point—a neat way to get back to the '90s, but also an unnecessarily cumbersome one. Watching characters grapple with or try to explain the frustrating implausibilities of time traveling is funny maybe the first time around, but it quickly gets old. And it's disappointing when the show resorts to the same grab-bag full of platitudinous one-liners that nearly all movies or shows about age-changing time travel inevitably lean on. Becca's quasi-deterministic ruminations on why this happened to her sometimes go on for too long, and the show has a penchant for exposition in the form of voiceovers or hackneyed plot devices like bathroom eavesdropping
Fortunately, Hindsight has just enough self-awareness to add a sobering degree of cynicism to a story that could otherwise get totally lost in the clouds. (As Lolly says to Becca, who wonders aloud if she's back in 1995 to stand up to her terrible boss: "Time travel? To fix your career? Snore. Would not watch that movie.") Since Hindsight is traveling such a well-worn narrative path, almost any departure from the expected, whether tonal or plot-related, feels refreshing. So far, it's unclear whether the show is interested in going beyond the time-travel-rom-com formula; hopefully it does.
Considering its network, Hindsight may just be content to have fun with '90s sentimentality laced with vaguely philosophical hypotheticals. Which is fine; VH1 already knows there's a solid audience for decades-of-recent-yore wistfulness, and in some ways, Hindsight can be seen as another attempt by VH1 to relive its own '90s "Music First" heydey. Nostalgia tends to operate and succeed by exploiting lowest-common-denominator cultural touchstones alongside the occasional hipper reference or two (Lolly jokes that the worst thing that ever happened to her was the cancellation of My So-Called Life). It's no wonder some critics have blamed this obsession with nostalgia for the death of newer culture.
But it seems unfair to overthink a simple show like Hindsight, even as it seeks to channel people's affinity for '90s jokes into an eventual love of the show itself (it just might work). After all, VH1 is the network that birthed the interminable I Love the [Insert Decade] series, the network that officially bills itself as a force that "delivers the ultimate mash-up of music, pop culture, and nostalgia for adults who still want to have fun." Nostalgia for adults who still want to have fun. The kind of fun mined from throwbacks, from basking in the eternal afterglow of music videos and moto jackets past.