The Symbiotic Relationship Between Movies and Books
The lists of best-selling books and top-grossing movies looked awfully similar in 2014.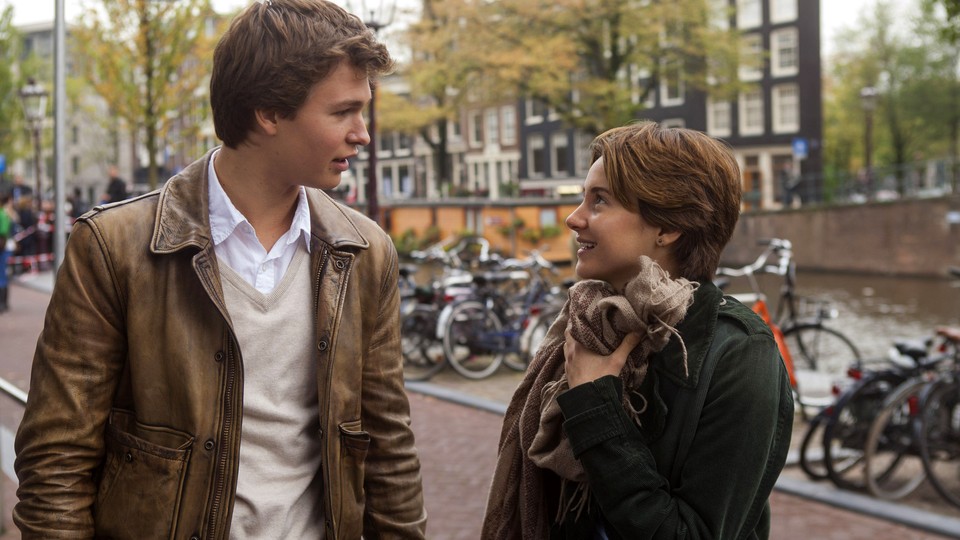 While it's hardly novel to suggest that Hollywood is out of ideas, 2014 hasn't done much to prove otherwise. Of the top 10 grossing films released last year, every single one was inspired by a pre-existing media property like a novel, a comic book, or—in two cases—a line of toys.
If fact, you'd have to go all the way to movie No. 15 (Interstellar) to find an original screenplay that wasn't a sequel, adaptation, reboot, or reimagining of an earlier story. Generous analyses can count The LEGO Movie as well, since it does take quite a lot of imagination to turn colored bricks into a 90-minute storyline. But that film was still based on something.
While movies have long relied on literature for some of their greatest celluloid accomplishments (Gone With The Wind, The Godfather, The Wizard of Oz, and on and on...) the relationship is actually more symbiotic than parasitic. After all, the list of best-selling books for 2014 reads almost like the showtimes board at your local cineplex. According to numbers released by Nielsen BookScan, all 10 of the top-selling print titles last year can attribute some of their boost in sales to their relationship with movies or television.
For starters, three of them are actually the same book: They're all just different editions of John Green's The Fault In Our Stars. In addition to the original 2012 hardcover and the 2014 trade paperback, a second paperback was released that was directly tied to the on-screen adaptation starring Shailene Woodley that grossed $124 million for Fox. (No. 23 for the year.)
Three more came from another Woodley vehicle: Veronica Roth's Divergent trilogy, which was published from 2011-2013, but debuted on the screen this year with the first of its four planned films. Fans obviously gobbled up the entire series in anticipation.
Book No. 7 was the widely popular Gone Girl, which was a huge best-seller on its own before coming one of the fall's most buzzed-about films. Then there was The Long Haul, the sixth book in the Diary of Wimpy Kid series, which is still going strong despite fizzling out as a movie series after three installments. (There are currently no plans for a fourth film.)
Then there's Killing Patton, the fourth edition of Bill O'Reilly's semi-historical assassination books. In addition to O'Reilly's nightly presence on national television, his previous three books (Killing Lincoln, Killing Kennedy, and Killing Jesus) have all been turned into made-for-TV movies.
Scan down the rest of Nielsen's best seller lists (and the rest of the box office top 100) and more crossovers abound. Another YA hit, If I Stay, jumped into the top selling e-books list after being adapted by Warner Brothers. Movie-author stalwarts Dan Brown, Nicholas Sparks, and John Grisham all made returns to shelves. Tie-ins to Disney's holiday smash Frozen were littered all over the book lists after the movie dominated early 2014. Tom Clancy's creation Jack Ryan made the leap to the screen (again), as did The Maze Runner, and Alexander and the Terrible, Horrible, No Good, Very Bad Day. Even The Great Gatsby, first published in 1925, found its way back to the top-selling fiction list in 2014 after Baz Luhrmann's most recent adaptation, at least the fourth attempt to translate the book for the silver screen. Expect 50 Shades of Grey and maybe even some James Bond classics to return to the lists in 2015.
Perhaps the only thing more reliable than the ability of films and books to help each other is the inspiration of real life. The true story of Louis Zamperini, which spent decades as unproduced film project before becoming a best-selling non-fiction book was then turned into a movie that's now fueling new book sales. You can't make this stuff up, so why bother?
Movies may get their best ideas from the book world (although it goes both ways), but they return the favor by creating very effective feature-length advertisements for reading. And the trade-off goes way beyond just paperbacks with movie star faces on them. The Fault in our Stars is so popular that it also vaulted Green's first book, Looking For Alaska, into the top ten, even though it was released nine years ago and hasn't been adapted into a film. Yet.