The Oscars Haven't Been This White in 17 Years
Today's nominations are a throwback to the year that Titanic swept the Dorothy Chandler Pavilion.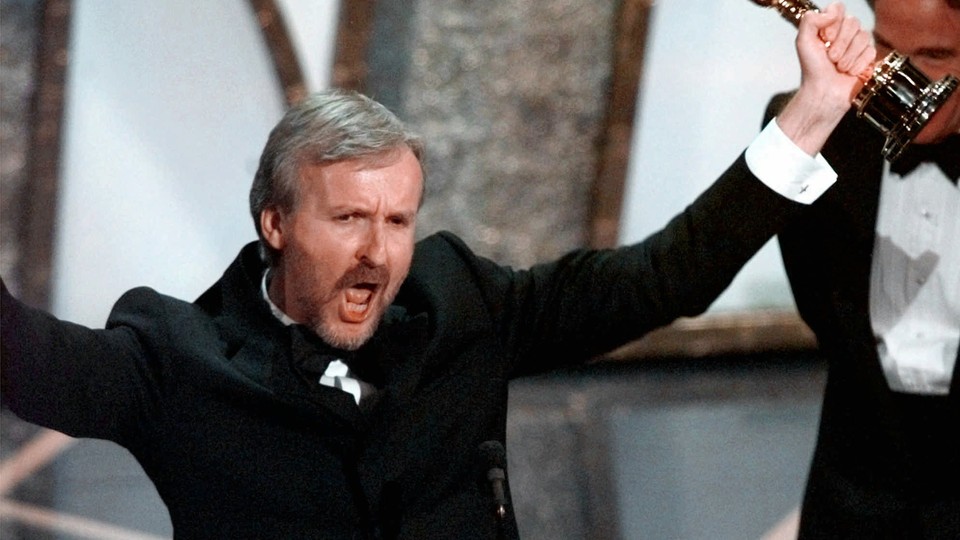 Today's Oscar nominations contained a host of snubs that have critics and commentators up in arms (as they do every year). But the optics of this year's slate are particularly egregious when you combine the surprising coolness towards the Martin Luther King Jr. biopic Selma—nominated for Best Picture but missing in the Director, Actor, and Screenplay categories—with the fact that all 20 acting nominees this year are white, the first time such a thing has happened since the Oscars honoring the films of 1997.*
The 1998 Academy Awards were dominated by James Cameron's blockbuster Titanic, along with several other box office hits that won critical favor, including As Good as It Gets, Boogie Nights, Good Will Hunting, and the British indie smash The Full Monty. One obvious "Oscar film" featuring people of color, Steven Spielberg's Amistad, was largely snubbed outside of a supporting actor nomination—for Anthony Hopkins. We expect the Academy Awards to ignore all kinds of great genre material; the 2015 list feels all the more galling because David Oyelowo's performance and Ava DuVernay's direction were not just extraordinarily good, but also very Oscar-friendly.
Another sad fact: This year's Oscars see five directors and 14 screenwriters nominated, all men. The last time that happened? The 1999 Oscars. Selma's DuVernay would have been the first African-American woman nominated in the Best Director category—the Oscars have nominated only four women total in their 87 years. Oyelowo was excluded from a crowded Best Actor group (Steve Carell, Bradley Cooper, Benedict Cumberbatch, Michael Keaton, Eddie Redmayne) that features four first-time nominees. You could easily have nominated five different candidates—say, Oyelowo, Timothy Spall in Mr. Turner, Jake Gyllenhaal in Nightcrawler, Ralph Fiennes in The Grand Budapest Hotel, and Chadwick Boseman in Get On Up—and still boast a powerhouse field.
Recently, the Academy of Motion Pictures Arts and Sciences has viewed this as the solution: If well-liked movies are getting snubbed by traditional voters, try expanding the field. The Best Picture rebuff of The Dark Knight spurred the expansion of the Best Picture field to 10 nominees (it's now a fungible 5 to 10, based on how many votes a film collects). I'd be shocked if AMPAS decided to do the same in other categories to try and capture that same diversity—Selma made it into Best Picture, which is eight films deep. The gambit would get you more nominees, but the core problem—that AMPAS voters are overwhelmingly old white men—would remain the same. To the Academy's credit, it's tried to address that too, trying to make its new member roll younger and more diverse, but that's a slow process when you only add a couple hundred members a year to a body of thousands.
It's crucial to note, too, that the Oscars' "diversity" shouldn't begin and end with more nominations for Selma, which, to repeat, is a particularly Oscar-friendly movie. Plenty more films starring people of color—Beyond the Lights, Dear White People, Top Five, Rosewater, Belle—got barely a sniff of Academy attention (Beyond the Lights did get a Best Original Song nomination). We hold AMPAS to low standards every year, wildly praising any nominations that feel outside the box, like Marion Cotillard's surprising but fully deserved appearance on the rolls today for Two Days, One Night. That's why this year's nominees are so flabbergasting. That a stirring biopic about one of the most famous Americans in history, filled with brassy supporting performances from Oscar veterans like Tom Wilkinson and Tim Roth, with a 99 percent rating on Rotten Tomatoes, couldn't get more Oscar attention feels more than surprising—it feels insulting.
---
* This article originally stated that the last time the Academy Awards featured an all-white slate of acting nominees was in 1995. We regret the error.