The Oregon Ducks Capture the Best and Worst of College Football
A longtime fan wrestles with the violence and viral marketing underlying his abiding fanship for the elite, moneyed team.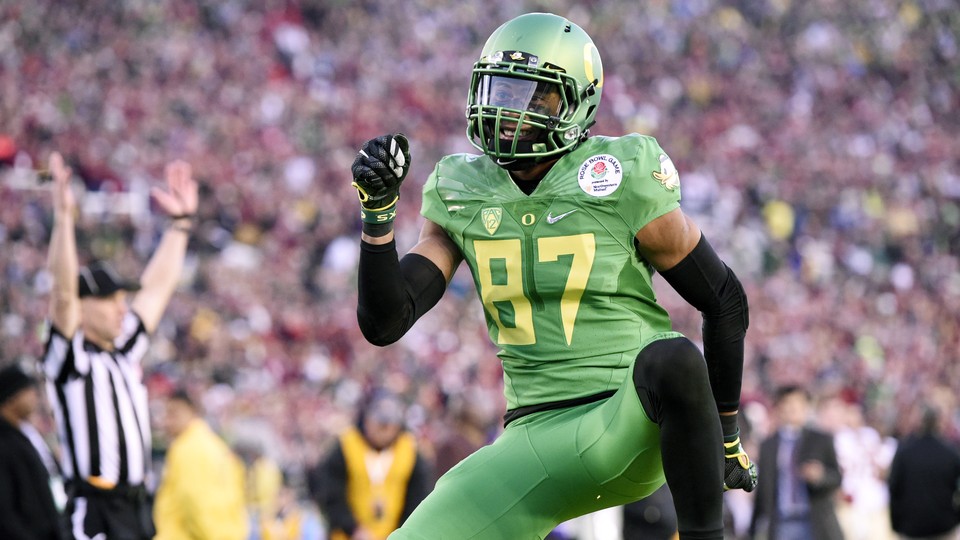 Early last month, while tailgating at the Pac-12 football championship, I chatted with a University of Oregon undergrad as we waited in line for the bathroom. It was a drizzly, Eugene-like day in Santa Clara, California, and we were both eager to witness Oregon exact revenge on the Arizona Wildcats for their only loss this season, but it slowly dawned on me that this kid's life as a Ducks fan bore little resemblance to my experience on campus just 10 years earlier. By the time our conversation ended, I felt like an old man befuddled by a spoiled whippersnapper.
"Back in the day," I told the kid, "we were glad to be in any bowl game." The Ducks would usually climb their way up the Top 25 slowly throughout the season before falling off the national radar by Christmas. The most groundbreaking idea from the marketing department was a nightmarish mascot called Roboduck. Ducks games typically went down to the thrilling final seconds, whereas nowadays our starters are often on the bench in the fourth quarter.
Doubtless there are thousands of old school Ducks who would consider me spoiled for having gone to Oregon in the early 2000s during the program's rise to national prominence. It's been 13 years since the university plastered an 80-foot billboard of quarterback Joey Harrington in Times Square in a $250,000 bid for Heisman Trophy consideration. Since then, the Ducks have ascended to the ranks of the NCAA's elite football programs, fueled by a high-octane offense, Nike marketing muscle, and aggressive recruiting to lure top prospects from more glamorous climates to the cloudy Willamette Valley. Along the way, the Ducks have become a regular fixture in major bowl games, led the arms race in football facilities and fashion, and sent revolutionary head coach Chip Kelly to the NFL. After a disappointing loss in the 2011 BCS Championship, a win in the first-ever college football playoff system, led by Heisman-winning quarterback Marcus Mariota, would be an achievement some Oregon fans have been waiting for their entire lives.
Yet Ducks fans, the University of Oregon, and all of college football have paid a steep price for this rocket ship to glory.
In Oregon, where there's no professional football franchise, Ducks pride runs as deep as Crater Lake. Up and down the west coast, and anywhere Oregonians go to escape the rain and snow, you'll see Ducks gear proudly worn by fans from all walks of life. Count me among those rabid fans, but also count me among those who are increasingly queasy about the shame of college sports.
In part, that's because I've seen firsthand how the sausage is made. As an undergrad, I worked for three years as a tutor in the university's services for student-athletes program, where I watched high school recruits rise up through the system, ending up with NFL contracts or career-ending injuries and everywhere in between. Over the years, my feelings toward the Ducks have oscillated between pride and shame. From their hurry-up offense and Nike uniforms to their recruiting violations and player conduct disasters, the Ducks have come to represent everything that's awesome, and awful, about college football, emblematic of an electrifying evolution where the style-of-play, production value, and player personalities have become larger than life.
At Oregon, the transformation of the football program has, for better or worse, coincided with a physical transformation of the university. Nike founder and former Duck Phil Knight has generously bankrolled state-of-the-art facilities across campus, turning a sleepy college town into a center of gravity in college sports. The Oregon brand is practically a master class in viral marketing, led by Puddles, the zany, Disney-inspired mascot that's a mainstay on ESPN.
Unsurprisingly, there have been growing pains as the program becomes The Program. There was a whiff of recruiting violations at the tail end of Mike Bellotti's tenure. Player conduct issues since then have ranged from the obnoxious (players whining about the Rose Bowl) to the outrageous (a star running back punching an opponent after a season-opening loss), besmirching the university's reputation. (Over the weekend, two Oregon starters were benched for smoking weed.) For years, the hundreds of millions of dollars spent on state-of-the-art athletic facilities have turned faculty members and alumni into fierce opponents of Oregon athletics.
Yet Monday night, I'll be watching the game in a bar full of likeminded hypocrites, decked out in green and gold. As Derek Thompson recently wrote, there are many ways fans can justify rooting for the big game while cringing at the consequences. In my case, it's a combination of simple escapism, nostalgia for those bygone college years, and pure denial that my team is part of the problem.
But the Ducks are a big, flashy, talented, media-savvy part of the problem. They're Exhibit A in the case against the super conference era, when big programs generate billions of dollars of revenue at the expense of athletes' health and education. The Ducks may not be the worst offenders, but if they fulfill their promise and become a truly elite program, they will bear a huge responsibility: Where champions lead, others will follow.
I have two great hopes for Monday's national championship, which is shaping up to be the most-viewed cable event in TV history. First, that Oregon thumps the hell out of Urban Meyer and Ohio State. But more importantly, that the Ducks use their newfound heft in college athletics to revolutionize the game off the field. That starts by leading the way toward a Student Athlete Bill of Rights—and fair compensation for athletes in all NCAA sports.
If the Ducks can design a better uniform or build a 21st century locker room or go for two after every first touchdown, surely they can lobby to make sure that all who wear an Oregon uniform are rewarded for their blood and broken bones.