The Power of the Sundance Brand
From the Coen Brothers in 1985 to Richard Linklater in 1991 to James Ponsoldt in 2006, indie filmmakers have both benefitted from and added to the annual film festival's cachet.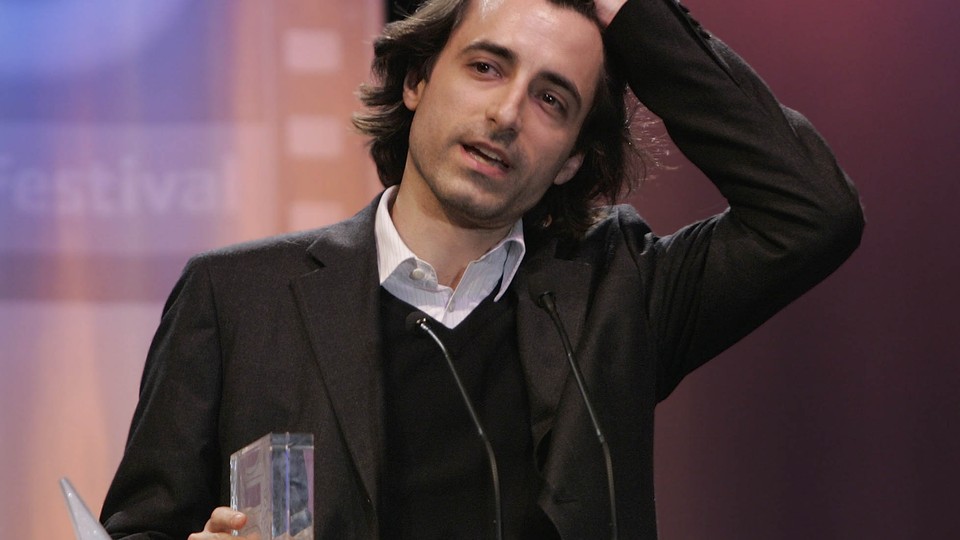 If there's an avatar for success at the Sundance Film Festival, it's easily Richard Linklater. In 1991, as highlighted by The Hollywood Reporter, the young filmmaker took his second feature film, the lo-fi Slacker, to the Park City festival and emerged as the voice of a generation. Twenty-four years and 15 films later, Linklater's on a career high, with Boyhood one of the signature films of 2014 and poised to win a Best Director Academy Award. Linklater was one of the first filmmakers to build his own kind of brand around indie filmmaking, and Sundance has been a big part of that success.
Over the years, many directors have made Sundance buzz the bedrock of their indie careers and a breakthrough at Sundance one year begets (or at least feels like it should beget) something bigger upon a director's return. The list of filmmakers who've followed this path is lengthy, dating back to the Coen Brothers winning the Grand Jury Prize back in 1985 for Blood Simple. At some point, "Sundance" became a genre of its own, a development that's often as limiting as it is marketable. Sundance is its own brand, and the directors who've established themselves through the festival often became part of that brand through association.
The aforementioned Coens represent a kind of side category at Sundance: the indie auteurs who've transcended the genre. This includes filmmakers like Quentin Tarantino (who took Reservoir Dogs to Park City in 1992), David O. Russell (who won the Audience Award in 1994 for Spanking the Monkey), Darren Aronofksy (a Directing Award-winner in 1998 for Pi), and Christopher Nolan (who won the Screenwriting Award in 2001 for Memento).
But there are also the directors who don't move on to make Best Picture nominees, or summer blockbusters, or Noah. Some, like Noah Baumbach or documentarian Alex Gibney, dip back into Sundance every so often, depending on the kinds of projects they're presenting. With his early films Kicking and Screaming and Mr. Jealousy, Baumbach established a reputation as a Whit Stillman-adjacent social observer, and later as a Wes Anderson screenplay collaborator. With The Squid and the Whale, which won Baumbach directing and screenwriting prizes at Sundance in 2005, the director re-asserted his brand of misanthropic social satire, and ever since he's been playing with variations on that theme (Margot at the Wedding, Greenberg, the upcoming While We're Young).
Baumbach's back this year with Mistress America, a re-teaming with Greta Gerwig after their previous collaboration, Frances Ha, suggested a different, less acidic direction for the filmmaker. Gibney, meanwhile, tends to spread his premieres out between festivals at Toronto or Tribeca, but he's taken many a film to Sundance, with docs on Jack Abramoff, Hunter S. Thompson, Ken Kesey, and Julian Assange. This year, he's showcasing Going Clear: Scientology and the Prism of Belief, and the dishy nature of the subject matter, plus Gibney's reputation, ensures quite a spotlight.
Differences of tone between festivals often contribute to the way films—and filmmakers—choose to market themselves. Toronto is more commercial and Oscar-focused; Tribeca is more modest; South by Southwest more hipster. Prolific mumblecore director Joe Swanberg had firmly established himself as a South by Southwest guy with early films like Hannah Takes the Stairs and Nights and Weekends. But he finally arrived at Sundance as part of the omnibus horror anthology V/H/S in 2012, and returned again last year with his family comedy Happy Christmas, and the shift between festivals has reflected (or influenced) Swanberg's progression toward becoming a more visible indie name. He's back at Sundance this year with Digging for Fire, which features a who's who cast of indie darlings including Sam Rockwell, Rosemarie DeWitt, Jake Johnson, Anna Kendrick, Melanie Lynskey, Brie Larson, Chris Messina, and Ron Livingston. Oh, and Orlando Bloom.
Then there are the Sundance directors who are back this year after straying from the path. Anna Boden and Ryan Fleck first hit Sundance in 2006 with Half Nelson (which would go on to nab Ryan Gosling an Oscar nomination), before returning in 2008 with Sugar. Their 2010 film It's Kind of a Funny Story felt Sundance-y but never actually played there, and its failure to make a splash anywhere (despite being an eminently likeable movie) put their upward trajectory on hold. They return to Park City in 2015 with Mississippi Grind, which features Ryan Reynolds and Ben Mendelsohn as a pair of road-tripping poker players.
Shari Springer Berman and Robert Pulcini took Sundance's Grand Jury Prize in 2003 for American Splendor and earned an Oscar nomination for Adapted Screenplay to boot. But their collective star has faded after disappointments like The Nanny Diaries and Girl Most Likely. This year, they're hoping some of that Boyhood stardust lingered in Park City as they premiere Ten Thousand Saints, a movie featuring fathers and sons and music and Ethan Hawke, only this one's set in the 1980s East Village instead of 2000s Texas.
For some of this year's returning Sundance directors, it's too soon to tell where their trajectories are headed. Three years ago, Craig Zobel came to Sundance with a controversial little attention-bomb called Compliance. The film was divisive but undoubtedly a word-of-mouth champ. This year, Zobel returns with the post-apocalyptic Z for Zachariah, starring Margot Robbie, Chiwetel Ejiofor, and Chris Pine. The film—wherein a young woman who believes she's the last human on Earth meets two men who compete for her affection, as their primal urges begin to reveal their true nature—seems ready-made for Zobel's interest in the base nature of humanity. This year's festival also sees the return of Andrew Bujalski (whose Computer Chess was so well received last year), Leslye Hedland (here in 2012 with Bachelorette), and Josh Mond (producer on Martha Marcy May Marlene).
The Sundance director with the most promising path right now is probably James Ponsoldt. He made his Sundance debut in 2006 with the Nick Nolte-starring Off the Black, and returned in 2012 with Smashed, which starred Mary Elizabeth Winstead as a young alcoholic and won a Special Jury Prize. The next year he was back with The Spectacular Now, which also won a Special Jury Prize, this time for its stars Miles Teller and Shailene Woodley. Expectations could not have been higher for The End of the Tour, wherein Jesse Eisenberg plays a magazine reporter following David Foster Wallace (Jason Segel) on a book tour. The first-blush reactions out of Park City were fairly ecstatic, and now it's only left to wonder whether Ponsoldt makes the leap up to the mainstream, or whether he continues on to be one of his generation's defining indie voices.
For all its luster, the "Sundance" label can be a mixed blessing. It can simultaneously define a director as smaller and less edgy than he or she wants to be and nobody likes to be boxed in. But for better or for worse, Sundance is both launching pad and self-fulfilling genre, and the filmmakers who take part continue to define it.