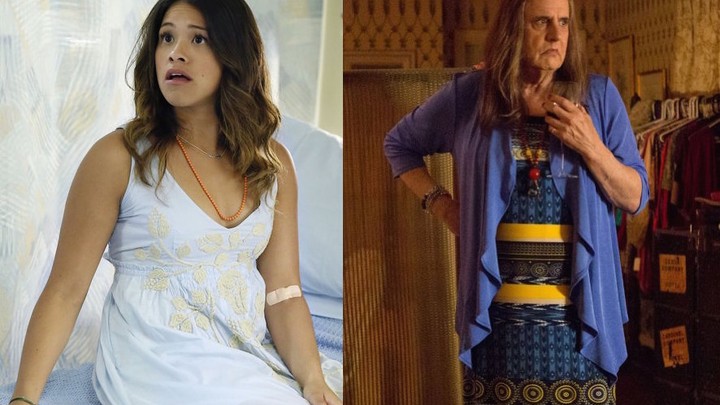 Making an argument for the irrelevance of the Golden Globes isn't hard. (It involves the words "Johnny Depp and Angelina Jolie for The Tourist.") But this is also the organization that nominated Vicky Cristina Barcelona, In Bruges, Burn After Reading, and Happy-Go-Lucky in the same category for Best Picture all in one year, and that just awarded The Grand Budapest Hotel the very same prize.
Quirky? Maybe. But the Hollywood Foreign Press Association's choices are also a rare breed in the awards show industry: provocative. Nowhere was that more evident at Sunday's ceremony than in the Best Television Series, Comedy/Musical categories. The CW won its first major award ever, and for a show with a Latina lead. A streaming service finally won a Best Series prize—and that service wasn't even Netflix. And a performer playing a transgender character won a Best Actor prize.
To call the Golden Globes irrelevant fails to recognize that in many ways, the Globes are on the cutting edge when it comes to the often staid world of awards—making the Emmys look positively stick-in-the-mud in comparison.
Look at what the Emmys celebrated last year: Bryan Cranston won his fourth award for Breaking Bad. Julia Louis-Dreyfus won her third for Veep. Modern Family won its fifth consecutive Best Comedy Series Emmy. Certainly, these performers and shows deserve recognition, but with so much new energy coming from performances like Matthew McConaughey's in True Detective or the ensemble cast of Orange Is the New Black, the awards felt a little stale.
Conversely, with perhaps a gently derisive nod towards the Emmys, the HFPA didn't grant Modern Family a single nomination this year. Instead, it filled up the Best Comedy Series category with shows like Jane the Virgin, Transparent, Orange Is the New Black, and Girls—all run by and about women. (The fifth was HBO's Silicon Valley.)
Transparent ultimately took the prize—a bold, LGBT-centric series that would have been too niche for awards not too long ago. But this year, Amazon had the honor of being the first streaming network to win an Emmy or Golden Globe for Best Television Series prize. Not Netflix, Amazon. Transparent lead Jeffrey Tambor won best actor in a musical or comedy for playing a woman, Maura, who comes out as trans in the series' pilot. And in the corresponding lead female category, young Latina actress Gina Rodriguez won for Jane the Virgin, the CW's first Golden Globe. (It has yet to win an Emmy, but received its first nominations last year.)
That many historic wins in just three categories might seem unimaginable, but this was the awards body that saw fit to reward cable series—one of which was the highly progressive Sex and the City—two years before the Emmys did. The HFPA also awarded The Sopranos its top prize half a decade before its more prestigious counterpart. Even within movie categories, as with the case of the spectacular 2008 Best Movie, Comedy/Musical line-up mentioned above, the HFPA has a habit of being different.
While it's true that "different" isn't the same as "good"—certainly the nomination for Quvenzhané Wallis in Annie was "different"—the HFPA has shown good instincts recently within its adventurous spirit. I'd take a Tourist flub here and there to see more types of roles and actors rewarded, to see unique creators celebrated, and to hear more speeches like Gina Rodriguez's:
This award is so much more than myself. It represents a culture that wants to see themselves as heroes. My father used to tell me to say every morning, 'Today's gonna be a great day. I can, and I will.' Well, Dad, today's a great day. I can, and I did.
That, at its heart, is the winning recipe for awards shows.
We want to hear what you think about this article. Submit a letter to the editor or write to letters@theatlantic.com.