The Golden Globes Play It Safe With Film, Embrace Change in Television
Oscar favorite Boyhood took the top film awards, while Amazon's Transparent, Showtime's The Affair and The CW's Jane the Virgin were surprising winners in the television categories.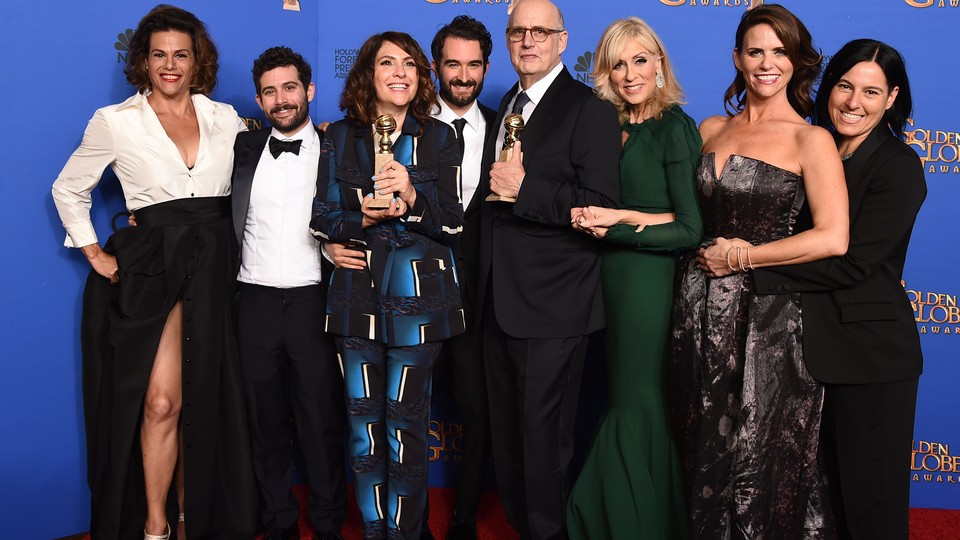 At the 72nd Golden Globes, broadcast from the Beverly Hilton Sunday, the Hollywood Foreign Press Association anointed many expected Oscar favorites while embracing more off-kilter choices in its television categories, giving out Best Film trophies to Boyhood (Drama) and The Grand Budapest Hotel (Comedy), and Best Television Series awards to freshmen entries The Affair (Drama) and Amazon's Transparent (Comedy), the latter being the first streaming series to win such an accolade.
The Globes are voted on by a 93-member jury of international entertainment journalists and serve primarily as a precursor to next month's Academy Awards, although the ceremony is always a little boozier than that august affair. The awards mostly went to predicted darlings: Most notably, indie drama Boyhood took Best Director (Richard Linklater) and Best Supporting Actress (Patricia Arquette) along with the final award of the night, cementing its frontrunner status. Its unusual 12-year filmmaking progress, which charts the adolescence of Mason (Ellar Coltrane), has clearly kept it in the minds of voters since its summertime release, despite the usual onslaught of weightier prestige dramas in recent months. Perhaps its biggest challenger, the searing civil-rights drama Selma, continued its befuddling cold streak, winning only the award for Best Original Song despite universal critical acclaim.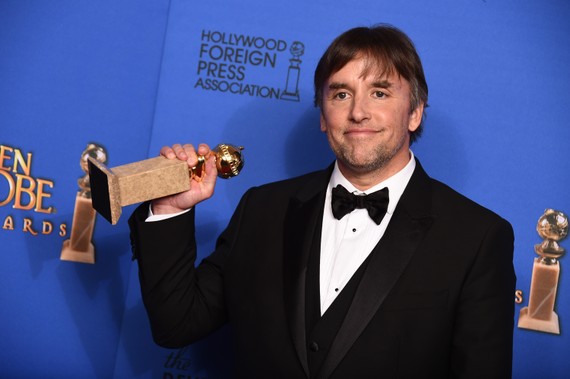 The two Best Actor winners were Eddie Redmayne for his portrayal of Stephen Hawking in The Theory of Everything and Michael Keaton, who played a washed-up former superhero actor in Birdman (and gave a rambling, highly emotional speech). Their category is one of very few that remains remotely open at the Oscars, although Keaton's status as a beloved industry veteran was plain to see at the Globes and could help him triumph on the big night. The night's other major winners (Arquette, J.K. Simmons for Best Supporting Actor in Whiplash, Julianne Moore for Best Actress in Alzheimer's drama Still Alice) are all in prime position to repeat their success at the Academy Awards.
The Globes managed to keep things interesting in the television categories, where the Hollywood Foreign Press often looks to highlight brand-new shows before the Emmys ceremony in the summer (the traditional close of the TV season). As broadcast television's scheduling has become less and less important, the Globes' early recognition of shows like the UK Office, Mad Men, Brooklyn Nine-Nine and The Shield has proved prescient. In that regard, Transparent's victory in the Comedy Series category felt especially groundbreaking—the half-hour dramedy about a patriarch (Jeffrey Tambor) who comes out to his family as transgender has put Amazon's TV programming on the map. Tambor sealed its great night by also winning Best Actor and delivering a phenomenal speech applauding the transgender community, saying "Thank you ... for your courage. Thank you for your inspiration. Thank you for your patience, and thank you for letting us be a part of the change."
Showtime's The Affair took Best Drama, with its lead Ruth Wilson winning Best Actress, a vital win for the Long Island-set prestige potboiler, which attracted strong praise for its pilot but saw interest drop off as its central romance developed very, very slowly. Kevin Spacey won Best Actor in a Drama for Washington D.C. drama House of Cards, which airs its final season on Netflix in February, further cementing streaming media's entry into the award-winning television game. Long-reigning champs HBO and AMC didn't nab a Globe between them despite the presence of True Detective and Mad Men on the nominee rolls.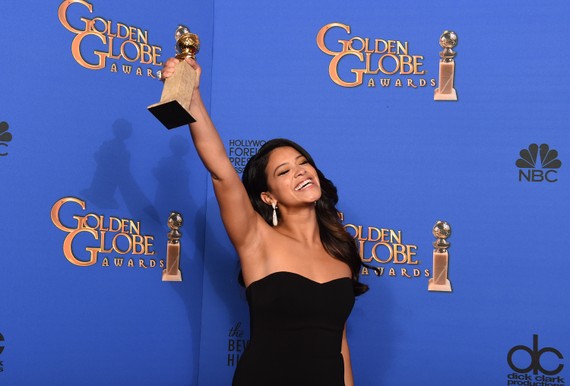 Perhaps the most surprising, and heartening, win of the night was Gina Rodriguez capturing Best Actress in a Comedy Series for Jane the Virgin, a delightful sendup of the telenovela that airs on The CW (this was the network's first Golden Globe win). Rodriguez gave a concise, powerful speech in a night of long-winded ones, saying, "This award is so much more than myself. It represents a culture that wants to see themselves as heroes. My father used to tell me to say every morning, 'Today's going to be a great day. I can and I will.' Well, Dad, today's going to be a great day. I can and I did."
Such triumphs helped offset the film section's procession of expected winners, although typically lively and sharp work from hosts Tina Fey and Amy Poehler helped move things along (it was their third, and apparently final, time in the job). A time-consuming and unfunny recurring bit that involved Margaret Cho playing a stern North Korean film critic felt like their only real misstep, while an acidic routine about the rape allegations against Bill Cosby drew gasps from the audience and widespread appreciation on social media.
The full list of winners:
Best Picture (Drama)
Boyhood
Best Actor (Drama)
Eddie Redmayne, The Theory of Everything
Best Actress (Drama)
Julianne Moore, Still Alice
Best Picture (Comedy)
The Grand Budapest Hotel
Best Actor (Comedy)
Michael Keaton, Birdman
Best Actress (Comedy)
Amy Adams, Big Eyes
Best Supporting Actor, Motion Picture
J.K. Simmons, Whiplash
Best Supporting Actress, Motion Picture
Patricia Arquette, Boyhood
Best Director
Richard Linklater, Boyhood
Best Screenplay
Alejandro González Iñárritu, Nicolás Giacobone, Alexander Dinelaris, Armando Bo, Birdman
Best Foreign Film
Leviathan
Best Animated Film
How to Train Your Dragon 2
Best Original Score
Jóhann Jóhannson, The Theory of Everything
Best Original Song
"Glory," Selma
Best TV Series (Drama)
The Affair
Best Actor, TV Series (Drama)
Kevin Spacey, House of Cards
Best Actress, TV Series (Drama)
Ruth Wilson, The Affair
Best TV Series (Comedy)
Transparent
Best Actor, TV Series (Comedy)
Jeffrey Tambor, Transparent
Best Actress, TV Series (Comedy)
Gina Rodriguez, Jane the Virgin
Best Miniseries
Fargo
Best Actor, Miniseries
Billy Bob Thornton, Fargo
Best Actress, Miniseries
Maggie Gyllenhaal, The Honorable Woman
Best Supporting Actor, TV
Matt Bomer, The Normal Heart
Best Supporting Actress, TV
Joanne Froggatt, Downton Abbey