Bed, Bath, and Bong Rips: The Glorious Return of Broad City
Comedy Central's beloved slacker-girl duo is back to perfecting the art of failing spectacularly.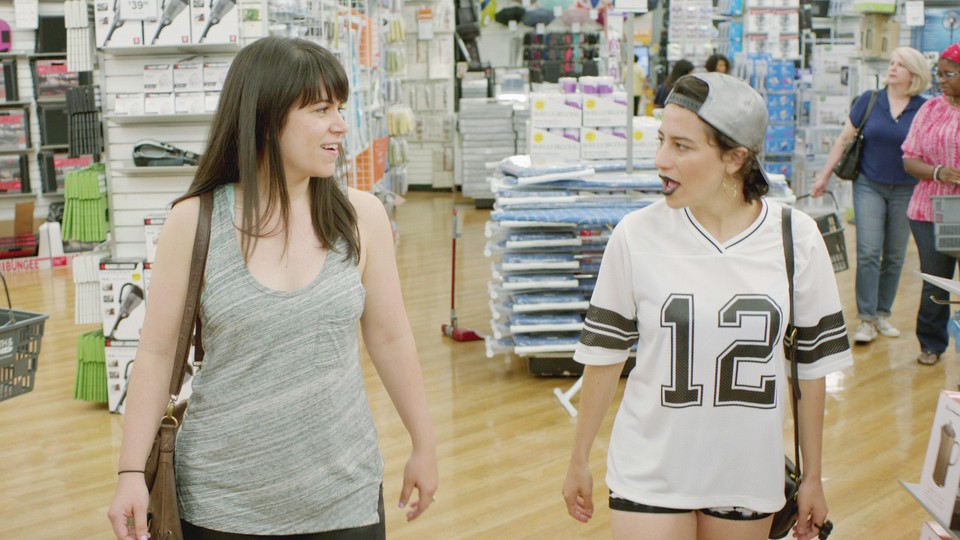 "You haven't seen Six Feet Under? You are … so lucky," the aghast 27-year-old Abbi tells her neighbor early into the second season of Comedy Central's Broad City, which kicks off again tonight. The same could easily be said for anyone who hasn't yet seen this series, widely praised as one of the best new shows to debut in 2014. The show's creators, Abbi Jacobson and Ilana Glazer, star as fictionalized pre-fame versions of themselves—two "rollicking, flawed, lovable three-dimensional" best friends getting by in New York, prone to absurd, slapstick-y misadventures of the professional, personal, and sexual variety (Broad City quickly disabused viewers of the idea that it was a Girls knockoff).
As expected, the show's second season stakes out familiar turf for itself: luxurious weed breaks, Bed Bath & Beyond trips, highly stylized music video fantasy sequences, more Soulstice. There are more cameos to look forward to (Wednesday's premiere features Seth Rogen and Kumail Nanjiani). More body humor (blow-drying pubes and butt-sweat-absorbing napkins). More frank sex talk, including chatting about the intricacies of pegging at a shiva. And more brilliant one-liners that could seemingly only be birthed by a comedy show written by and starring two women who manage to be exponentially funnier in the first episode than dude-flick star Rogen. (Example: "You're going to vagina-swallow Jeremy tonight.")
But the show isn't getting complacent, subject-wise: The first few episodes weave rape, sexual experimentation, discrimination, death, and socioeconomic privilege into their storylines, but avoid shoehorning commentary or moralizing. Glazer and Jacobson proved in the first season that they could pull off outrageous without being tone-deaf or relying on stunt scenes—an admirable achievement for a show that centers on two self-absorbed female millennials. Sweet (flatulent) Abbi is often passive and self-doubting, given to bursts of energy and gall at the urging of Ilana, who is equal parts bullshittery and sincerity, and whose deep ignorance and irony are only sometimes redeemed by her sensitivity and good intentions.
More than the jokes and characters, where Broad City betrays its maturity and confidence is in its total commitment to Abbi and Ilana's own delightfully skewed and insular reality. Some of the best comedy shows thrive from building and living within self-contained environments (Arrested Development, Seinfeld, Parks and Recreation), and Broad City's second season looks equally eager to define the borders and contours of its own world. It's been impressive for a show to find its footing so quickly and build on it (granted, Broad City was a cult web series before it found a home with executive producer Amy Poehler at Comedy Central, which just announced that the series would be renewed for a third season).
Abbi and Ilana's world is, among many things, consistent in its inconsistencies: We never see Abbi's roommate, whose repulsive-but-lovable boyfriend Bevers almost never leaves their apartment. And how does the maddeningly incompetent and perpetually underdressed Ilana still have a job? Their world is surreal, gross, and wonderful exaggeration of New York. A couple of callbacks to the first season—a miserable girl on the subway who looked like she just got Maced, Abbi sending a Facebook post out into the "cloud"—also help flesh out a cohesive and self-referential world.
Theirs is the kind of world that makes for immersive viewing, and that can elevate a show from just really funny to divine.