The Fall: The Most Feminist Show on Television
The BBC drama stars Gillian Anderson as a detective investigating a serial killer, but the series' treatment of women defies the genre's conventions.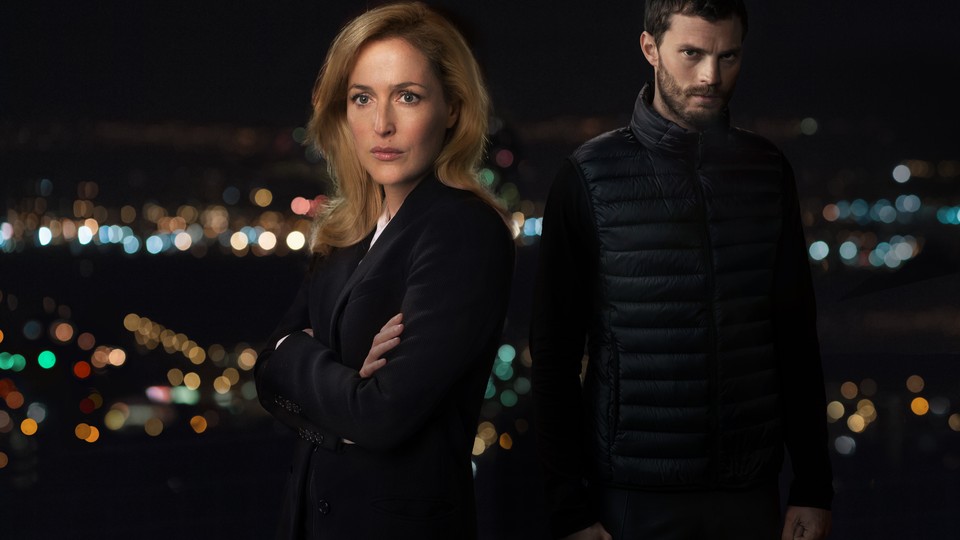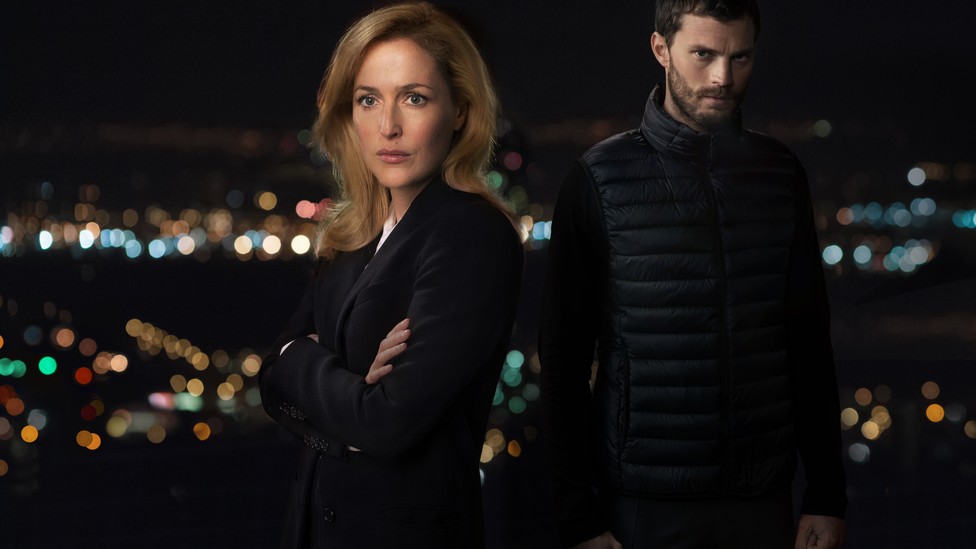 A crime drama about a psychosexual serial killer who stalks, tortures, and murders young women doesn't sound like an obvious choice for the most feminist show on television. Especially given that the writers, directors, and producers of that show are all men. But that's just one of the ways The Fall—the BBC hit set in Northern Ireland whose second season began streaming for American audiences on Netflix last week—upends TV conventions and deserves to be the first binge-watched show of 2015.
The show, which stars Gillian Anderson in her first major television role since The X-Files went off the air in 2002, came under heavy criticism when the first season aired in 2013 for complaints that it glamorized violence against women. Serial killer Paul Spector (Fifty Shades of Grey's Jamie Dornan) revels in the "aestheticism" of posing the nude bodies of his victims, washing their skin and painting their nails after he's killed them. Some critics thought the show went beyond simply telling a story to the point of sharing Spector's obsession with the women's bodies.
I can certainly sympathize with fatigue over the seemingly endless tally of dead women on television. It's one reason I had to stop watching another popular BBC series, Luther, despite the excellent lead work of Idris Elba as the eponymous detective. You don't have to be Gloria Steinem to find show after show in which women are objects—helpless victims, potential victims, sexual conquests, aggrieved spouses—stifling and a bit dull.
But the debate over The Fall's first season obscured the show's revolutionary treatment of women and the topic of sexual power. In fact, I haven't seen another program that so directly challenges and rewrites the traditional conventions of crime dramas, starting with Anderson as DSI Stella Gibson, a highly-regarded London cop who gets called to Belfast because investigators there need her expertise on a murder case.
Refreshingly, none of the tropes we've been trained to expect in a story about a powerful woman play out. Nobody resents Gibson's appearance on the scene or questions her authority. Her gender is a non-issue; subordinates hop to when she enters a room and they follow her commands without question. Gibson doesn't try to submerge her femininity and stomp around barking out orders. In Anderson's restrained yet compelling performance, Gibson is cool, calm, and always chic, with the most fabulous coat in detectivedom.
When a shooting happens at the station, it's Gibson who smoothly takes charge while also tending to a male colleague in shock. As she begins to suspect that the murder they've been investigating is linked to subsequent killings, Gibson presses for the creation of a task force and firmly makes the case that she should lead it.
But this isn't to say that it doesn't make a difference that Gibson is a woman. Early on, she tells a colleague to leave the word "innocent" out of a statement about the victims. "What if he kills a prostitute next? Or a woman walking home drunk?" She asks. "The media loves to divide women into virgins and vamps, angels or whores. Let's not encourage them." It's she who notices the victims' painted nails, and who appears at a press conference with her own nails painted bright red as a signal to the serial killer that she's on to him.
More importantly, while Gibson is very good at her job, she isn't portrayed as having sacrificed her personal life in exchange. That's long been a frustrating trope about powerful women on television, including Sarah Linden, the detective on The Killing whose obsessive commitment to cases came at the cost of relationships with her fiancé and son. But neither does Gibson try to escape the stress and trauma of her job with damaging addictions. She has a glass of wine to unwind in the evening, and she swims every morning as discipline and release.
Gibson isn't free from flaws, chief among them a blindness when it comes to pursuing sexual relationships with colleagues. Indeed, in her confidence that such liaisons are her right and won't affect her work relationships, she isn't unlike Mad Men's Don Draper. And it's as unsettling to hear Gibson ask to have an attractive male detective whom she's met for 30 seconds assigned to her team—knowing that she intends to sleep with him and that her colleagues know it as well—as it is to watch a king order a maid brought to his chamber. The decision of writer and showrunner Allan Cubitt to place Gibson in Belfast as a visiting detective is deceptively central, because the audience never sees her returning to an empty house or has reason to question why she doesn't have a social life. Gibson is on a work assignment—it's natural that she would be staying by herself in a hotel and not have a group of friends to hang out with. It may seem like a small detail, but the choice allows Gibson to just be a person, like so many of her male counterparts around the dial.
But while on many programs this flaw would be Gibson's undoing, here it's simply one part of who she is. Similarly, when she does become emotional after an abduction takes place in the second season, the show doesn't follow the usual script. Gibson isn't obsessed with finding the kidnapped woman because she's too personally involved with her work or because of something dark in her past. It's because she made a mistake that inadvertently made the woman a target.
* * *
In December, President Obama held a press conference at which he only called on female journalists. Some derided the decision as a stunt; others correctly noted that a press conference at which a president only calls on male reporters is just a normal press conference. In the same way, if The Fall's feminism is occasionally too on-the-nose—with a tangent about matrilineal society in China where women call the sexual shots, and multiple women dressing down male colleagues who think they need protection—it's a small price to pay for the pleasure of show that creates a world we've rarely seen on television.
Because it's not just Gibson—nearly every one of her confidantes is a woman, from her hand-picked assistant to the chief pathologist (Archie Panjabi, better known as Kalinda from The Good Wife) to the head forensic investigator. And while some of the promos for the second season left me worried that the show would fall into the trap of making Gibson one of Spector's potential victims, it resists the temptation. The serial killer is indeed obsessed with Gibson, but it's from an adversarial position.
In fact, one of my favorite moments comes from the finale, during a tense scene in which Spector and Gibson finally meet after two seasons of playing cat-and-mouse. With the two facing each other, alone in an interrogation room, Spector tries to psychoanalyze her, diagnosing "daddy issues" and arguing that she hates men as much as he hates women. Gibson lets him finish and simply continues her questioning. Mansplain away, dude—you're the one under arrest.
The Fall is an intelligent show with tremendous acting, shot as beautifully as anything else you'll watch on television this year. Dornan displays ten times more charisma here than in the trailers for his much-anticipated February movie, and his performance as a serial killer who's also a loving father of young children is deeply disturbing. Both seasons—five episodes in the first and six in the second—are rewarding viewing. But The Fall's most remarkable achievement will be if it turns out to be the first show of many to present a new normal for women on television.