Stuart Scott Brought Sports Broadcasting Back to Earth
The ESPN personality, who died Sunday at age 49, changed how we talk about professional athletics on television.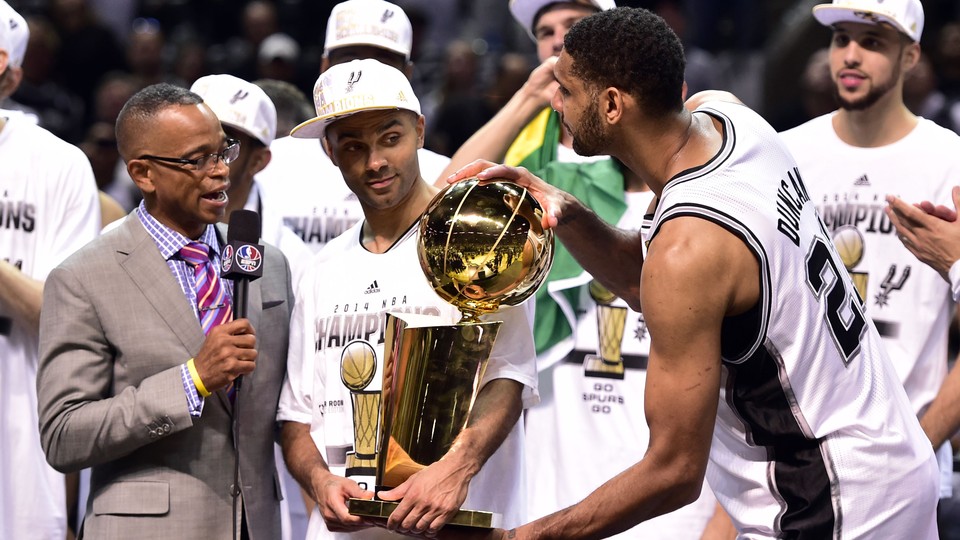 For the sports-obsessed American in the mid-1990s, ESPN's SportsCenter was just about the only way you could catch the day's scores, news, and gossip without having to wait for the next day's paper. The show's format was simple. Two anchors—usually thirty-ish white men wearing conservative suits—would report the day's events in a wry, detached style familiar from decades of broadcast news.
This doesn't mean that the anchors were all alike. You had Chris Berman's goofy nicknames and Howard Cosell-isms; Dan Patrick's arch, sardonic musings; and Keith Olbermann's caffeinated, high-brow style. Each seemed to approach sports coverage as if they were letting the viewer in on an inside joke. "This is just sports, after all," they seemed to say.
Then came Stuart Scott.
First there was the inescapable fact of his race. When Scott, who died from cancer Sunday at the age of 49, debuted on ESPN2 in 1993, he became one of the network's few African American personalities who hadn't made his name as a professional athlete. But something else was different about Scott. When narrating highlights, his voice rose. He got excited. He reacted to a slam dunk or touchdown pass with an emphatic "boo-ya!" He used words and phrases and contractions that you didn't hear on television. Scott's style wasn't just "hip-hop," as ESPN CEO John Skipper called it in a tribute to Scott released Sunday. It was talking about sports in the same way that fans, watching the game in their living room, do.
Unsurprisingly, Scott's style sparked controversy. ESPN viewers complained that they couldn't understand a word he said; that he was too hip. In a 2003 USA Today piece that solicited reader comments about the broadcaster, fans seemed to love and revile him in equal measure. Many praised him for revitalizing an iconic show. But others were less enthusiastic. "He tries too hard not to be funny," said one. "Scott attempts to make the show about him. He is not the game," said another. Brett Walker of Tallahassee, Florida, got more to the point: "Stuart Scott is very knowledgable about sports, but the way he presents them in hip-hop fashion is obnoxious."
Through it all, Scott stuck with his style. And ESPN stuck with him. Over the years, Scott emerged as one of the network's most familiar faces, graduating from SportsCenter duties into a wider range of roles. He covered the World Series, the NBA Finals, and the Super Bowl. He interviewed Tiger Woods and Michael Jordan. He played a videotaped basketball game with President Obama. Once a novelty at ESPN, Scott eventually became an institution.
And as the Internet became a dominant source of sports coverage, Scott's style—blending sports and culture—became more common. On its website, ESPN launched Page 2 and then Page 3, sites that combined sports commentary with coverage of celebrities and entertainment. In 2001, the network took a chance on a hyper-opinionated Boston sports fan then blogging for AOL, hiring him to write the occasional guest column. 14 years later, that fan—Bill Simmons—is arguably ESPN's biggest star and most important personality.
Changes were also felt beyond ESPN's garden walls. Bleacher Report, a website founded in 2007 that provided a platform for amateur writers to publish articles about their favorite teams, was acquired in 2012 by TBS for a sum rumored to be just under $200 million.
Through it all, Scott continued to go about his work on ESPN. But in November 2007, at age 42, he was diagnosed with cancer, beginning a fight that ultimately claimed his life. In July of last year, a gaunt-looking Scott accepted the "Jimmy V Perseverance Award" at the ESPY's, ESPN's long-running awards gala. Introduced by Kiefer Sutherland, Scott spoke movingly about his battle with cancer, insisting that the positive, energetic way he lived his life—rather than his illness—would be his legacy. A star-studded crowd of athletes, actors, and ESPN talent gave him a tearful standing ovation.
But Scott's real legacy may actually be how his style—once considered radical—is now so commonly imitated as to be virtually unnoticeable. This, Scott would say, was no accident. In a 2002 segment of  NPR's On the Media, Scott revealed his approach to his anchoring duties. "Writing is better if it's kept simple. Every sentence doesn't need to have perfect noun/verb agreement. I've said 'ain't' on the air. Because I sometimes use 'ain't' when I'm talking. Cincinnati Bengals thought that they were going to go 12 and 4 this year—man, they ain't going 12 and 4!"
"I'll write that because I'm going to write like I talk."
It's a simple enough message. But without Stuart Scott, it's one that may never have surfaced.