Strong Female Lead: A Feminist Golden Globes Show
This year's show featured a lot of leaning in.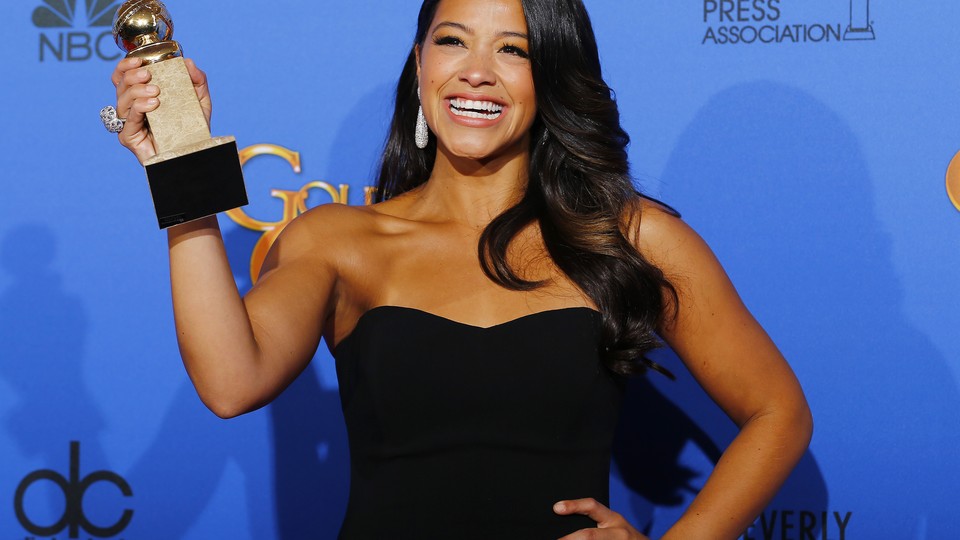 During the Academy Awards show of 2013, Seth MacFarlane performed a song. It was directed at the female actors in the show's live audience. It was titled "We Saw Your Boobs."
The number played out exactly as you'd expect, given its name and the setting of its performance: It was cringe-worthy and awkward, one of those satires-wrapped-in-satires-wrapped-in-satires that tend to leave audiences angered and/or indignant and/or mystified. It left many of the people who watched it looking like this: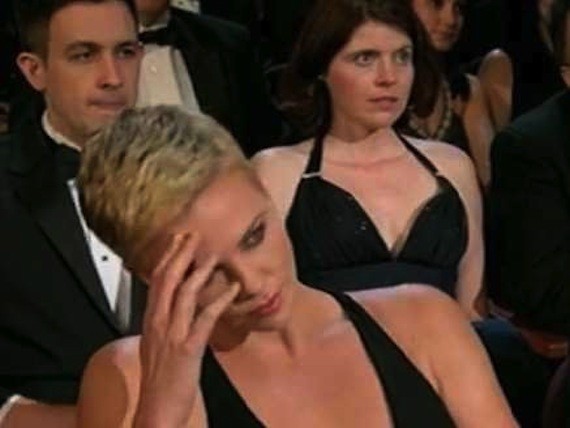 "We Saw Your Boobs," and the various laughs and eye-rolls and thinkpieces that sprang from it, were the result of, among so many other things, the fact that awards shows are one of the few remaining opportunities for appointment viewing: hours-long spans when swaths of TV-watchers are watching the same thing—and reacting to that thing—in unison. Producers are acutely aware of the commercial opportunities offered by these rare concentrations of human attention, which means that they often treat their shows not just as spectacles of entertainment, but also as opportunities to make political points.
The shows' stars do, too. Kanye's "Imma let you finish" interruption of Taylor Swift, Miley's twerk upon the thrusting undercarriage of Robin Thicke, Ellen's star-studded mega-selfie, Beyonce's dance before a billboard emblazoned with the word "FEMINIST" … these are fleeting moments in awards shows, yes, but they're also culture-wide status symbols. They're little dots that, connected by a collection of far-flung human eyes, offer a fuzzy impression of who, and where, we are.
Last night's Golden Globes show was the exception that proved the rule: It featured not a single, notable moment of politics-laid-bare, but rather an ongoing infusion of those moments. From its honoring of culturally progressive shows like Transparent and Jane the Virgin to its scripted jokes and banter, the show was uncommonly unified in its political message. And that message was: feminism. (Actually, more accurately, it was a more emphatically Beyonce-esque FEMINISM.) As a theme, this was presented with the aggression of nonchalance—feminism (FEMINISM) not as something to be debated or discussed or thinkpieced, but as something that's as present and unmistakable as the disco-ball gowns that swathed so many of the women on last night's red carpet.
It started, as so many feminist developments do these days, with the glorious life partnership that is otherwise known as Tina Fey and Amy Poehler. The pair reveled in their status as "queens" and "goddesses" last night. They daringly made fun of the dethroned god Bill Cosby. They delighted in gender-bending outfits (Tina Fey's tuxedo! Amy Poehler's boob-butterfly!), and also in, via a show-introducing game of "Would You Rather," the objectification implicit in any show that exists primarily to broadcast images of beautiful people.
The show also featured Lily Tomlin and Jane Fonda, former stars of the sexist-boss-murdering romp Nine to Five and future stars of the upcoming Netflix show Grace and Frankie, dismissing the women-aren't-funny conversation by mocking it. (Fonda: "It's nice that men at last are getting the recognition they deserve for being good at comedy." Tomlin: "We can put to rest that negative stereotype that men just aren't funny.") It featured Julianne Moore celebrating her Still Alice win in the face of being told that "no one wants to see a movie about a middle-aged woman." It featured Patricia Arquette, in her acceptance speech for Boyhood, thanking the single mothers who inspired her performance. And Gina Rodriguez, who won for Jane the Virgin and who once noted that "I have a real responsibility to all the little girls out there to be the story-teller I was born to be," thanking her sisters. And Downton Abbey's Joanne Froggatt, clearly surprised to have won, dedicating her acceptance to rape victims.
As Maggie Gyllenhaal put it in her speech, as the show's cameras panned across the faces of female actors:
I've noticed a lot of people talking about the wealth of roles for powerful women in television lately, and when I look around the room at the women who are in here, and I think about the performances that I've watched this year, what I see, actually, are women who are sometimes powerful and sometimes not. Sometimes sexy, sometimes not; sometimes honorable, sometimes not.
She added: "And, what I think is new is the wealth of roles for actual women in television and in film. That's what I think is revolutionary and evolutionary, and it's what's turning me on."
Similarly, Amy Adams, accepting her award for her role in Big Eyes, celebrated quiet women. "I am so grateful to have all the women in this room," she said. "You speak to her [Aviana, Adams' daughter] so loudly. She watches everything and she sees everything, and I am just so, so grateful to all of you women in this room."
Which is not to say that feminism was the only order of the evening, or that progress—in awards shows as anywhere else—is not without its frictions. There was a robotic Jeremy Renner making a predictable, yet nonetheless groan-worthy, joke about J-Lo's "golden globes." There was the fact that Fey and Poehler's "Would You Rather?" bit was explicitly aimed at objectifying men. The evening's overarching tension—what does feminism mean, in the context of Hollywood?—was perhaps best captured by the show's unofficial star: Amal Clooney, the internationally acclaimed human rights lawyer who recently took a trophy husband named George and who, as Fey pointed out last night, is a "human rights lawyer who worked on the Enron case, an advisor to Kofi Annan on Syria and was a appointed to a three-person commission investigating rules of war violations in the Gaza strip."
Fey paused, letting the irony sink in. "So tonight," Fey said of this accomplished woman, "her husband is getting a lifetime achievement award."