Page 3's Insidious Sexism
Until last week, The Sun, Britain's most-read newspaper, featured daily pictures of topless women. The tradition's demise is worth celebrating.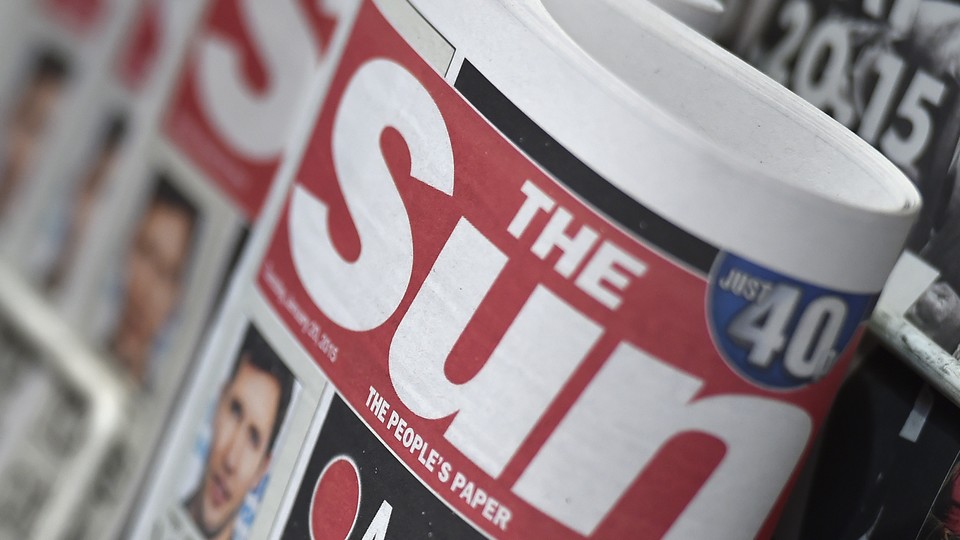 Page 3 is no more, and sometimes it's hard to believe Page 3 ever existed at all. Until Sunday, Page 3 was the kind of thing that was so archaic, so absurdly anachronistic, and yet so reliable a feature of daily life in Britain that it was occasionally necessary to stop and fully comprehend the fact that in 2015, the third page of the nation's most-read newspaper featured pictures of topless women.
Page 3 has been a feature of The Sun, the Rupert Murdoch-owned British daily, since November 1970, and in many ways, it's remained a portal to that bygone era of low-lit, gauzy soft porn and carefree sexism ever since. Each day, wide-eyed teenagers and 20-somethings gazed out at the people of Britain, eager for approval, sometimes posing with props, and sometimes just wearing a thong, lip gloss, and a smile. Until 2013, models sometimes offered their opinions on topical issues in a satirical accompanying section called "News in Briefs" (never underestimate a tabloid when it comes to puns). "Mellisa, 21, from Kent," for example, once advocated for better transportation infrastructure by citing "American feminist and lawyer Carol Moseley Braun;" on another occasion, "Courtnie, 21, from Plymouth" quoted Ralph Waldo Emerson while bemoaning spending cuts. Page 3 girls branched out as celebrities and pop singers. They also became hard-core porn stars and plastic surgery addicts, and frequently had to deal with stalkers, not to mention aggressive sexual harassment at every public appearance.
It's hard to convey just how influential The Sun is in Britain, even as it appears to continually out-parody itself by trafficking primarily in sleaze and jingoism. Politicians from all three major British parties, aware of the paper's outsize ability to sway elections, have long declined to criticize Page 3, with Deputy Prime Minister Nick Clegg warning against the specter of "a moral policeman or woman in Whitehall telling people what they can and cannot see," and Prime Minster David Cameron refusing to back legislation restricting sexual images in newspapers even while drafting sweeping initiatives to limit access to online pornography. "The Internet is different because our children are on it," Cameron said, apparently unaware that The Sun has the same vocabulary as the average eight-year-old.
Each day, the paper's print issue reaches an estimated 5.4 million Britons, approximately 40 percent of whom are women. Until this week, those millions of people (roughly 8 percent of the U.K. population) would open a newspaper and see a bare-breasted model somewhere between the ages of 18 and 30, whether they wanted to or not. (Prior to 2003, when the minimum age for a model to pose topless was raised from 16, Sun rival The Daily Sport had gleefully anticipated model Linsey Dawn McKenzie's legal ability to pose topless on her 16th birthday.) When I was growing up in London this meant rapidly turning the page while flicking through the paper in a public place, feeling faintly dirty and hoping nobody was looking over my shoulder. It also meant rolling my eyes at the groups of boys on the bus loudly rating that day's model, and trying to ignore friends, coworkers, and even bosses who picked up a copy and inevitably said something jokingly vulgar.
As pornography, Page 3 was comically innocent; as objectification of young women and teenage girls—enshrined within the pages of a daily newspaper, no less—it was beyond insidious. Criticize it, and you were instantly lumped in with the joyless, sexless harridans and feminists who occasionally questioned it as a robust British tradition. When Labour MP Clare Short spoke out against Page 3 in 2004, for example, The Sun superimposed her face on a model's body, labeled her "Killjoy Clare," and criticized her for being "fat" and "jealous."
When The Sun welcomed its first female editor, Rebekah Brooks, in January 2003, Page 3 stayed. On her first day as editor, the feature's model was Rebekah Parmar-Teasdale, with the photo captioned "Rebekah from Wapping"—a reminder that Brooks supported Page 3, as well as the fact that even the most powerful woman in journalism could be reduced to T&A, all in the name of good fun. Brooks later became better known for the phone-hacking scandal that cost her her job, but from her perch as editor she never publicly debated the merits of Page 3 or attempted to dismantle it as an institution, even though as deputy editor, she'd questioned its impact on circulation through its potential to put off female readers.
In 2012, even as it seemed that Page 3 was untouchable, actress Lucy-Ann Holmes started the No More Page 3 campaign (the tagline: "Boobs Aren't News"), receiving hundreds of thousands of signatures on an online petition and support from 140 different members of parliament. Thirty universities across the U.K. pledged not to sell The Sun on campus while Page 3 was a feature in the paper. The following year, incoming editor David Dinsmore compared Page 3 to erotic Japanese paintings reproduced in broadsheet newspapers, and described it as "a good way of selling newspapers." Critics were dismissed both by Dinsmore and Murdoch (on Twitter) as being feminists who never read the paper anyway, and whose opinions were therefore of little value.
In the end, it seems as though Page 3 might have fallen victim to the same person who inaugurated the idea 44 years ago: Murdoch. In September of last year the media mogul tweeted that he considered Page 3 to be old-fashioned; and it may well be the institution's overarching outdatedness rather than its objectification of women's bodies that led to its demise. News Corporation has remained fairly quiet about the reasoning behind the decision, and it's understood that The Sun will continue to feature women wearing minimal clothing on page three of the paper while posting images of topless women at Page3.com, which requires a subscription. Perhaps Murdoch is banking on nostalgic value compelling British men to pay for the kinds of winking images they can find all over the Internet for free; perhaps he was swayed by the growing criticism leveled at Page 3. What he, and Dinsmore, and David Cameron, and Nick Clegg, and Culture Minister Ed Vaizey have never acknowledged, and will presumably continue to ignore, is the impact of removing topless models from their prime perch within the nation's most widely read newspaper.
Naked women aren't hard to find on the Internet, or in museums, or advertising campaigns (Instagram is perhaps the lone institution demanding that people keep their clothes on). But disassociating journalism from pornography, and women whose occupation is revealing their breasts from news stories about Olympians and politicians and doctors and charity workers, is the biggest breakthrough for British feminism I can think of in my lifetime. Page 3 took attractive naked women and fetishized them on one of the most visible platforms in news and in British daily life. It's impossible, as a woman or as someone who cares about sexual equality, to mourn its demise.