Oscar Nominations Reward Birdman and The Grand Budapest Hotel
Alejandro Gonzalez Innaritu and Wes Anderson's quirky hits lead with nine nominations apiece. But a risky screener gambit didn't pay off for Selma, which scored merely two nods of its own.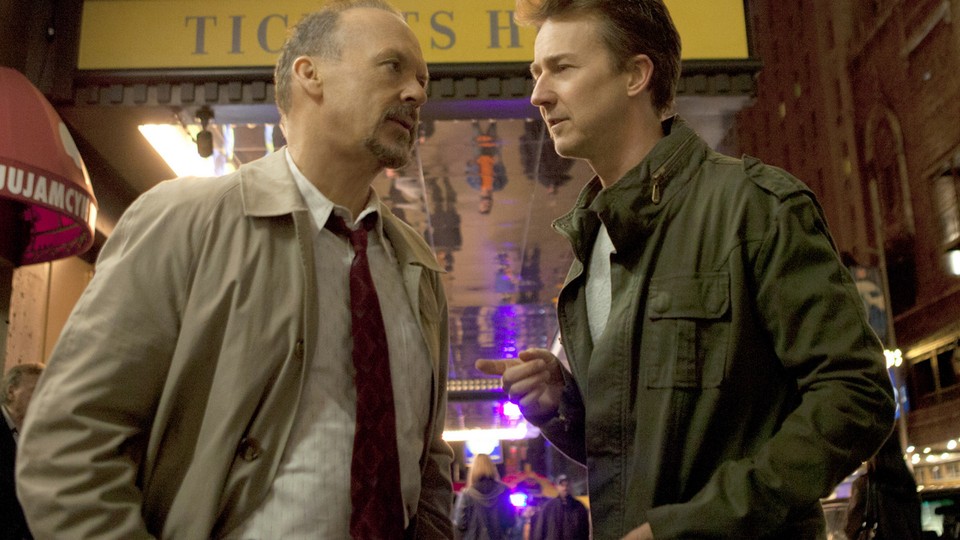 Announced early Thursday morning by actor Chris Pine and Academy President Cheryl Boone Isaacs, the Best Picture list stands at eight nominees (the first time in four years it hasn't been nine), including overall nomination leaders Birdman and The Grand Budapest Hotel, surprise nominee American Sniper, and the film most people still think will win in the end, Boyhood.
The fate of Selma, Ava DuVernay's much-lauded civil-rights historical drama, was a topic of much discussion in the days leading up to the awards. The film wasn't completed until late November, which left it too late for distributor Paramount to send out screener DVDs to voters in most awards organizations, including the Screen Actors Guild, Producers Guild, and Directors Guild. Oscar voters did get screeners, however, so this morning's nominations were the first of the season from a voting body that had been guaranteed the chance to watch it. The result was a severely mixed bag: a Best Picture nomination ... and only one other citation, in Best Original Song. Left off the ballot were director Ava DuVernay, who would have been the first black woman to be nominated for Best Director, and star David Oyelowo, whose omission meant an all-white field of acting nominees.
Surprise nominees included Bradley Cooper, now a three-time-consecutive Oscar nominee, who placed in the Best Actor category for American Sniper, and supporting actress Laura Dern, who joins her nominated co-star Reese Witherspoon for Wild.
As far as surprise omissions go, The LEGO Movie would have to top the list. Last winter's surprise blockbuster was thought to be a shoo-in nominee for Best Animated Feature, but its name was conspicuously absent. (The film did manage to snag a nomination for Best Original Song for its infectious "Everything Is Awesome!")
Besides Oyelowo, the crowded Best Actor field skipped Jake Gyllenhaal, whose Nightcrawler managed to score a screenplay nomination but nothing else. Meanwhile, Jennifer Aniston, widely assumed to be on her way to a first-ever Oscar nod, was left out in the cold for her performance in the largely unseen Cake. In her place was critical favorite Marion Cotillard for the Belgian drama Two Days, One Night.
The full list of the 2014 Academy Awards nominations are as follows:
BEST PICTURE
American Sniper (Warner Bros.)
Birdman (Fox Searchlight)
Boyhood (IFC Films)
The Grand Budapest Hotel (Fox Searchlight)
The Imitation Game (The Weinstein Company)
Selma (Paramount)
The Theory of Everything (Focus Features)
Whiplash (Sony Pictures Classics)
BEST DIRECTOR
Alejandro Gonzalez Iñarritu, Birdman
Richard Linklater, Boyhood
Bennett Miller, Foxcatcher
Wes Anderson, The Grand Budapest Hotel
Morten Tyldum, The Imitation Game
BEST ACTRESS
Marion Cotillard, Two Days, One Night
Felicity Jones, The Theory of Everything
Julianne Moore, Still Alice
Rosamund Pike, Gone Girl
Reese Witherspoon, Wild
BEST ACTOR
Steve Carell, Foxcatcher
Bradley Cooper, American Sniper
Benedict Cumberbatch, The Imitation Game
Michael Keaton, Birdman
Eddie Redmayne, The Theory of Everything
BEST SUPPORTING ACTRESS
Patricia Arquette, Boyhood
Laura Dern, Wild
Keira Knightley, The Imitation Game
Emma Stone, Birdman
Meryl Streep, Into the Woods
BEST SUPPORTING ACTOR
Robert Duvall, The Judge
Ethan Hawke, Boyhood
Edward Norton, Birdman
Mark Ruffalo, Foxcatcher
JK Simmons, Whiplash
BEST ORIGINAL SCREENPLAY
Birdman (Armando Bo, Alexander Dinelaris, Nicholas Giabone, Alejandro Gonzalez Iñarritu)
Boyhood (Richard Linklater)
Foxcatcher (Dan Futterman, E. Max Frye)
The Grand Budapest Hotel (Wes Anderson)
Nightcrawler (Dan Gilroy)
BEST ADAPTED SCREENPLAY
American Sniper (Jason Hall)
The Imitation Game (Graham Moore)
Inherent Vice (Paul Thomas Anderson)
The Theory of Everything (Anthong McCarten)
Whiplash (Damien Chazelle)
BEST ANIMATED FEATURE
Big Hero 6
The Boxtrolls
How to Train Your Dragon 2
Song of the Sea
The Tale of Princess Kaguya
BEST DOCUMENTARY FEATURE
Citizenfour
Finding Vivian Maier
Last Days in Vietnam
Salt of the Earth
Virunga
BEST FOREIGN LANGUAGE FILM
Ida (Poland)
Leviathan (Russia)
Tangerines (Estonia)
Timbuktu (Mauritania)
Wild Tales (Argentina)
BEST FILM EDITING
American Sniper
Boyhood
The Grand Budapest Hotel
The Imitation Game
Whiplash
BEST ORIGINAL SONG
Begin Again, "Lost Stars"
Beyond the Lights, "Grateful"
Glen Campbell: I'll Be Me, "I'm Not Gonna Miss You"
The LEGO Movie, "Everything Is Awesome"
Selma, "Glory"
BEST PRODUCTION DESIGN
The Grand Budapest Hotel
The Imitation Game
Interstellar
Into the Woods
Mr. Turner
BEST SOUND EDITING
American Sniper
Birdman
The Hobbit: Battle of the Five Armies
Interstellar
Unbroken
BEST SOUND MIXING
American Sniper
Birdman
Interstellar
Unbroken
Whiplash
BEST VISUAL EFFECTS
Captain America: The Winter Soldier
Dawn of the Planet of the Apes
Guardians of the Galaxy
Interstellar
X-Men: Days of Future Past
BEST CINEMATOGRAPHY
Birdman (Emmanuel Lubezki)
The Grand Budapest Hotel (Robert Yeoman)
Ida (Ryszard Lenczewski, Lukasz Zal)
Mr. Turner (Dick Pope)
Unbroken (Roger Deakins)
BEST COSTUME DESIGN
The Grand Budapest Hotel
Inherent Vice
Into the Woods
Maleficent
Mr. Turner
BEST MAKEUP AND HAIRSTYLING
Foxcatcher
The Grand Budapest Hotel
Guardians of the Galaxy
BEST ORIGINAL SCORE
The Grand Budapest Hotel (Alexandre Desplat)
The Imitation Game (Alexandre Desplat)
Interstellar (Hans Zimmer)
Mr. Turner (Gary Yershon)
The Theory of Everything (Johan Johansson)
BEST ANIMATED SHORT FILM
The Bigger Picture
The Damkeeper
Feast
Me and My Moulton
A Single Life
BEST LIVE-ACTION SHORT FILM
Aya
Boogaloo and Graham
Butter Lamp
Paraveneh
The Phone Call
BEST DOCUMENTARY SHORT
Crisis Hotline: Veterans Press 1
Joanna
Our Curse
The Reaper
White Earth