Madonna's New Trolling Technique
When sexual provocation doesn't work, just deface civil-rights icons.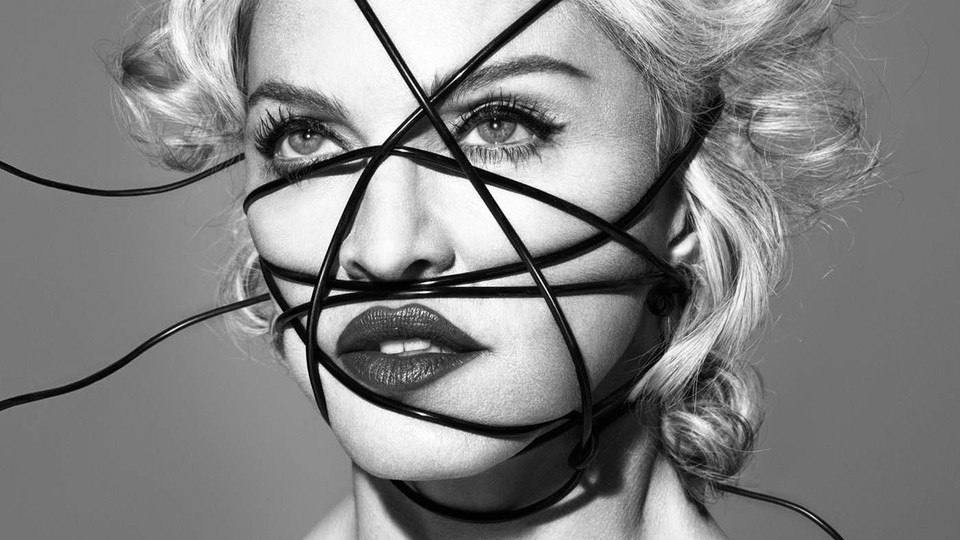 Toward the end of the 1991 documentary Madonna: Truth or Dare, the young superstar confides that she knows she's "not the best singer and not the best dancer." But, she says, she's not interested in being the best. "I'm interested in pushing people's buttons, and being provocative and political." Coming at the end of nearly two hours of footage of her scandalizing everyone in sight—Toronto cops who threatened to arrest her for faking an orgasm on stage; her own entourage who didn't expect that she'd commit quite so eagerly to deep-throating a glass bottle—it's a welcome acknowledgement that Madonna has always known exactly what she's been up to.
Notice that last part of her mission statement, though: She wants to be provocative and political. Political, really? You can see it, if you squint. She caused a revolution in pop music, and influenced attitudes outside of it, by publicly flaunting her sexuality. Her Catholic blaspheming was a stunt for attention that also dramatized the way that many people struggle with religion's repressive aspects. And she has loudly championed gay rights and international freedom. If you really wanted to take her political aspirations seriously, you could say she's been an all-purpose culture warrior for the left, using dance tunes and cone bras and flagrantly inclusive dating habits to assault old ideas about what people, especially women, are allowed to do.
Provocative/political has become so much a part of Madonna's brand that she can name her 13th album Rebel Heart and not even have to explain the name's meaning. Which, unfortunately, isn't to say she didn't then explain its meaning. After releasing six songs online recently, she began tweeting out images of famous icons tied in ropes just like the ones she has on her album cover, with the hashtag "#rebelheart." Some of the first entries in the series were Marilyn Monroe and Jesus—ambitious but unshocking in the Yeezus era. But then, on Friday, came tweets about Martin Luther King Jr., Nelson Mandela, and Bob Marley. For example:
Accusations of tone-deafness and plain racism came fast. Madonna not only seemed to equate herself with Mandela et. al, but, as Julianne Escobedo Shepherd wrote, was "also apparently oblivious to the concept that a white artist who's made various forms of black music throughout her career showing images of civil rights icons tied up in cord is demeaning."
Did Madonna know how inflammatory it would be to S&M bind Martin Luther King Jr. as a marketing ploy? Her career and Truth or Dare mission statement suggest she did. So would the fact that the three controversial #rebelheart posts came in quick succession and were preceded by a warning meme: "Dear Haters, I have so much MORE for you to be MAD at ... Be patient!" So would the substance of her "apology" note on Facebook, which contained no acknowledgement of a mistake nor mention of surprise that people were mad.
So yes, this is probably just another trolling incident from Madonna. But it's also a little new: brazenly "#problematic" rather than brazenly sexual, political, or just weird (fake British accent, this isn't). She's baiting social-justice commentators instead of conservatives or mere good taste. And while she's had racially tinged controversies previously—see bell hooks's seminal appropriation critique and an idiotic Instagram incident a year ago—never before did it seem like she was asking for them.
It's a crass reinvention, but it also might, sadly, be a savvy one. Late last year, she posed for topless photos in Interview that elicited some tabloid notice and social-media tittering, but certainly didn't Break the Internet like those sorts of shoots are supposed to (or break the pre-Internet, as her Sex book did). In the time since, though, the #RebelHeart controversy—named, remember, after a forthcoming record—has trended across online platforms and been written up in The New York Times. Mission accomplished for a rebel whose biggest cause, all along, has been herself.