London's a Lost City in Babylon
The new Sundance Channel series depicts a grim, dystopian metropolis ridden with crime and dysfunction. Oh, and it's a comedy.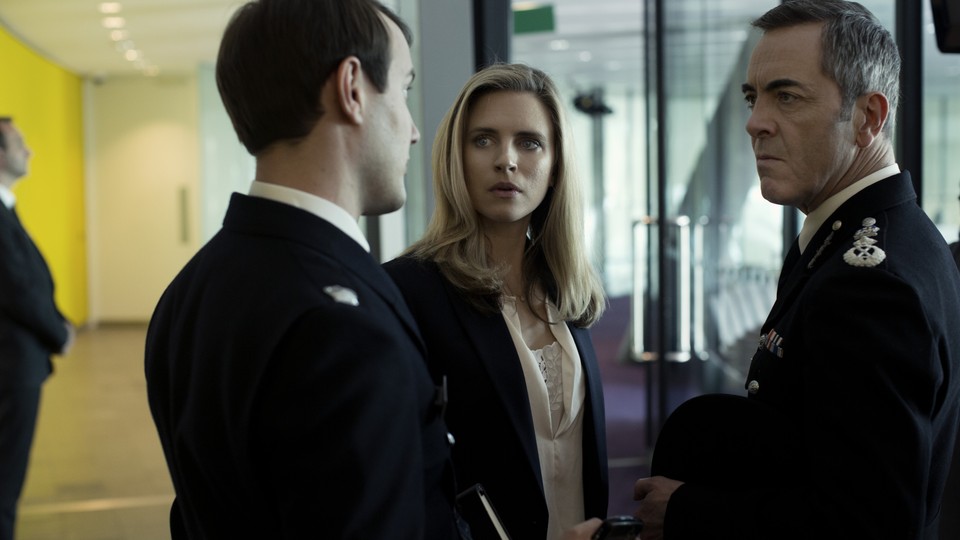 The London of Babylon, the six-part series debuting on the Sundance Channel tonight, isn't the cozy, pastel-colored, inclusive, charmingly batty London of Hugh Grant movies and Masterpiece Contemporary. There are no strolls across the Millennium Bridge, or cheeky taxi drivers. Instead, snipers target innocent pedestrians, armed robbers point shotguns at terrified cops, and hordes of rioting teenagers throw fire extinguishers at their guards and beat each other, savagely. This London is troubled. This London is feral.
In case you hadn't guessed it, Babylon is a comedy, but in the very bleakest, most cynical, most-akin-to-the-depths-of-human-malignity kind of way. Created by Danny Boyle (Slumdog Millionaire, Trainspotting, etc etc), Jesse Armstrong (The Thick of It, In the Loop), and Sam Bain (Peep Show, Four Lions), its most obvious muse is Veep—unsurprisingly, given than Armstrong contributes to the HBO series, and acknowledging the slightly incestuous world of British comedy writers. Babylon first aired on Britain's Channel 4 last year as a 90-minute, Boyle-directed pilot, in which an American communications whiz at Instagram, Liz Garvey (Brit Marling), gets scouted for a job with London's Metropolitan Police after a TED Talk she delivers about "360-degree communication" goes viral. The immediate conflict between Garvey's touchy-feely corporate mouthwash and the Met's brazen and rigidly repressed dysfunction seems like obvious comedic fodder. But as the series begins to reveal, she's actually just as manipulative and gleefully foul-mouthed as her new colleagues, most of whom have spent their careers alternately clambering up the greasy pole and shoving each other right back down to the bottom.
In the pilot, Garvey's first day at work was interrupted by a sniper on a shooting spree targeting random victims around the city. Tonight's episode picks up a short while later, with the central conflict being a riot at an institution for young offenders that's been outsourced to a private security agency (perhaps the most biting moment is when two police officers politely debate the ramifications of classing it as a "riot" or a "disturbance" while watching security footage of guards being brutally beaten by inmates). The action segues back and forth between New Scotland Yard, where Police Commissioner Richard Miller (the excellent James Nesbitt) is dealing with pressure from the Mayor's office, and two police units—one a group of authorized firearms officers (remember, most British cops don't carry guns), and one a force specializing in maintaining public order. Each unit has its own unique way of screwing things up, with Miller resentfully bearing the brunt of the subsequent chaos. "He's the head of the London police, Dom," says one member of the communications team. "His scrotum is the Mayor's stress ball."
The first three episodes are directed by Jon S. Baird, who most recently helmed a feature adaptation of Irvine Welsh's Filth starring James McAvoy (that film was about a corrupt and manipulative police officer in a thoroughly unpleasant world—so familiar territory). At times, the dialogue's similarities to Veep feel almost embarrassingly brazen—exhaustingly creative use of profanity, meaningless officialese, rapid-fire insults delivered with calculated indifference—but Babylon has none of the situation comedy that saves Veep from being grim, and even less of its charm.
That said, it can be very, very funny, even if some of the lingo and accents make it occasionally incomprehensible to American viewers. "First they came for the prison service, and we didn't give a shit 'cause they were wankers," says one copper of the increasing specter of privatization on the force, and its consequences for the bobbies on the beat. "There's a Bounty on your head," says an armed police officer to Warwick (Nick Blood), who recently shot a bank robber, as he literally puts a Bounty bar (an English version of an Almond Joy) on his head. When a group of territorial support officers is finally sent out to deal with the prison riot, a spokesperson for the inmates demands 40 buckets of chicken, stuffed-crust pizzas, and Russell Brand (populist icon du jour) as an intermediary. "Stuffed crust?" says an officer indignantly. "Now they're taking the piss."
Still, melding the dystopian drama of Boyle's oeuvre (28 Days Later comes to mind) and the subversive, surrealist-tinged comedy of writers Armstrong and Bain, doesn't quite work in the first two episodes. Marling, a darling of the indie-film world, is graceful and ballsy as Garvey, wrangling the sulky commissioner, a snarky colleague angling for her job (Bertie Carvel), the snake-like Deputy Commissioner (Paterson Joseph, last seen as Holy Wayne in HBO's The Leftovers), and the notoriously sadistic London press with aplomb. But the Scotland Yard scenes are tonally so different from the adrenaline-driven depictions of police in action that the pacing suffers, and the more bureaucratic glimpses of the machinations of life on the force can drag. It's hard to achieve both glib satire and emotional realism at the same time, so as much as the audience connects with the PTSD-ridden Warwick and his emotional fragility, it's hard to then laugh when a female armed officer utters the mantra, "Doesn't matter if they're a lollipop lady or your mum. If they've got a Glock, you pop pop pop."
Babylon is, at its heart, an office comedy. It's also a sweeping drama. It has clever and caustic things to say about contemporary policing, and it's more relevant than ever amidst the unsettled backdrop of an increasingly fractious and unequal London. But by attempting to straddle two very different genres at once, it undermines the effectiveness of both forms of entertainment. It isn't necessarily a fatal problem, but it's one that will hopefully be ameliorated in the rest of the show's short season.