In Cuba, Maps Make a Comeback
Old-fashioned navigation is enjoying a renaissance on the island, where Internet access is still scant.
When Stephan Van Dam began designing two detailed tourist maps of Cuba in 2014, he couldn't have known that one year later, the prospect of renewed relations between the country and the U.S. could effectively create a whole new market for them. At the time Van Dam, the founder of VanDam's StreetSmart maps, was catering to a smaller audience: the Americans who could only visit the country if they were Cuban-American or embarking on a "people-to-people" tour run by a licensed guide, and the 1.1 million Canadians and hundreds of thousands of European travelers who visited last year.
In 2015, the country offers jaded American travelers something different from the usual tourist trappings. According to Van Dam, the country is experiencing a brief moment "free of advertising before global corporate luxe flattens the island." With highly legible cartography and engaging photographic covers, his StreetSmart Cuba and StreetSmart Havana maps highlight local business colorfully. They're guides to the latest hotels, resorts, restaurants and paladares (private family-run restaurants) that appeal to the pioneering tourist eager to experience the country before the inevitable onslaught of development.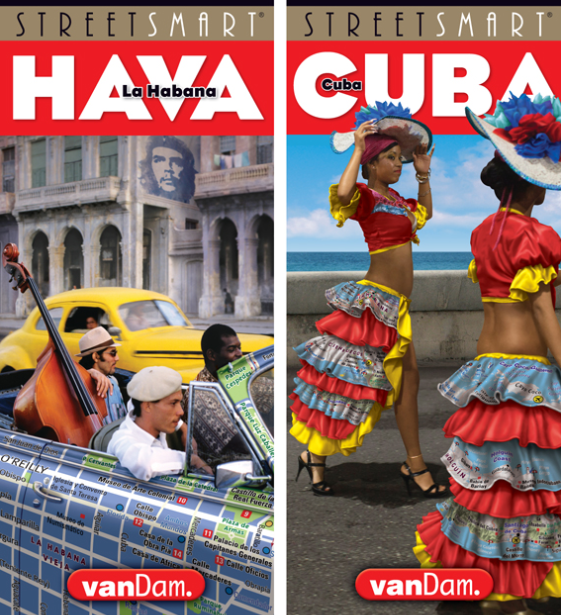 Van Dam's Cuban maps culled their information from both federal data and his team's personal experience. The relief and terrain data come courtesy of the CIA; the cultural and urban information was provided by Havana's Office of the City Historian; the restaurant and paladares recommendations from his team's "ground trothing and testing," as well as recommendations by Cubans and American friends. Walking Havana from one end to the other gave Van Dam a sense of the urban fabric, which is, by his description, frozen in time and brimming with period-specific architectural jewels—buildings that reflect Plateresque, Cuban baroque, Neoclassical, Art Nouveau, Art Deco, Streamline Moderne, Mid-century modern, and Soviet Brutalist architectures. Cuba, he says, "avoided the 1960s Corbusian redevelopment schemes that destroyed so many world cities throughout the Americas."
To develop the maps, Van Dam and his team visited Cuba in 2013 under a U.S. self-certification program administered by the Office of Foreign Assets Control that permits U.S. citizens to travel to Cuba independently to conduct research. With the prospect of sanctions being lifted in the near future, Van Dam is already planning more Cuba projects across new media, starting with a website mapping the influence of the clave, an instrument that figures widely in Cuban music, around the world.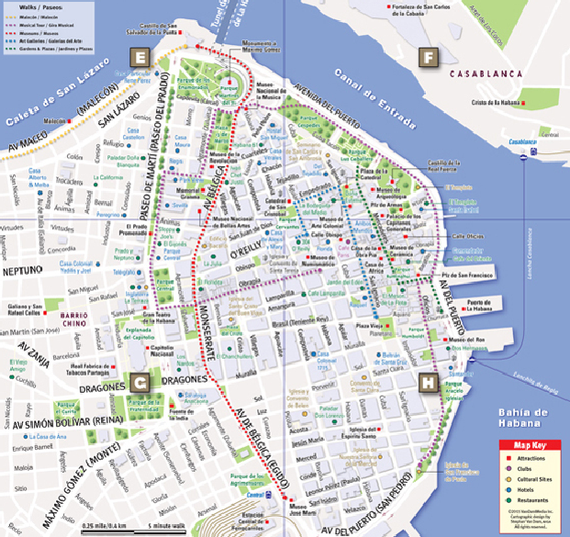 The paper map may be old-fashioned, but when it comes to Cuba, Van Dam is ahead of the curve. Havana is currently a dark spot on Google Street Maps, and Google hasn't yet released a statement saying when the company will upgrade its coverage. Even if Street Maps did work there, though, there are no guarantees it would have very many users in the near future. With Internet coverage at a scant 5 percent across the country and download speeds reminiscent of the pre-dial-up era, Cuba doesn't yet have the digital infrastructure to support cell phone cartography. Which leaves room for a handy paper copy renaissance: This is a fleeting moment, Van Damm notes, when "the trusty laminated map trumps" Google views.

---
---