Grantchester: Attractive Vicar Solves Crimes in Idyllic English Village
The latest Masterpiece Mystery! spices up cookie-cutter murder mysteries with a turn by the dashing James Norton.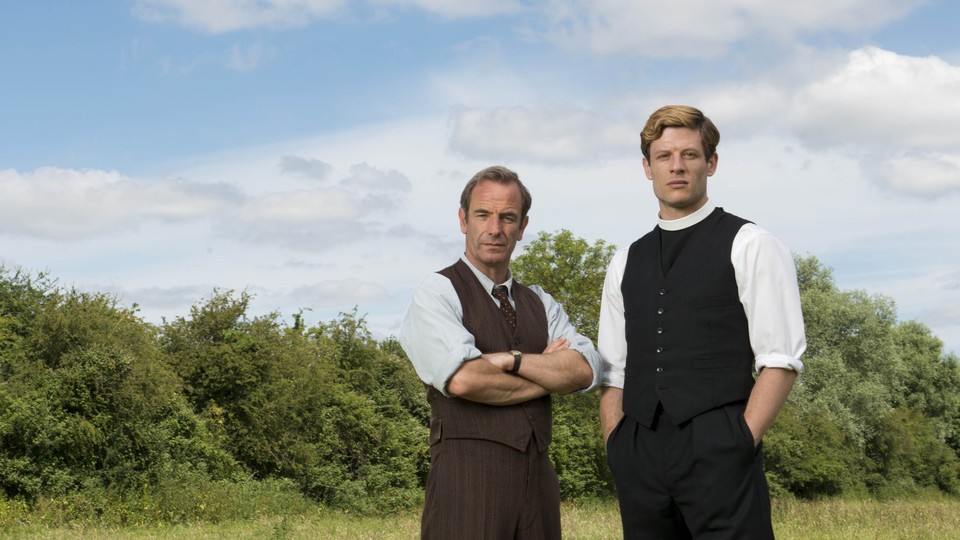 There's a strange comfort in watching Masterpiece Mystery!, the division of PBS that imports lush British whodunits stateside each Sunday night. While the series trafficks in violence wreaked by blunt instruments and sly homicides accomplished by poison slipped into the afternoon tea, the majority of its shows are based on so-called cozy mysteries. A 20th-century genre popularized by Agatha Christie, cozies serve crime in a distinctly non-threatening manner, usually involving domestic crimes, small towns, and amateur detectives who tend to be old, crabby, cat-loving, and/or Belgian.
Sunday night's premiere of its latest series, Grantchester, serves up all the usual comforts with one notable exception: Its amateur sleuth is young, handsome, and religious. Based on a series of short stories by James Runcie, who was influenced by genre masters Christie, G.K. Chesterton, and Barbara Pym, the series introduces Sidney Chambers (James Norton), a straw-haired vicar with killer cheekbones and no cloying affection for cats (he does acquire, it must be noted, a dog.) Chambers presides over the local church in Grantchester, a small, real-life village located outside of Cambridge that's a popular getaway destination for students of the neighboring university, as well as the residence of an outsized number of Nobel laureates. Because this is a Mystery!, it is also, of course, home to an outsized number of savvy murderers.
The premiere is set in familiar period territory: It's 1953, and the suicide of a local, prominent lawyer has shaken the bucolic town from its sleepy solipsism. Chambers is vested with the uncomfortable task of hosting the funeral, which he nevertheless does magnificently, delivering a rousing sermon on the nature of forgiveness. His words inspire Pamela Morton (Rachel Shelley), who steals him from the wake to make a juicy confession: She and the deceased were having an affair. She tells him she's convinced her lover never would have killed himself. The problem is he had motive—he was so mired in debt he stole from his company—and apparently wrote a suicide note. Morton asks Chambers to start prodding the victim's close ones to determine the truth. "You, the human heart, can ask any question of anyone," she says without irony, thereby laying out the series' ridiculous contrivance of a premise.
Chambers has no luck proselytizing Grantchester's resident detective inspector, Georgie Keating (Robson Green, doing his best Lestrade), who gruffly points out all the evidence against Morton's claim. But because he's a man of the cloth, Chambers believes her, before long exploiting his standing to gain access to the bereaved. Perhaps also because of his looks, he enjoys some success. Chambers charms the lawyer's secretary into revealing that the brand of whiskey next to the dead man was of a cheaper variety than his norm. A thin bit of information? You bet, but it's apparently enough to convince Keating to let him take a peek into the case folder.
Bromance, a mainstay of Midsomer Murders, Sherlock, Inspector Lewis, Inspector Morse, and many more Masterpiece mysteries, blossoms. Keating learns the value of having an ecclesiastical Apollo on his side when Chambers coaxes information, and a diary, from the lawyer's widow, Hildegard ("Sly old dog," Keating says, quite a lot).
Keating and Chambers' banter over backgammon—actually, though—doesn't ever quite amount to the inseparable partnership of Sherlock and Watson. But as Chambers, Norton is compelling enough on his own. His last and only notable role was the leather-clad rapist on Happy Valley, which makes his transformation into the good vicar particularly impressive here. Chambers also has his issues: He's in love with an engaged woman Amanda Kendall (Morven Christie), does some questionable things in the name of the investigation (steal, seduce, lie), suffers from PTSD due to his time fighting for the Scottish Guard in World War II, and has a mild alcohol problem—his preference for whiskey being the subject of intense incredulity by the townsfolk, who stereotype holy men as a sherry drinkers. But his flaws aren't given too much weight, and are instead swiftly turned into a punchline by his holier-than-thou housekeeper, Mrs. Maguire.
The show makes a half-hearted attempt to mix in a little class commentary in with its homogenous mystery, including plots in which Chambers's sister's boyfriend is accused of stealing a wedding ring because he's black, and Hildegard is the butt of jokes about the lawyer's unhappy marriage just because she's German. Sidney turns out to be a very progressive '50s vicar; for example, he sees through these stereotypes and immediately recognizes (and accepts) that the parish's new archdeacon Leonard Finch (Al Weaver) is gay. But these anomalous observations don't go anywhere, and one gets the sense they're the end result of someone behind-the-scenes hissing in Masterpiece executive producer Rebecca Eaton's ears.
But the show is at its best when it does what Masterpiece has always excelled at: providing a Sunday-night platform for fresh talent to elevate the usually unoriginal material they're given. Over the past few years alone, Masterpiece Mystery! has done such an honor for Matthew Rhys and Anna Maxwell Martin (Death Comes to Pemberley), Rufus Sewell (Zen), and Toby Stephens (Miss Marple); while Classic's introduced Felicity Jones (Northanger Abbey) and Hayley Atwell (Mansfield Park). If this Mystery! doesn't live up to its exclamation mark, it at least it delivers on some predictable pleasures.