Time to 'Let It Go,' Glee
The sixth season of Fox's former hit treads unfamiliar ground—failure for star Rachel Berry—but no one's heart seems to be in it.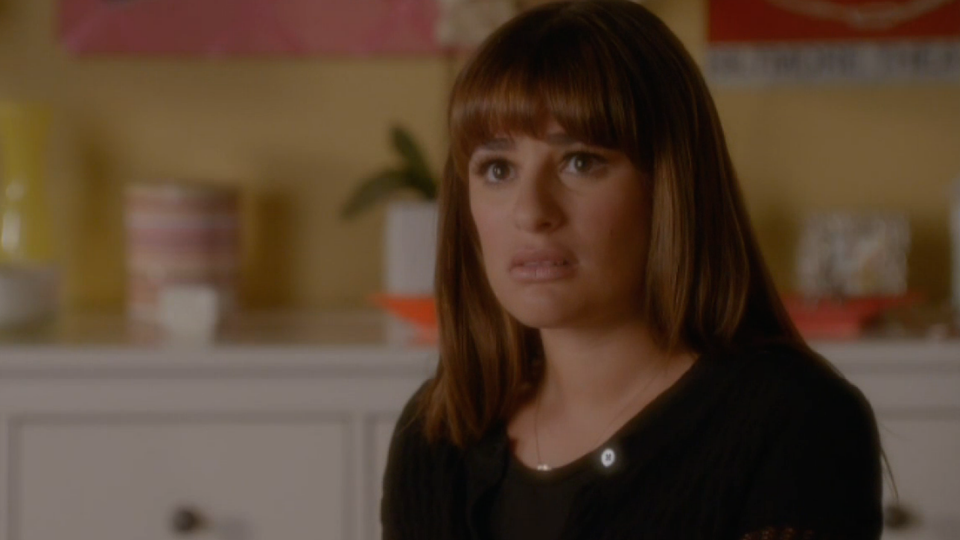 Rachel Berry isn't in a good place at the outset of this season of Glee. "Oh my God, I feel like I died and now I'm in hell," she says in reaction to bad news from her father. But Rachel's portrayer, Lea Michele, could just as easily be talking about still being on Glee during its grim twilight.
Maybe "hell" is too harsh a word. Fairer would be "a zombie of a show that, by circumstances far beyond anyone's control is about to complete a contractually obligated sixth season almost no one wants." Judged by this standard, tonight's two-hour premiere (made up of two episodes, "Loser Like Me" and "Homecoming") is pretty good. Judged by any other standard, though: yikes.
Creatively, one could argue Glee's been struggling for years. Was it good its first few seasons? Just the first season? Half the first season? Accounts vary depending on personal taste, but it was definitely good TV at some point in its life. In fact, at moments, it was very good TV. As a tale of a bunch of plucky underdogs forming the New Directions, the show believed its motto: "Being a part of something special makes you special." The musical numbers, including series anthem "Don't Stop Believin'," were special indeed.
Yet much like Murphy's last hit series, Nip/Tuck, the show has derailed as it marches on and on, long past its expiration date. There's a palpable sense of boredom in many of his past-their-prime shows—evident this year with American Horror Story as Murphy develops new projects Scream Queens and American Crime Story.
Of course, a show isn't just its creator—if the cast and writers were still feeling inspired, Glee could continue to thrive. But recently, it's been through the wringer. Two of the stars, Michele and Naya Rivera, were dogged by rumors and whispers of a feud throughout the end of last season, as their characters followed a remarkably similar trajectory. The stars just seem over it. Several have left, only returning and looking exhausted for one-off guest spots. And not to forget: The entire team suffered through the tragic death of one of their co-workers and friends in 2013.
That exhaustion and creative drain finally took a toll on Glee's ratings last season, which dropped to abysmal numbers by its finale. Unfortunately, Fox made the choice during the fourth season to renew Glee for not just the fifth season, but also the sixth. In response to the ratings free-fall, the network cut the number of episodes for season six by nine and pared season five down by two. But that still leaves the creative team with 13 more episodes to fill and barely any audience left to entertain.
The show's new direction (pardon the pun) is an intriguing one: What happens if Rachel, the show's center, the one character it pushed toward stardom despite any and all obstacles, failed to become a star? Seeing her return home to small-town Ohio—after a quality cover of Alanis Morrisette's "Uninvited"—is compelling. Seeing almost every other main character also fail, either personally or professionally, is less so. The show gets distracted from the one character it still understands (Rachel) by all the characters it long ago lost (Kurt and Blaine especially).
The second hour, "Homecoming," features almost every original cast member returning to be used solely as props in introducing the new Glee ​kids. Among those newbies there are immensely talented fresh faces: Keep an eye out for Samantha Ware, who brings more star power to a cover of Janelle Monáe's "Tightrope" than any performer other than Michele has in seasons. But even the new cast can't do much to excite considering they only have 11 more episodes to make an impression and a minuscule potential fanbase to follow them after the final curtain falls.
Almost everything else beyond Michele and the newbies feels stale. Kurt and Blaine have broken up again! Sue Sylvester (the eternally misused Jane Lynch, who still has a hold on her character long after the show gave up on her) is a bully again! The original rival glee clubs, Vocal Adrenaline and The Warblers, are back! If the show was going for a feeling of nostalgia, it sadly whiffs—hard. No one's heart is in this. This is the definition of a dead show airing.
It's fitting, then, that the first hour ends with a Frozen cover that's over a year late to the zeitgeist. Despite Michele's vocal prowess and charisma, there's just no saving it, making it feel just as the show does: dull, overextended, and irrelevant. It's Glee's time—time to let it go.