Frank Lampard's Tale of Two Cities
For European stars, is Major League Soccer anything more than a long retirement party?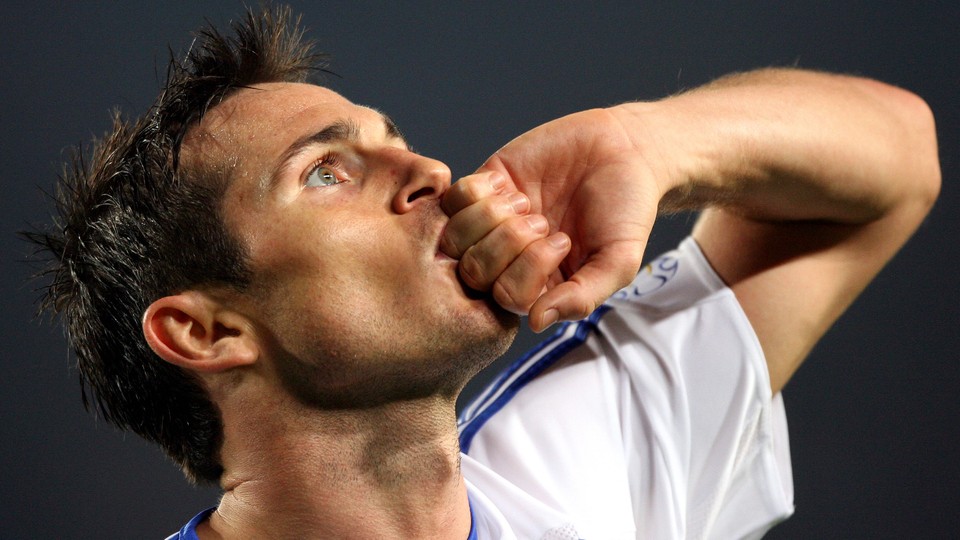 Over the course of a sterling 17-year career in English soccer, Frank James Lampard netted a remarkable 212 goals for Chelsea. No one at the club had ever scored more—and "Super Frank" wasn't even a striker, just a midfielder with a nose for goals. But as the 2013-14 Premier League season drew to a close, Chelsea had younger talent coming up through the ranks, so Lampard's contract was allowed to expire.
The 36 year old wasn't ready to retire, though, meaning the logical next move was to America, the land of the free and the home of New York City FC, Major League Soccer's newest glamour franchise. Lampard ostensibly signed a two-year deal last summer. He was to be the club's marquee signing, and he looked happy about it, posing at the Brooklyn Bridge, collar wide open, his new team's scarf in hand.
Lampard shirts hit the club store, and he  helped boost season ticket sales. But before the old sharpshooter could ride off into the sunset, he went back to grab something from the office, stayed for a drink, and ended up being hired as the new deputy sheriff.
To explain: NYCFC, an expansion franchise, wasn't scheduled to play its first match until March, whereas most European leagues kick off in August. Lampard planned to join Chelsea's Premier League rivals Manchester City on a five-month loan and then return for the start of the MLS season—a relatively common move for players transitioning across the Atlantic. Manchester City and NYCFC are both owned by the umbrella company City Football Group (CFG), so the deal looked like a win-win: Lampard would stay in shape; City would add some experience and depth to the team. Another aging superstar set to join NYCFC, the Spaniard David Villa, had signed a similar loan deal to play for Melbourne City, another CFG-owned team.
As the Premier League's richest club and reigning champion, Manchester City didn't expect to have to rely on an aging Lampard. After a spate of injuries though, it's had to, and Lampard has evolved from a high-profile backup into the team's third-leading goalscorer. His value is such that CFG extended his stay in Manchester through at least the end of the season in June—revealing, in the process, that he was never technically on loan from NYCFC. Friday morning, Lampard issued a statement denouncing  rumors that he wouldn't come to New York at all as "lies and nonsense," but nevertheless, the man who'd said it was "a privilege to help make history here in New York City" wouldn't be there for the club's first game.
The about-face raised a furor in American soccer. Some felt that CFG was treating NYCFC as a feeder club, a little brother. The writer Grant Wahl called the delay a "slap in the face" at Sports Illustrated, an NYCFC supporters' group publicly denounced it online; and on Fox Sports, former USA defender Alexei Lalas howled about Lampard's lack of commitment with all the anguish of a jilted lover. News of the delay reignited an old debate: For European stars, is the MLS anything more than a long retirement party?
Sort of.
No one would seriously argue that MLS is as competitive or popular as the Premier League or, for that matter, as the top leagues in Spain, France, or Italy. Behind all the talk of "fresh challenges" and "growing the sport in the US," the rationale implicit in a European star's move to America is that he's on the decline. This was made explicit when Steven Gerrard—another English legend coming to America next year to play for the LA Galaxy—said he would have stayed at Liverpool if he could still expect to start every match, and when England manager Roy Hodgson said the Lampard and Gerrard signings were a real coup for MLS because both players are still "Premier League standard." Xavi, Barcelona's sublimely gifted midfielder, had "his bags packed" for New York too. Then he changed his mind, because Barcelona promised him a key role, and because MLS is, quite simply, a lesser attraction.
In other words, to expect Lampard to ask to leave City during a Premier League title race is to expect Stephon Marbury to turn down a big NBA contract with the Chicago Bulls because his Beijing Ducks' season isn't over: Perhaps accepting foreign dominance is hard in a country that reflexively calls its domestic champions the "world champions."
The inferiority of MLS doesn't mean fading superstars aren't genuinely interested in playing in this country, and it doesn't mean top players—like Lampard—won't turn down Europe's lesser lights to join the league. Nor does soccer's secondary status in America mean these stars fail to make a positive impact on the public consciousness and the pitch. Robbie Keane, Ireland's record goalscorer and a Premier League veteran, capped his 2014 MVP season by scoring the goal that won the MLS Cup. Bored guns for hire don't do celebratory somersaults.
The official MLS response to the Lampard delay was measured. "If there was an error in judgment on this, it was not just announcing that he would come in July and figuring out how to manage the start of the season, no different than what happened with Robbie Keane or Thierry Henry or David Beckham," Commissioner Don Garber told Sports Illustrated. "You're dealing with a very unusual set of circumstances. Frank has become one of the most important players in Man City's season and he's scored critical goals to have them tied for first place in the Premier League."
Youth development—and rising numbers for television audience and attendance—are more important for sustaining growth than big names, which is why MLS limits each team to just three high-priced superstars. League executives haven't forgotten that MLS's predecessor, the North American Soccer League, collapsed in part because of overspending on imports.
While the Lampard situation was mishandled and possibly born out of insensitivity to American fans, it's worth remembering that David Beckham—underwear model, Spice Boy, and recipient of an Order of the British Empire for his services to soccer—actually spent his own money to delay his return from Milan to the Los Angeles Galaxy in 2009. When he did come back, he won two MLS titles. Past public relations gaffes faded away. Beckham's compatriot is famous for arriving late into the penalty box. Even if six months is a bit later than usual, it's usually worth it when Frank gets there.