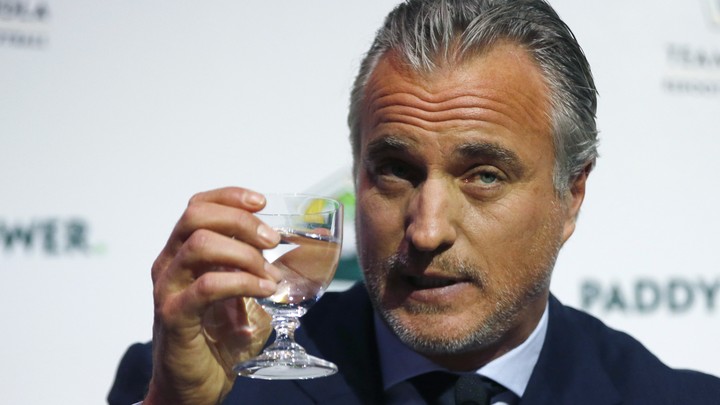 Ask a British person who David Ginola is, and the initial response will probably include something about shampoo. Ginola was a soccer star in the '90s, a celebrated playmaker who came over from Paris to bestow European panache upon Premier League teams like Newcastle United and Tottenham Hotspur, and who won the coveted PFA Player of the Year award in 1999. Still, he's probably best-remembered for his long, flowing, shiny hair and his penchant for endorsements, including this L'Oreal men's shampoo ad. On retiring from the sport in 2002, Ginola became a television pundit, and this year announced he was running for the presidency of FIFA, soccer's world governing body.
Ginola's bid, it's important to note, is being underwritten by betting firm Paddy Power, which is paying the Frenchman £250,000 for his "time." And yet were he to actually be elected, the stunt would probably still herald positive reform for the corruption-plagued agency.
That's how bad FIFA's public image is. A presidential candidacy funded by sports bookies, starring one of soccers most legendary show ponies, nevertheless still carries with it the prospect of hope and change. It remains to be seen whether Ginola's candidacy will even be deemed eligible by FIFA—its fairly flimsy ethics rules do wisely forbid its leaders from being associated with gambling—but were it put to a public a vote, it's likely most soccer fans would opt for Ginola. (Most soccer fans would probably opt for a ham sandwich over incumbent FIFA head Sepp Blatter. That's how bad things have gotten.)
Soccer is, more than ever, the world's most popular sport, and has made tremendous inroads into less-enthusiastic countries like the U.S., Australia and China over the past two decades. But the integrity of the agency that organizes the sport's biggest event—the World Cup— is, at this point, tarnished beyond repair. FIFA's Swiss administrator Sepp Blatter, who's worked for the agency since 1975, was appointed president in 1998 amid allegations of bribery. He's running for a fifth term this year despite a tenure plagued with charges of backroom deals, and a long history of making bizarrely sexist, homophobic, and racist statements.
Probably the nadir of FIFA's recent existence came in 2010, when the agency awarded the 2018 World Cup to Russia and the 2022 event to Qatar. Qatar's victory, and the promise of a World Cup hosted in the Middle East, was hailed by Blatter as further evidence of football breaking new global ground, but questions immediately arose over the bid's fundamental flaws. The tiny country (which has never even participated in the tournament) pledged to build or expand 12 stadiums to World Cup sizes and outfit them with advanced cooling systems to counteract searing summer temperatures. Since then, it's admitted that this plan is unfeasible, forcing FIFA to explore moving the event to the winter, which would throw all domestic football scheduling into chaos. Several hundred migrant workers have already died constructing the new stadiums, and The Guardian has estimated around 4,000 more will do so due to horrendous labor violations. And when questioned about Qatar's oppressive laws against homosexuality, given the global tourism a World Cup attracts, Blatter's answer was, "I'd say [gay fans] should refrain from any sexual activities."
Suddenly, a former shampoo pitchman backed by gambling money doesn't seem so bad. The litany of corruption charges lobbed at FIFA is too voluminous to list in full, but intense suspicion still surrounds the process by which both Russia and Qatar won their bids. In 2012, FIFA commissioned former U.S. Attorney Michael Garcia to investigate the charges, but then declined to make his 430-page report public, instead issuing a 42-page summary that cleared all parties of any substantial wrongdoing (while noting a few salient details, like the fact that computers used for Russia's bid had been subsequently destroyed). Garcia called the summary "materially incomplete" and resigned in protest.
Every effort FIFA makes to sweep its scandals under the rug somehow ends up uncovering yet more dirt, and yet Blatter is still the presumed favorite to be re-elected to a fifth term in May (this despite pledging not to run again upon winning in 2011). Along with Ginola, his challengers include Jerome Champagne (a French diplomat and former Blatter ally), Prince Ali bin Al-Hussein of Jordan (a Vice President of FIFA's Asian division with an impeccable record and strong support from FIFA's European branch) and Dutch sports director Michael van Praag. The number of candidates is a strong indication of FIFA's overall dissatisfaction but could aid Blatter by splitting the vote; he's already secured the support of Africa's football body.
On Wednesday, those prospects shifted slightly with a true superstar entrant—retired superstar Luis Figo, a hugely popular player for Barcelona and Real Madrid in the '90s and aughts who was the figurehead of the Portuguese national team's "Golden Generation." In an interview with CNN, he summarized his fairly elegantly. "If you search FIFA on the internet you see the first word that comes out: scandal," he said. Figo has no particular experience as an administrator to point to, but he has the kind of clout most FIFA executives could only dream of—his is a more legitimate version of the Ginola candidacy, hopefully purged of its less-savory associations. Considering the agency's currently toxic state of affairs, that's change soccer fans can believe in.
We want to hear what you think about this article. Submit a letter to the editor or write to letters@theatlantic.com.
David Sims
is a staff writer at
The Atlantic
, where he covers culture.