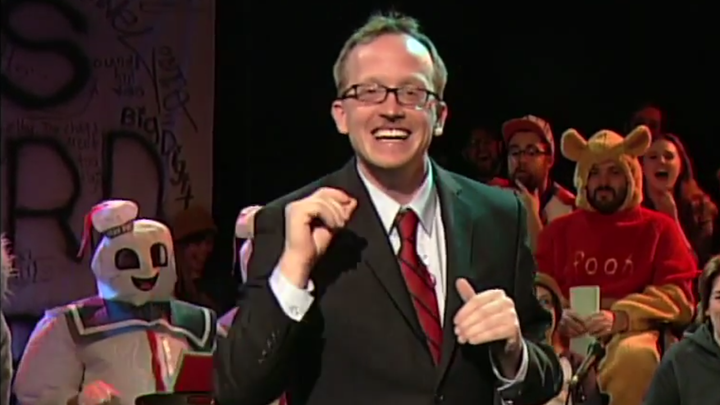 The path to getting a show on television is rarely a straightforward one, but The Chris Gethard Show may have figured out how to game the system. In June 2011, the eponymous comedian walked onto a public-access cable soundstage with his assistant, Bethany Hall, and welcomed viewers to the first episode of a unique broadcast experiment. "It's gonna be a mess," Hall predicted. An hour of chaos duly ensued, but over more than 150 public-access episodes (also broadcast online) the hybrid talk/call-in/sketch comedy show built up a young, devoted online fanbase that looked nothing like a typical Nielsen audience.
Three and a half years later, The Chris Gethard Show has been picked up for a ten-episode run on Fusion, a year-old cable network that emphasizes Internet popularity and has a young, digitally fluent audience that it's seeking to expand. Like any up-and-coming comedian, Gethard's had his brushes with failure, but those moments speak as much to the TV industry's unwillingness to adapt to a rapidly changing marketplace as anything else.
In one way, Gethard's journey up the comedy ladder has been somewhat typical—he started taking classes at New York's Upright Citizens Brigade while still a college student in 2000, and became one of its best-known fixtures. His anarchic stage show (a demented take on the late-night variety show) became one of the theater's hottest tickets and even managed to get Diddy to drop by after a sustained Twitter campaign. Around the same time, Gethard was picked to replace the departing Jon Heder in a Comedy Central sitcom called Big Lake, alongside Saturday Night Live alums Horatio Sanz and Chris Parnell. The network filmed ten episodes and was primed to pick up another 90 if the ratings were good. They weren't, and Gethard went back to New York, having gotten a peek inside the mainstream comedy industry.
"The story of the show, the narrative people follow, is that I had this failed sitcom and it led to this. And there's truth to that," he says. "I was never actually that sad. But I was definitely really motivated … There had been one version of a shot, and I wasn't sure if I would get another one, and that was a daunting thought, and I realized I don't have a lot happening right now and the Gethard Show at UCB is the thing that makes me happiest, let's take it further."
Gethard brought together an amalgam of the fringier elements of the UCB (including many of his former improv students) and New York University film school graduates to launch a TV show on the Manhattan Neighborhood Network, a city-funded public access network that mostly broadcasts a mixture of civic and educational programming, with the occasional conspiracy theorist or amateur yoga teacher. The early episodes of The Chris Gethard Show, still available to stream online, are a mess—a weird mix of what worked for the stage show (which the writers quickly realized didn't work for TV) and local lunatics calling in to pester the cast.
An early break came in the middle of the second episode, when a Manhattan resident named Jean called in to ask, as nicely as possible, what the point of the show was. Gethard said if she could make it down to the studio before the show's hour was up, he'd put her on air; she jumped in a cab, joined the panel, and kept coming back. Gethard dubbed her "Random Jean" and would exclaim in delight anytime he learned anything new about her (in one early episode, she engages in a dance battle with a musical guest and executes a perfect splits). She was an original emblem of the show's willingness to experiment on the fly, and when she left after 15 episodes to move to California, Gethard plucked a new unknown from his audience to replace her, a tradition he maintained through the show's run.
After a couple months of chaos, the show's format settled down: it was a late night talk show, with a set panel of UCB comedians (Hall, Shannon O'Neill, Murf Meyer, and David Bluvband in character as a creature called the "Human Fish"), occasional guests, music from visiting alternative or punk rock bands, and regular calls from fans around the world. While the stage show's fan base had drawn from the New York alt-comedy scene, The Chris Gethard Show quickly established a broader, more teenaged spirit, and its callers were mainly disaffected youth who'd discovered the show on the Internet (especially Tumblr, where it has a colossal following) and admired its accessibility and raw emotion.
"I think people feel ownership of the show. The people who work on it, and the people who watch," Gethard says. "A lot of people have said to me, 'You have this Internet fanbase who is really devoted, and how do you cultivate that?' It's not rocket science. I really like those people, I really appreciate them, and I don't just tweet about it."
One young fan named Alyssa, a regular caller from the show's inception, was invited to appear as an honored guest. For the occasion, Chris called in every favor he had in the comedy community and presented a cavalcade of guest stars including SNL's Bobby Moynihan (who invited her to a live taping), 30 Rock's Jack McBrayer, and Tina Fey, who presented a pre-taped tour of Liz Lemon's office. "I don't think anybody else would do that," Gethard says.
Throughout it all, he cultivated the personality of the "low-status host," putting himself through punishing physical challenges and delighting in the chaos that would frequently erupt around him. "The idea was always that I would be progressively more stressed out trying to keep all those balls in the air," he says. "So to me that's it at its core, that the host is not in control, and that's grown in some ways. I get a real adrenaline rush seeing how it's taken off."
Gethard's cult eventually built to the point where bigger and bigger celebrities would occasionally drop by—Amy Poehler showed up to predict people's futures, and Zach Galifianakis was the show's amateur barber for a week. Eventually, Will Ferrell and Adam McKay's comedy studio, Funny or Die, came on board to try and bring the show to mainstream TV, and Comedy Central ordered a pilot that was filmed in early 2014 and eventually rejected by the network. The episode they produced embraced the show's anarchic qualities, and was filled with physical antics and wacky games.
"They said, 'We like these aspects of your show, the parts that are physical and big and reflective of the Jackass or the Tom Green side of things,'" Gethard says. "Those are big pieces of the show that I'm proud of, but they're not the whole show … they were less interested in the fact that it has a bit of an emo side." While the rejection was initially heartbreaking, Gethard quickly moved on, realizing "it probably was going to be a lot of pressure that would have changed the show in ways we would have not been totally comfortable with."
The fact that viewers can call in, for one, is critical to the show's energy, which is difficult to pull off on a major network since even late night is filmed live-to-tape. Gethard says Fusion seemed much more willing to embrace the show's online side, live-streaming the tapings and accepting live calls, then editing the show down to something it can broadcast. "Really, we can take our time to have the show basically be live and also round it out to a show we're proud of," he says. "They're giving us an opportunity to have the best of both worlds in a way that's truly progressive. They suggested it."
Such a format makes sense for a show that's always ridden on the cutting edge of the Internet, despite its DIY punk feel. A Twitter stream might play on a screen next to Gethard from which he would often pluck suggestions; Hall has a laptop through which she'd banter with fans on the show's chatroom during live tapings. Fusion's move to try and maintain that energy is more than sensible. "Nowadays a lot of people watching TV have their iPhone in one hand," Gethard says. "They're searching hashtags, seeing what people are saying about the show. And if they get bored, they're going to their iPad. So why don't we provide the things for them to go to? You can go to the place where all the people who are watching this show are and commiserate there, and we'll ask you what will make it less boring."
Whatever product Gethard and his team end up creating for Fusion, it certainly won't be boring—and in a world of late night comedy that seems frustratingly rooted in decades-old tradition despite historic turnover in hosts, it could be the beginning of something new. "The way I see it, I'm getting revenge on traditional television on behalf of Andy Kaufman," Gethard says. "I think there are many people who have opted out of being counted as part of any demographic, and I think those people are our exact demographic."
We want to hear what you think about this article. Submit a letter to the editor or write to letters@theatlantic.com.
David Sims
is a staff writer at
The Atlantic
, where he covers culture.