Charm Can't Save Roberto Martinez's Season
The Everton manager is hugely popular thanks to a strong resume and a likeable personality, but his team is in freefall.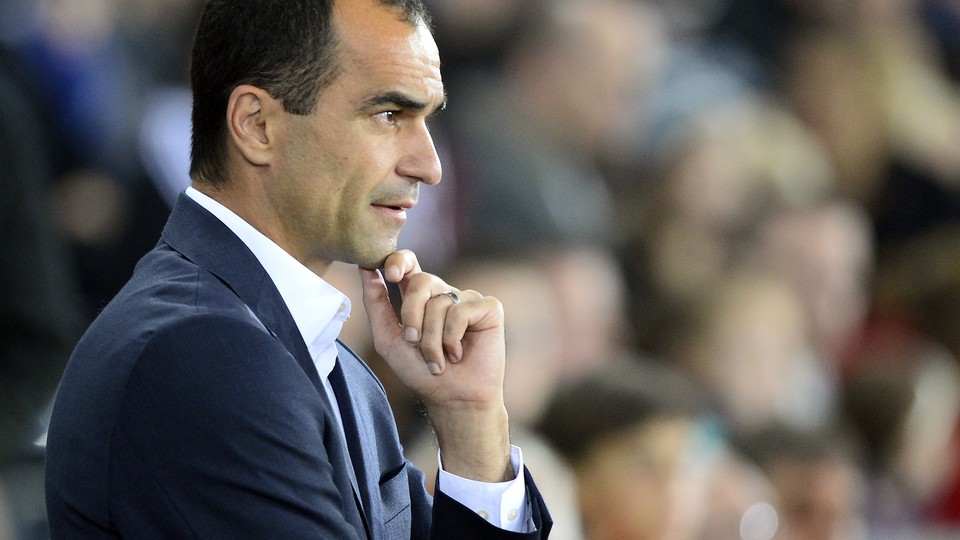 People like Roberto Martinez, a lot. The 41-year-old Spaniard is articulate, affable on the podium and ambitious in his desire for flowing, possession-oriented soccer. He sticks up for his players. These are generally good characteristics for professional soccer managers to have, and one particular testament to Martinez's character seems to pop up in every profile: He installed two televisions on adjacent walls in his living room at home, positioned such that, when Martinez and his wife, Beth, sit together, she can watch her programs on one TV while he consumes old soccer matches on the other. He wears the headphones, she gets the sound, and Martinez says the setup has "saved his marriage."
Roberto Martinez is a good guy. He's also lucky he's Roberto Martinez, because his team is having a very, very poor season.
Dedication, clearly, is part of his allure. So is the success he's had in his young career at Swansea, Wigan, and now Everton. Seriously, who wouldn't want this guy as their coach?
Prior to Tuesday's home FA Cup match with West Ham, Martinez had described it as "the most important game of the season." The match ended in a 1-1 draw—a draw rescued by a stoppage-time goal from Romelu Lukaku, so the Blues will get another chance to advance in the replay in London. Still, Tuesday's performance was marked by the same lack of imagination and shoddy defensive organization that have plagued Everton all season. The roar after the equalizer came as much from relief as from joy. Martinez and his men live on, for now, in the cup.
In the Premier League though, with the season halfway over, Martinez's team sits 13th in the standings, 15 points behind the Champions League places, and a remarkable 17 points worse off than they were at this point last season, when they finished fifth. Part of the decline is understandable. While a fifth-place finish earns a club a Europa League place and the chance to hoist a European trophy, it also means zipping around the continent for Thursday evening contests before groggily flying home for another game on the weekend. That extra workload is why some managers treat the competition as a chore that distracts from domestic play, or as a hollow reward for falling short of the real riches of the Champions League—trips to Krasnodar, Russia aren't the most exciting consolation prize.
Martinez welcomed the new challenge. "We gave 10 months of hard work, it would be stupid for us not to embrace Europe," he told ESPN in August. Two wins from the six Premier League matches played directly following European games represents an acceptable haul, given that Everton comfortably qualified for the next round in Europe. And that European fatigue has surely contributed to the number of injuries suffered by players like John Stones, Kevin Mirallas, and US goalkeeper Tim Howard. Everton could be excused for failing to reach last season's excellent standards in the absence of such key players.
But the decline has been precipitous, and it's the players on the pitch who have Goodison Park groaning. Romelu Lukaku, the club's record signing at $42 million, is struggling for form and losing his grip on a starting position, and Samuel Eto'o hasn't scored since October. Behind those strikers young England star Ross Barkley looks like less of a prodigy; too often he charges into blind alleys or ignores simple passes. Meanwhile, Gareth Barry's decline—that 1998 debut feels like it was a long time ago—has been so rapid that his new midfield partner Muhamed Bešić is left doing the work of two men.
More worrying still for the Toffees' fans are all the defensive errors. Veteran defenders Leighton Baines and Phil Jagielka have been nowhere near their usual high standards: According to Mark Ogden at The Telegraph, Everton have committed 11 errors leading directly to goals, comfortably the most in the league.
Even in the heady days when Martinez was leading Wigan to a magnificently improbable FA Cup win over Manchester City in 2013, defensive mistakes were his side's bugbear. Wigan won the trophy with this Ben Watson header, and delirium (rightly) ensured.
Three days later, Wigan, who had conceded a league-leading 71 goals, were relegated from the Premier League. They're now second-to-last in England's second division.
Everton rewarded Martinez with a new five-year contract for his work last season, so he won't be fearing the sack—Everton club chairman Bill Kenwright is famously patient, and he trusts his manager's vision. And amid all the calamity there are flashes of Martinez's innovation, from the incipient reinvention of full-back Leighton Baines—a la Philipp Lahm at Bayern Munich—as a defensive midfielder, to the promotion of young Luke Garbutt and his deadly crosses to the first team.
But in the end, fans root for laundry. If Everton's blue shirts don't start winning, the famous optimism of the likable, popular, dedicated Roberto Martinez will start to grate.