A Most Violent Year Is a Most Extraordinary Film
Oscar Isaac dazzles in J. C. Chandor's gripping, understated thriller.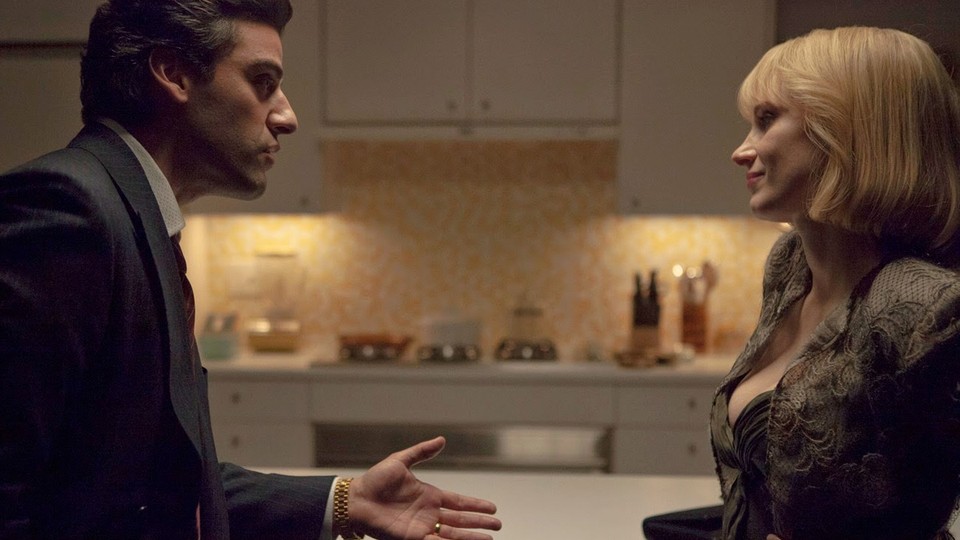 A man is jogging on city streets, accelerating as he pushes himself to the limit. A fuel truck with "Standard Heating Oil" emblazoned on the side fills its tank at the harbor. Marvin Gaye wails in the background, "Make me wanna holler, the way they do my life …"
Although we don't yet know it, in these opening two minutes writer-director J.C. Chandor is establishing the central themes of his exceptional film A Most Violent Year. It is a portrait of a time and place: (New York City, 1981); of an industry beset by corruption and violence (the home-heating-fuel business); and of a man, Abel Morales (Oscar Isaac), pushing relentlessly to succeed in that industry despite the pressure mounting from all sides.
Colombian-born but thoroughly Americanized, Abel got his start as a truck driver for a small-time, mobbed-up boss. Eventually he married the boss's daughter, Anna (Jessica Chastain), took over the business, and grew it quickly—too quickly in the minds of his competitors. As the movie opens, Abel and his attorney (Albert Brooks) are on the verge of taking things to another level altogether, making a cash down payment on a port facility that would enable him to store and move fuel on a vastly larger scale. With 30 days to secure the $1.5 million he needs to close the deal, Abel appears to be fulfilling his ambitions. The breadth and rigor of those ambitions come into focus only gradually, and prove a source of fascination to those around him. "Why do you want it so much?" Brooks's character asks at one point. "I have no idea what you mean," Abel replies.
Things quickly begin to unravel, however. Armed thugs, presumably employed by his competitors, are beating up Abel's drivers and stealing the fuel from his trucks. An assistant district attorney (David Oyelowo) informs Abel that he's poised to hand down corruption indictments on the company. Abel's drivers want to arm themselves for protection; Anna wants to go to her mafia family for help. But Abel resists, insisting on doing things the "right" way. The only thing he values more than his success is his integrity. "I spent my whole life trying not to be a gangster," he explains to Anna.
Oscar Isaac has been extremely good in previous roles—for instance, as a likable ex-con in Drive and as an unlikable folk singer in Inside Llewyn Davis—but he is an utter revelation as Abel, the quiet power of his performance recalling early Pacino. (Indeed, the movie itself in many ways resembles a smaller-scale The Godfather Part II, and there are echoes, too, of Sidney Lumet's 1970s oeuvre.) Fastidious in appearance and precise in diction, Isaac's Abel is a portrait of a man obsessed with maintaining control, both of himself and of his surroundings. The intensity of his gaze is a particular marvel. A scene in which he tells some newly promoted customer representatives that, when dealing with clients, they should hold eye contact a second longer than is comfortable seems less a lesson in sales than in acting.
Chastain is excellent as Abel's hot-headed, mobbed-up wife, Anna (a nice inversion of the customary cinematic trope), and Brooks—almost unrecognizable under a mop of flat, gray hair—gives perhaps the most wonderfully understated performance of his career. The supporting cast is also terrific, including Oyelowo, Peter Gerety (as a pragmatic old union chief), Elyes Gabel (as a frightened driver), Jerry Adler (as the ancient Hasid from whom Abel is buying the property), and Alessandro Nivola (as a sleek heating-fuel kingpin who plays tennis in a bunker that looks as though it could withstand nuclear attack).
But the true star of A Most Violent Year is writer-director Chandor. In addition to eliciting such strong performances across the board, he has constructed an intricate film out of immaculately realized set pieces: the ominous sound that awakens Abel in the night, a precarious dinner with the bankers subsidizing his bid, an edge-of-the-seat foot chase on the 59th Street Bridge. Though there's little violence portrayed onscreen, Chandor imbues the proceedings with a sense of methodically constricting menace, of unspecified dangers waiting to reveal themselves. Thus the setting: the crime-ridden New York of 1981. Although it doesn't relate directly to the movie's plot, it lurks constantly in the background. Just within earshot, staticky radio snippets buzz: "Three NYPD officers are being treated for gunshot wounds"; "a mad slasher is at large on the streets of midtown Manhattan." We see the encroaching anarchy too, in (literally) broken windows and in the subway cars—and stations—almost invisible under layers of graffiti. The yellows and browns of Bradford Young's elegant cinematography also conjure the era, while the score, by Alex Ebert, is subtle yet unsettling.
This is Chandor's third motion picture, and it is no exaggeration to say that his early career arc looks as promising as that of any other American filmmaker. That he continues to operate largely beneath the public radar is nothing short of baffling.  His first film, Margin Call, offered by far the sharpest cinematic take on the financial crash; his second, All Is Lost, which found Robert Redford alone and (literally) adrift, was a meticulous exercise in narrative concision. Though Chandor's movies have varied wildly by topic, they have all concerned themselves with men struggling to maintain control in the midst of chaos. A Most Violent Year may be his best film yet. It's a testament to his work that I can summon no higher praise.