Why So Many Rappers Have Been Silent About #BlackLivesMatter
Black artists were more inclined to speak out against systemic injustices when they were considered outcasts, not cultural heroes.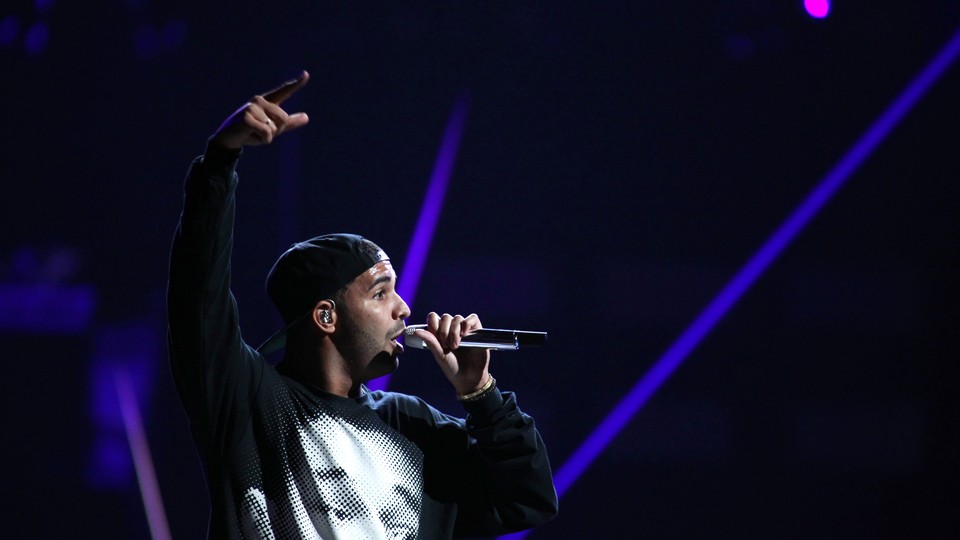 Last week, as I stepped into the crowds of Washington Square Park for the latest protest, N.W.A's "Fuck tha Police" simmered in the air, the sound distorting from a nearby portable speaker. In the weeks following the two controversial grand jury decisions, the song has again risen to ubiquity in New York; it can be heard pulsing through cheap headphones on the G train, and rattling bass-heavy car stereos at red lights in predominantly nonwhite neighborhoods.
It's been 26 years since its release, and yet—as it did most powerfully after the 1992 L.A. riots (a response to the Rodney King trial, another high-profile acquittal of white officers responsible for violence against a black man)—the message has continued to resonate.*
Hip-hop's most prominent voices at that time, as inspired by the poetry and songwriting of revolutionary artists like Gil Scott-Heron and Nina Simone, were highly politicized. Rappers were met with much resistance from the rest of pop culture: They represented a more marginalized stance that those on the inside couldn't relate to, or at least didn't wish to address. Public Enemy, even given their commercial success and frequent press coverage, were largely labeled as extremists by critics and were understood as being representative of the outsider's voice—the voice of a people who didn't have the same sense of optimism and complacency regarding their place in society, and the reality of the American Dream.
Many media outlets have recently pointed out a lack of coverage of the #BlackLivesMatter movement by black voices. The conversation has, in part, suggested that musicians and other people of color with a platform have not fulfilled an inherent duty they have as public figures in the line of those earlier acts who spoke out and spoke up for their people; a disproportionately voiceless one at that (though some writers have taken issue with that idea).
But few have considered what has changed. In a recent interview with NPR, J. Cole stated how once he became encapsulated by the world of fame, his concerns changed. His body of work, which once earned him that ever-ambiguous label of a "socially-conscious" act, quickly became altered by his more lavish lifestyle and superficial concerns: On last year's "Cole Summer" he even lamented not being able to spend as many thousands in a strip club when relaxing with Drake.
Because he was no longer happy with that level of celebrity, Cole deliberately removed himself from the typical patterns of touring and press coverage most would be subjected to following an album release, and moved back home to Fayetteville, North Carolina. He reconnected with his mother and redeveloped his previous worldviews. Those became the foundation for his summer leak, "Be Free," one of few rap songs that addressed the events in Ferguson, on which he sings, "All we want to do is break the chains off / All we want to do is be free," and his new album, 2014 Forest Hills Drive, which discusses the falsity of the American ideal that success in a capitalist society leads to happiness.
It's no surprise that artists like Cole and D'Angelo (whose phenomenal Black Messiah dropped early last week, his first public emergence in nearly 14 years), who have isolated themselves from pop celebrity, are two of the black community's loudest voices speaking out against matters of racial injustice, capitalism, and economic inequity.
Hip-hop's inner-circle celebrities, our Jay Zs and Drakes, have endorsed the same outcomes of Reaganomics that rendered their people such a disenfranchised one; a political move that grew tremendously, as did its audience.
While the current epidemic of police brutality and the lack of indictments may be quite reminiscent of a time when powerful black voices were, themselves, marginalized, the widespread merge of hip-hop and pop music that has occurred in the 26 years since Straight Outta Compton has greatly altered the culture framework. Rap music and capitalism, from an outsider's perspective, are as intermixed as ever; there's even a subgenre that Spotify recognizes as "pop-rap."
Earlier this week Drake released a new posse cut, "Schemin' Up," with OVO pals OB OBrien and P. Reign, in which he raps, "Tell these high school kids keep dreamin' / 'Cause they sure do come true." I have nothing against providing kids with optimism—I'm a teacher after all—but it's the definitiveness of that message, "sure do come true," that we now see so often in popular music—as if there aren't thousands of others who didn't find success in this market as they did; as if their success should be regarded as proof that the American Dream is in fact alive and well.
So when we consider why, when hip-hop has such a rich and robust history of social and political activism, these present-day counterparts seem to be so distant from this public dialogue, we must acknowledge how hip-hop itself has changed, too. It has become interwoven into the fabrics of the majority, of pop celebrity, no longer as in tune to the qualms of the marginalized, with their cheap, portable speakers outside the gates of the park turned up to max volume, willing to distort Ice Cube's aggravated vocal so that it is loud enough to remind us all.
---
* This post originally indicated that King died as a result. We regret the error.