The Messed-Up Ways People Talk About Shia LaBeouf's Alleged Rape
Of course men can be raped. And of course performance art isn't the issue here.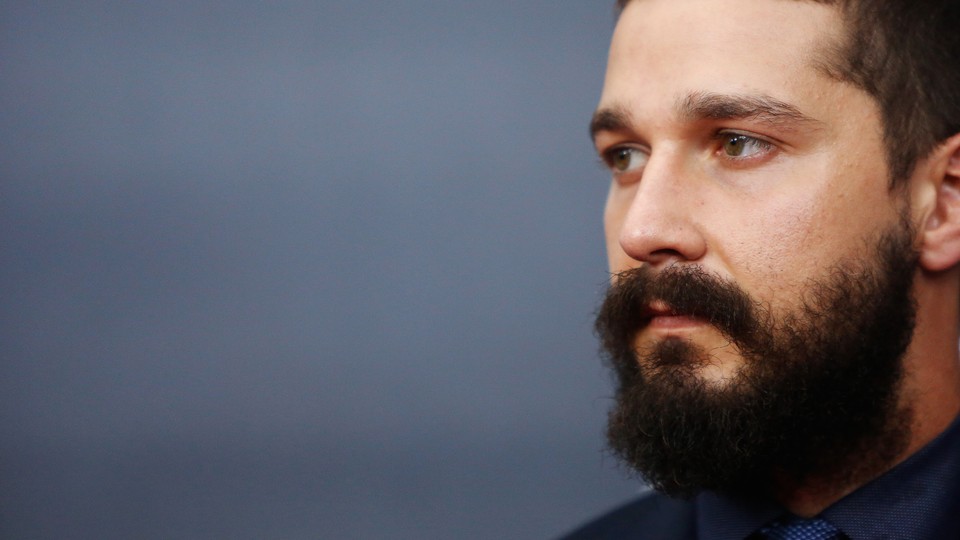 Before any other conversation takes place about Shia LaBeouf's claims that a female visitor raped him at his #IAMSORRY art exhibit, the following should be made clear:
Men can be raped by women, and they do not need to fear physical force for rape to occur. Piers Morgan's comments that LaBeouf's claims are "absolute baloney" echo the all-too-frequent refrains aimed at female and male sexual assault victims alike who are told their rapes aren't real.
For the unaware: LaBeouf shared the story of his alleged rape in a recently published interview with Dazed's Aimee Cliff:
One woman who came with her boyfriend, who was outside the door when this happened, whipped my legs for ten minutes and then stripped my clothing and proceeded to rape me … There were hundreds of people in line when she walked out with dishevelled hair and smudged lipstick. It was no good, not just for me but her man as well. On top of that my girl was in line to see me, because it was Valentine's Day and I was living in the gallery for the duration of the event—we were separated for five days, no communication. So it really hurt her as well, as I guess the news of it travelled through the line. When she came in she asked for an explanation, and I couldn't speak, so we both sat with this unexplained trauma silently. It was painful.
As Lindy West wrote, "The truth is that we know almost nothing about LaBeouf's emotional and psychological state during #IAMSORRY." But such is the case with many victims, who should not be expected to divulge every detail of their experience publicly in order to be believed. Even if LaBeouf hadn't allegedly been whipped for 10 minutes, as West says, "Men are just as capable as women of being taken advantage of during emotionally fragile moments ... And men are just as likely not to report their assaults, because of exactly the backlash that LaBeouf is facing now." And much of that backlash, perfectly encapsulated in Morgans' comments, is of the victim-blaming variety: "LaBeouf is one of the toughest actors in Hollywood ... [but] he just let it all happen." Imagine how the untold thousands of male sexual assault survivors in the U.S. military would feel hearing this: You're supposed to be tough, but you let it happen.
Yesterday, LaBeouf's fellow exhibit collaborators took to Twitter to confirm their knowledge of the incident and clarify the show's stance on consent.
Nowhere did we state that people could do whatever they wanted to Shia during #IAMSORRY.

— Nastja Säde Rönkkö (@NastjaRonkko) November 30, 2014
Of course, performance artists in recent decades have used the genre to unpack themes such as control, exploitation, and intimacy—all of which LaBeouf sought to explore through his #IAMSORRY show. But LaBeouf also brings with him the distinctly lowbrow variable of celebrity to his art. For all his serious actorly ambitious and Method-ical commitment, LaBeouf remains easy tabloid fodder in the minds of many, or at the very least the subject of a viral joke (and in on it). LaBeouf isn't the first child celebrity whose actions in adulthood perplex the general public, but his exhibit seems to have tapped into a public distrust of performance art. This distrust, alongside ignorance surrounding the subject of male rape, makes it that much harder to have a productive, meaningful discussion about LaBeouf's alleged sexual assault.
No one wants to feel like the fool, and "performance art" has become a catchall term to jokingly (and suspiciously) explain ridiculous celebrity antics (for a recent example, look no further than writing about Amanda Bynes). It seems as though LaBeouf's bizarre, hour-long silent interview got about as much media attention as his rape allegations did. Would it have made much of a difference if LaBeouf had penned an open letter in The New York Times or gone on television to make his rape claims in a "serious way"? It's possible, although alleged victims who have taken this route in the past typically face shaming regardless.
The Guardian's Jonathan Jones briefly examined the role of performance art in LaBeouf's alleged rape in part by looking to past works by risk-taking practitioners, namely Yoko Ono and Marina Abramovic. He also poses the question "Was a female visitor's apparent assault on LaBeouf a grotesque misinterpretation of the myths of self-exposure and suffering that surround performance art?" Which may seem at first glance like a reasonable, thoughtful question, until one remembers how many "grotesque misinterpretations" surround the issue of rape itself.
Performance art is just a distraction here from the more important issues of victim-blaming, consent, and gender disparities involved with rape. Indeed, Jones's piece ends up looking at LaBeouf's alleged violation more as evidence that #IAMSORRY was a failed artistic project, adding in a half-hearted disclaimer that rape is bad:
LaBeouf's exhibit sounds more like the kind of poorly conceived and basically silly event that gets performance art a bad name. Real artists rarely wear bags on their heads.

Clearly this does not excuse rape.
I can think of plenty more "poorly conceived and basically silly" events that give performance art a bad name, in addition to careless and casual overuse of the term to describe the strange behavior of highly visible figures.
But that the alleged violation took place inside a space designated and set aside for capital-A Art has absolutely no bearing on the nature of the rape, if the actor's claims are true. And no prior understanding of performance art is needed to recognize that all rapes, whether they take place in gallery or at a frat party or in one's home, are breaches of trust.