The Ugly Christmas Sweater: Still Ugly, but No Longer Ironic
This year, the UCS has become more commercialized than ever.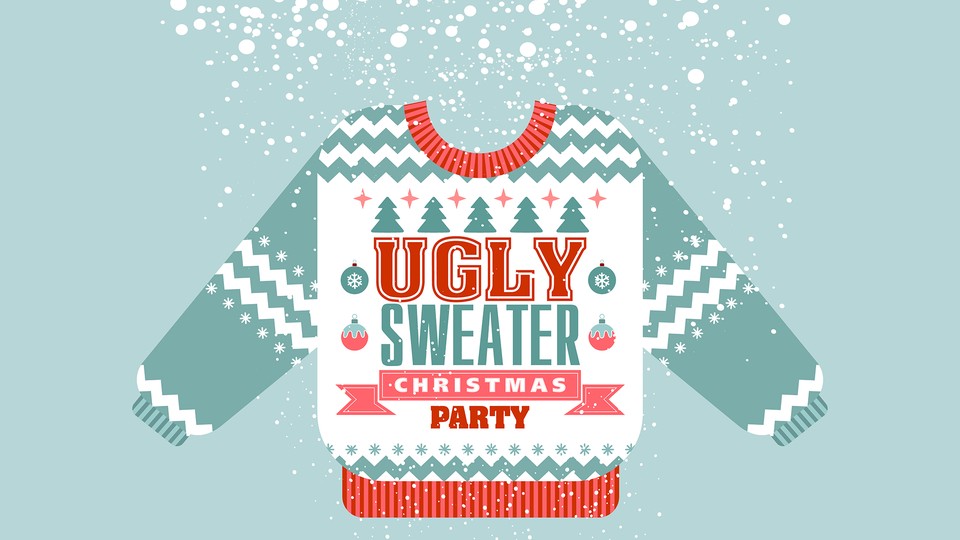 Have you seen the
Ugly Christmas Sweater suits
? They are, literally, suits—matching ties included—that swathe their wearers in head-to-toe Christmas Sweater ugliness. They are, it should go without saying, awesome.
They look like this: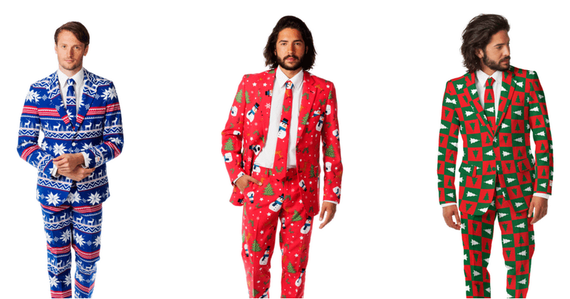 Or maybe, if you are in the market for an Ugly Christmas Sweater, something sportier is more your taste. In that case, might you be interested in a team-branded Ugly Christmas Sweater,
courtesy of the NBA Store
?
They look like this: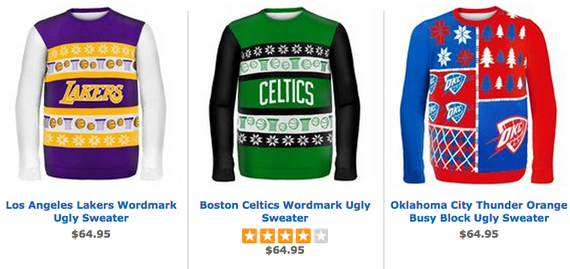 Or, if those options don't appeal, you could always make your own variation. The World's Ugliest Christmas Sweater,
Gizmodo has just declared
, is a DIY affair that includes not just argyle and blinking Christmas lights, but also a working model train that edges its southern border.
It looks like this.
Most likely, though, if you find yourself in need of an Ugly Christmas Sweater, you will simply purchase one. The NBA Store's
branded UCSes
can be had for $50 to $65 a pop, shipping not included. Kohl's has a selection of UCSes for sale; so does Target. So does Amazon, where a search for "ugly christmas sweater"
returns more than 5,000 results
. Nordstrom, splitting the homemade/store-bought difference, offers
a Make-Your-Own UCS kit
. Or you could rent a UCS as you would a Halloween costume. The formalwear rental site
Rent the Runway offers a collection of 12 sweaters, cardigans, and vests at a cost of $15 per four-day rental. The designs feature names like "Meowy Christmas" and "We Wish You a Beary Christmas," and are designed to be,

Business Insider notes

, "as unattractive as possible."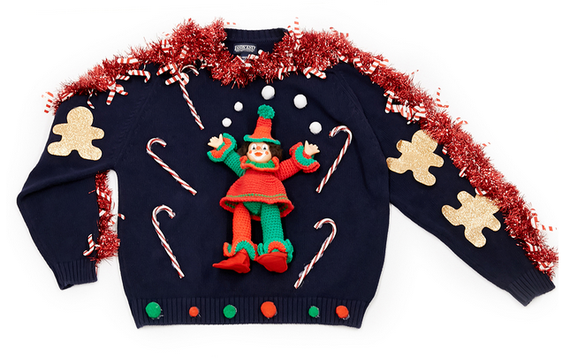 * * *
It used to be that the Ugly Christmas Sweater, as a concept, was in line with the basic logic of the holiday season: The commercial stuff involved—the sweater itself—was, much like holiday gifts in general, simply presented as a vehicle of mirth/cheer/togetherness. All those office parties featuring an "ugly Christmas sweater" theme. All those
Ugly Sweater-celebrating races
. All those contests at bars and restaurants and malls the country over, the winners of which have been dutifully highlighted on sites like
myuglychristmassweater.com
.
Jimmy Fallon did an ongoing bit called "

The 12 Days of Christmas Sweaters
."
My gym, I was just informed, is hosting an Ugly Christmas Sweater contest this year, which will culminate in an "Ugly Sweater Open House." This event will not be held this Friday—an oversight, maybe, since December 12 is, officially,
National Ugly Christmas Sweater Day
.
This year, however, has brought a frenzied new commercialism to the UCS as a concept. While the UCS used to be a vintage item in the truest sense—a gift from a well-meaning older relative, usually, and regardless something you dug, literally, out of mothballs—today, the idea is to buy your ironic nostalgia. Or, you know, rent it.
Given all this, you could certainly say that the Ugly Christmas Sweater has jumped the shark—or, you know, jumpered it.
You could say, correctly, that a garment for which you have shelled out $65-plus-shipping may be ugly, but is no longer fully ironic. You could also be more pointed in your objections—saying, as
The Guardian
did
,
that "the Ugly Christmas Sweater is a not-so-subtle way to both mock the holiday of Christmas itself—and to belittle those who wear such sweaters in earnest."
But that would be to ignore the current popularity of the sweaters—the fact that, because and despite all the ugliness, they seem to have struck a chord.
The ubiquity of the UCS has been several years in the making. According to Ugly Christmas Sweater Party Book: The Definitive Guide to Getting Your Ugly On
, "there was a noticeable uptick in ugly sweater parties around 2001, and the tradition snowballed from there." In more recent years, the trend has woven itself more deeply into American culture. In 2011,
Time
magazine noted
, "The ugly Christmas sweater has become a ubiquitous feature of the holiday season, on par with grumbling about Black Friday or wrestling with the Christmas lights. These tacky garments are now being re-appropriated from their perpetual spot in the wardrobe of great-aunt Edna or your third grade social studies teacher."
All of which makes sense. There's the fact that the sweaters "speak for themselves," Lisa Piken Koper, the NBA's vice president of licensing,
told The New York Times
of the organization's foray into Ugly Christmas fashion. ("The idea," she added, "is that they're so bad, they're amazing.") There's also, of course, the nostalgia element. "For many,"
the
Wall Street Journal
explained
, the sweaters "bring back memories of grandma and a time of year when everybody just drops their sophistication and goes for the heart."
There's also the fact, though, that the UCS is in some ways the perfect garment for an age of social media. It oozes irony and whimsy; it exists not just to be worn, but to be seen. The Crunch gym chain
ran a promotion
that allowed people to apply an image of their face onto a tacky digital "sweater," Elf Yourself-style, and post the results online. A few years ago,
Dunkin' Donuts began offering $60 gift cards to people tweeting pictures of themselves wearing holiday sweaters that were,

as a spokeswoman put it
,
"kitschy or cute or glamorous or ho ho horrible."
And then there's the fact that the sweaters—oversized, asexual, and fun—can offer weary revelers
something of a respite from the well-documented dramas of the holiday season. Christmas, as a religious and/or political and/or commercial festivity, can be fraught. When holiday cheer becomes Holiday Cheer (or, worse yet, #holidaycheer), the results can be anything but cheerful. But an Ugly Christmas Sweater—purposely jokey, blatantly jolly—enforces the fun aspects of the holidays. And, maybe even more importantly, the communal aspects. If there is a war on Christmas, then the Ugly Christmas Sweater, awesome in its terribleness, is a blissfully demilitarized zone.