The Pun-Slinging Guru of Drinking Through Parenthood
Children's book writer Tim Federle's latest project: Hickory Daiquiri Dock, a cocktail recipe book that puts a grown-up spin on nursery rhymes.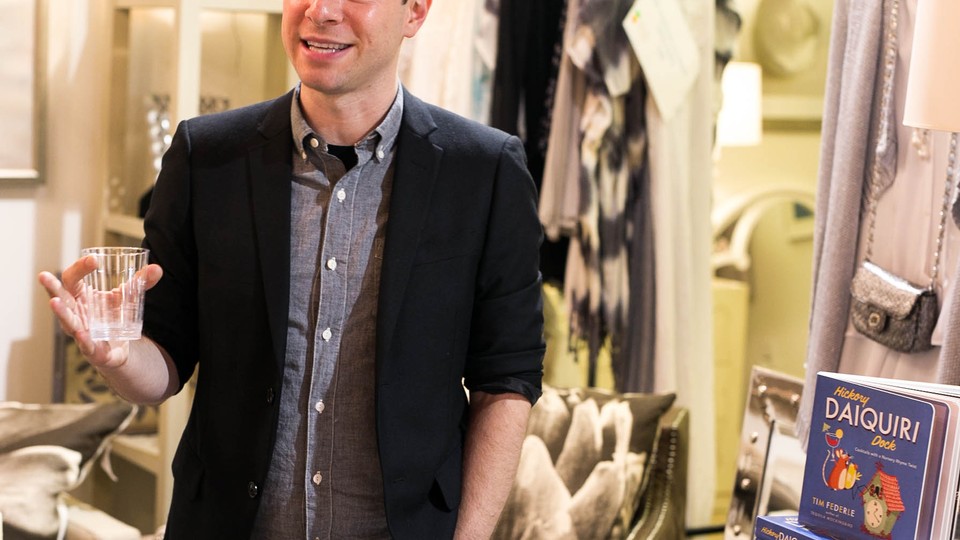 Tim Federle is an apparent contradiction. He's a 34-year-old Broadway dancer-turned-author who writes two types of books: a children's series about a theater-loving teen falling for New York and figuring himself out, and a line of cocktail recipe books for adults. Those aren't, at first blush, two genres destined to be put together, but he has enjoyed great success with both, both commercially and critically.
The instant Federle walks through the door—he's come both for an interview and to teach me how to make a couple of cocktail recipes from his book—he's as peppy as you'd expect of a children's author. "Mailkimp calling!" he says as he enters the room. (He's just as obsessed with Serial as much of the rest of America.) And as we start to make drinks, it only becomes clearer: This is a man who has devoted his life to giving others a good time—regardless of who his audience is.
"Once upon a time, my agent even said, 'Do you want to write one of them under a different name?' And I said no," Federle says. "I'm age-agnostic. If I can get kids laughing, great ... And for adult stuff as well, my entire life has been about taking a situation that was less than perfect and trying to find the joke in it."
Federle's new book, Hickory Daiquiri Dock, takes nursery rhymes and twists them into drink ideas and funny stories new parents can relate to. One drink Federle teaches me to make, the Humpty Drunky, takes the singsong cadence of the original Humpty Dumpty and pairs it with a rhyme about a husband who can't get it up after one too many. It's naughty, but never crass. Hickory joins a line of recent publications like the viral smash Go the Fuck to Sleep and the follow-up You Have to Fucking Eat that add an irreverent twist to parenting.
Federle was born in Northern California, but moved away shortly with what he calls "the only family to willingly move away from San Francisco to Pittsburgh." He went to New York to be a performer—his first job ever in the city was as a polar bear in the Radio City Christmas spectacular—and danced in shows throughout his 20s. He also worked as part of the choreography team on Billy Elliot.
As he turned 30, however, Federle decided he had done all he could and should on stage. The next step, as he saw it, was to take his sense of humor and channel it into a new project. That project was Better Nate Than Ever.
The award-winning book, now in its seventh printing after positive citations from The New York Times and Slate, tells the story of a 13-year-old Broadway devotee stuck in the suburbs of Pittsburgh and dying to get out. Nate is "autobiographical," Federle says, and it's easy to see so much of Federle in his protagonist; both author and avatar are quick with a quip and positive without being smarmy. There's darkness in Nate's life—anti-gay bullying, a difficult home life—but he remains upbeat.
"I think a lot of comedy comes out of oppression," Federle says of both Nate and his other books (including a sequel, Five, Six, Seven, Nate!). "For me, what I pushed against was being this gay kid in the middle of the Midwest who didn't feel like he fit in anywhere. So my way of fighting back—because I was the shortest and the scrawniest—was to tell jokes." Something he's quick to prove, adding,  "And then become friends with the football players' girlfriends."
After Nate, his next book was Tequila Mockingbird, which he describes as "literary cocktails for the Anthropologie crowd." Filled with drinks like One Hundred Beers of Solitude and Are You There, God? It's Me, Margarita, the book manages the novelty-literature equivalent of a home run: both humorous and helpful, to the tune of over a hundred thousand copies in print after less than two years.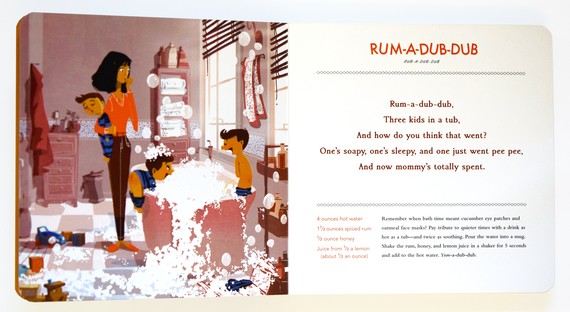 Federle worked with a mixologist both on Tequila and Hickory, to add what he calls "polish" to his existing inclination toward a good cocktail. As for the names, Federle's process seems simple: He compares two lists, one of famous drinks and the other of the works he's referencing. But when it involves giant Excel spreadsheets of possible ideas, it looks quite a bit more daunting. Add to that challenge Federle's insistence on prioritizing story over simple gags—or, as he puts it, avoiding the "blog version of my books … just a funny pun, but [without] connecting to a story at all."
The issue of narrative came up while writing Hickory Daiquiri Dock, both in selecting the right rhymes and getting the right images. (Those pictures, illustrated by Eda Kaban, serve as a fabulous counterpoint to Federle's writing in the final product.)
"Itsy Tipsy Spider was one I really wanted to do, but what I realized about the narrative for this book was that I really wanted it to be about humans," he explains. "There was also an early iteration of the book where the mom with the babies in the tub was, like, a bear with babies, and I was like, no, we shouldn't illustrate a bear. That's not who this audience is. We're not selling to bears." (Again, he adds a quip: "Only in San Francisco.")
As we talk, Federle teaches me how to make two drinks: the aforementioned Humpty Drunky, and another called the Rum-a-Dub-Dub. The former, a smoky cocktail, involves a cold shaker and a valiant but futile attempt on my part to crack an egg. The latter he makes independently, and if it's because he had no faith in my cocktail-concocting prowess after the first attempt, he doesn't show it.
For the record: His Rum-a-Dub-Dub tastes far better than my Humpty Drunky, so the first lesson I learn from the experience is "leave it to the master." But as we make both, I learn the second by realizing what Federle means when he talks about his books as communal experiences, be they at book clubs or for new parents. Sharing laughs while making drinks is truly that kind of experience, and these books facilitate that.
Hickory Daiquiri Dock was fueled by the birth of Federle's nephew Sam, as well as by his brother's drinking and relaxation post-birth. In the baby industry, marketers value and push "the joy and the triumph and the miracle of babies," he says. "But there's also this unspoken agreement and thing amongst parents themselves, which is: It's fucking hard."
That's what makes books like Federle's and Go the Fuck to Sleep valuable: They're breaking down a social norm. Little Golden Books are sweet and lovely, so a cocktail recipe book for new parents bound in the same fashion gets readers laughing before they even crack it open. They're also relatable, adding to that idea of community by letting parent readers know they're not alone.
"Gone are the days of trying to show that you've got it all, and you've got dinner on the table at 5 p.m., and you're still having sex with your husband two weeks after giving birth, and your kids gets into preschool first," as Federle puts it. "I think we're just being more honest these days … These types of books are sending up a norm that was actually never even normal, and no one was ever happy with it."
It's easy to identify with the stories in Hickory and Tequila because, as Federle notes, readers can have a sense of connection even to the jokes themselves. "The number one comment I get when people hear I wrote Tequila Mockingbird is they go, 'I thought of that pun 20 years ago!' And I go, 'Well, yeah, but I wrote the book.' So I really appreciate that I'm not the first person to think of it," he says with a laugh. "I'm just such a big dork that I made it my job."
That job isn't ending any time soon. His third installment in the cocktail recipe series, tentatively titled Gone With the Gin: Cocktails with a Hollywood Twist, is due fall of next year. (Sample drink names he's considering: Do the Rye Thing, Dirty Harry Martini, and No Country for Old Fashioneds.) Before Gone, he's publishing his children's book with Disney in the spring, a young-adult book in 2016, and he's working on adapting Better Nate Than Ever for the screen.
Though the form may change and new projects may come and go, Federle says what he loves most are his highly contemporary readers. While he admits writing can be a "solitary act," he loves simply being able to search #TequilaMockingbird on Instagram to see his audience. "You see that people are getting your book for their 21st birthday in London … It blows my mind," he says.
Books are quite a bit more lasting than theater can be, too—and said permanence is one of the big reasons he says he's in the writing business for good. But even if he does someday change the precise form of his career again, his work will remain the same: telling stories. And jokes, of course.
"All I'm doing now is the same thing I did when I was in middle school and I was being sent to the principal's office, because I was always telling jokes in the back of the room. And when I was in Broadway shows, stage management would call me out and say 'you have to stop fooling around on stage,'" he added. "Now, I fool around for a living. But that's my living."