Hackers' Shocking, Pointless Defeat of The Interview
Though major theater chains decided not to screen the controversial comedy in light of terror threats, Seth Rogen and James Franco's film will probably live a long life online.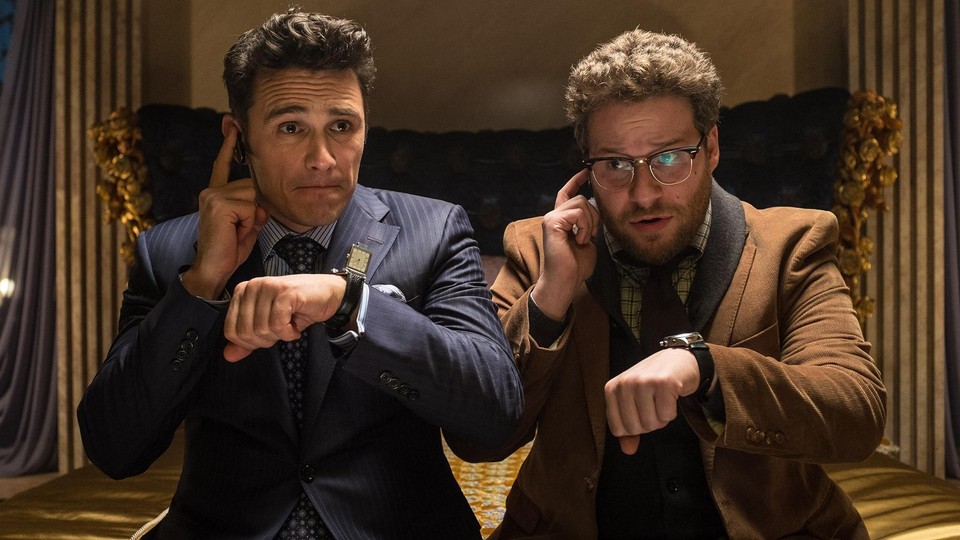 The latest, strangest turn in the Sony hack saga, an ongoing sequence of cyber-attacks seemingly motivated by Seth Rogen and James Franco's "assassination of Kim Jong-un" comedy The Interview, has a film studio taking a seemingly unprecedented step: letting movie theaters pull the movie entirely in the wake of terrorist threats. The film was due for release on Christmas Day and now may not be shown in any theater—certainly not the major chains (AMC, Regal, Cinemark, Cineplex) that most Americans attend. It's a shocking turn, especially since it's motivated by extremely vague threats ("The world will be full of fear…remember the 11th of September 2001…we recommend you to keep yourself distant from the places at that time.").
In one obvious sense, then, the terrorists have won. But if their goal really was to prevent people from seeing Kim Jong Un's fictional assassination, then it may turn out to be a pointless victory.
It remains to be seen how this situation will play out exactly—but it's easy to guess. Within hours of The Interview getting yanked from theaters, news hit that Sony is apparently considering a premium online release for the film. That seems like the most logical step—both from a profit standpoint and a safety one. Sony stands to lose millions in this whole affair, not to mention whatever penalties they might owe the film's creative personnel, so any money that could be recouped on VOD would help offset that. It also makes a certain sense that theaters are acting in unison on this—as vague as the threat might be, it would take just one incident to create enormous liability for them. The New York Times pointed out that shopping malls, in which many theaters reside, helped lobby for the decision to avoid screening The Interview.
Still, many are pointing out the scary precedent of Sony bowing to unspecified threats, especially when the Department of Homeland Security said the threats were not credible. Say someone disagrees with the premise of an upcoming film—one that deals with a hot-button issue like abortion or race, for example. If a terror threat gets called in, would theaters be compelled to make the same decision they made here? Though the Sony hackers have displayed their might in a sense—by ripping hundreds of terrabytes of information from its private servers to publicly embarrass the company—they haven't demonstrated the capability to make good on the more horrifying threat they made Tuesday.
The Internet has enabled the hackers' power, but it has also neutered them: The Interview will almost certainly be seen, whether in theaters or not. In 1990, a similar situation would have doomed a film to utter obscurity. Even in 2001, the Arnold Schwarzenegger action vehicle Collateral Damage, which was due for release on October 5, 2001 and was pushed to the next February because it depicted a bomb attack in the U.S., was basically forgotten outside of that pop-culture history footnote. But because of on-demand technology, The Interview could very well benefit, in a cruel and unusual sort of way, from all this bizarre publicity. Were the situation not so financially harmful and publicly embarrassing for Sony, it'd be easy to conspiratorially regard it as some kind of high-concept publicity stunt to convince us of The Interview's political bravery.
Still, who knows if that will translate into online viewings—or what Sony will even charge for the privilege of watching it in one's own home, free of a terrorist threat. That's how precedent-setting this is: Nothing like this has ever happened before. Three years ago Universal weighed releasing its comedy Tower Heist on VOD three weeks after it hit theaters, at $60 a pop, to generate public interest. Theaters threatened to boycott and the decision was scrapped. We lived in strange times then—but stranger times now.