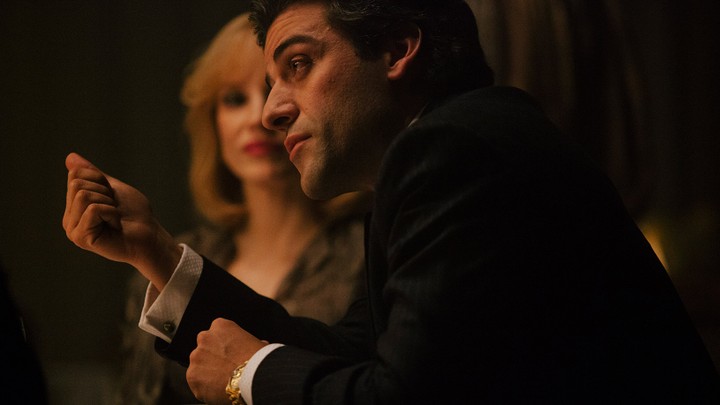 This was not a great year for film, particularly when compared to 2013. I'm not sure a single movie I saw would have cracked the top five of last year's list. The summer blockbuster season was less disappointing than it's frequently been of late, but the final quarter of the year was a considerable letdown. Don't get me wrong: There were a lot of good movies this year, just not a lot of great ones. As always, the usual caveats apply: I wasn't able to see every movie that I'd like to have seen, so absence from the list may suggest one I missed. (This is particularly true of documentaries, of which I missed many.) Finally, the particular order of the list changed several times over the course of its writing, and will doubtless continue changing in my head long after publication. Let's get to it.
1. A Most Violent Year
Coming on the heels of Margin Call and All Is Lost, the movie establishes J.C. Chandor as perhaps the most talented American writer/director still operating largely beneath the public radar. An unexpected tale of corruption in the New York heating-oil industry in 1981, A Most Violent Year echoes the best of 1970s-era cinema, and is anchored by an astonishing, revelatory performance from Oscar Isaac.
2. Selma
Stately and powerful, Ava DuVernay's immaculately focused snapshot from the civil rights movement and the life of Martin Luther King Jr. succeeds on every level. David Oyelowo (who also had roles this year in A Most Violent Year and Interstellar) is tremendous as Dr. King, and his supporting cast is uniformly excellent.
3. Birdman
In the end, I'm not persuaded there's much there, but who cares? A film this inventive and stylish provides its own rationale. There are great performances across the board—especially by Edward Norton and Emma Stone—and if cinematographer Emmanuel Lubezki's Oscar win for Gravity last year causes him to be passed over this year, it only means the award no longer has meaning.
4. The Grand Budapest Hotel
At once among the daffiest of Wes Anderson's films and his most somber to date. The stone-working tools hidden inside beautiful confections serve not merely as plot device, but as metaphor for the movie as a whole.
5. The Imitation Game
Winner of the biopic-about-a-genius-Brit runoff over The Theory of Everything. A conventional film, but a well-made one, with an extraordinary story to tell.
6. Boyhood
A very good movie, but one that relies on a gimmick it never quite transcends. Had it focused more on the parents played by Patricia Arquette and Ethan Hawke, and less on the boy played by Ellar Coltrane, it might have found itself with something more to say.
7. Gone Girl
A taut, well-oiled Hollywood thriller that never quite found the extra gear it needed to rise to the next level. Still, a wicked adaptation of a tricky book.
8. Ida
A portrait in miniature of a Polish nun seeking to uncover the fate of her Jewish parents during World War II. Elegant, understated, and beautifully shot.
9. Locke
Another small gem, consisting only of an hour and a half of a man making phone calls as he drives his car at night. Happily, that man is played by Tom Hardy, who gives one of the best performances of the year.
10. Noah
A crazy mishmash of a movie somehow held together by the unrelenting moral vision of director Darren Aronofsky and the all-in performance of Russell Crowe.
11. Foxcatcher
A meticulous film featuring three very strong performances, but one that nonetheless remains somewhat remote and clinical.
12. Interstellar
A secular Noah. There's plenty wrong with Christopher Nolan's space epic, but it's impossible not to admire his ambition and extraordinary visual eye.
Honorable Mentions: American Sniper, Big Hero Six, Blue Ruin, Calvary, Captain America: The Winter Soldier, Edge of Tomorrow, The Hunger Games: Mockingjay Part 1, The Lego Movie, A Most Wanted Man, Nightcrawler, Obvious Child, The Skeleton Twins, Snowpiercer, The Theory of Everything, Top Five, Two Days, One Night, Under the Skin, Whiplash
And the rest…
Best Credit Sequence: 22 Jump Street
Best Scenes in a World War II Tank: Fury
Best Scenes in a World War II Bomber: Unbroken
Most Hilarious Flash Drive: Lucy
Germiest Pie: Labor Day
Best Channeling of Early DeNiro: Jake Gyllenhaal, Nightcrawler
Best Channeling of Early Pacino: Oscar Isaac, A Most Violent Year
Least Memorable Performance: Aaron-Taylor Johnson, Godzilla
Best Femme Fatale: Rosamund Pike, Gone Girl
Runner-Up: Eva Green in Sin City: A Dame to Kill For
Best Casting In-Joke: Edward Norton as a ferociously talented, impossibly difficult actor in Birdman
Oddest Casting Overall: Exodus: Gods and Kings
Best Use of a 10cc Song: "I'm Not in Love," Guardians of the Galaxy
Runner-up: "Dreadlock Holiday," Life of Crime
The Seth Rogen Movie I Didn't See But Would Like to: The Interview
The Seth Rogen Movie I Did See But Would Like Not to Have: Neighbors
Best Accent: Tom Hardy going Welsh for Locke
Runner-up: Cate Blanchett going Scottish for How to Train Your Dragon 2
Best Presidential Assassination Joke: Top Five
Worst Statutory Rape Joke: Transformers: Age of Extinction
Most Frightening Image: Thugs blooding their hatchets on fish in Snowpiercer
Best Muttonchops: Joaquin Phoenix, Inherent Vice
Coolest Chimps: Dawn of the Planet of the Apes
Cutest Penguins: Penguins of Madagascar
Gruffest Raccoon: Guardians of the Galaxy
Grossest Frogs: Exodus: Gods and Kings
Biggest Worms: The Hobbit: The Battle of the Five Armies
Best Annie Hall Lobster Joke Inserted Into a Movie: 22 Jump Street
Best Annie Hall Lobster Joke Left Out of a Movie: Gone Girl
Best Voiceover: Michael Keaton, Birdman
Worst Voiceover: Emma Thompson, Men, Women & Children
The Once Award for not quite managing the same trick twice: Begin Again
The Unbroken Award for a Portrayal of Endurance That Gradually Becomes an Exercise in Endurance: Unbroken
Best Batman: Will Arnett, The Lego Movie
Best Alfred: Steve Coogan and Rob Brydon, The Trip to Italy
Least Successful Fairy-Tale Subversion by Disney: Maleficent
Runner-Up: Into the Woods
Most Old Testament-y God: Noah
Runner-up: Exodus: Gods and Kings
Best Theater Critic: Lindsay Duncan in Birdman
Best Art Critic: Terence Stamp in Big Eyes
Most Forgettable Spy Flick: The November Man
Runner-Up: Jack Ryan: Shadow Recruit
Wittiest Use of a Jim Croce Song: "Time in a Bottle," X-Men: Days of Future Past
Trends of the Year: Ironically self-conscious sequels (22 Jump Street, Muppets Most Wanted), drum solos (Birdman, Whiplash), Tilda Swinton in terrifying makeup (Snowpiercer, The Grand Budapest Hotel), Jason Reitman making awful movies (Labor Day; Men, Women & Children), final-act defenestrations (Birdman, Ida), tragic marital outcomes for Sienna Miller (Foxcatcher, American Sniper)
We want to hear what you think about this article. Submit a letter to the editor or write to letters@theatlantic.com.