The Best Food Books of 2014
The top cookbooks and culinary histories of the year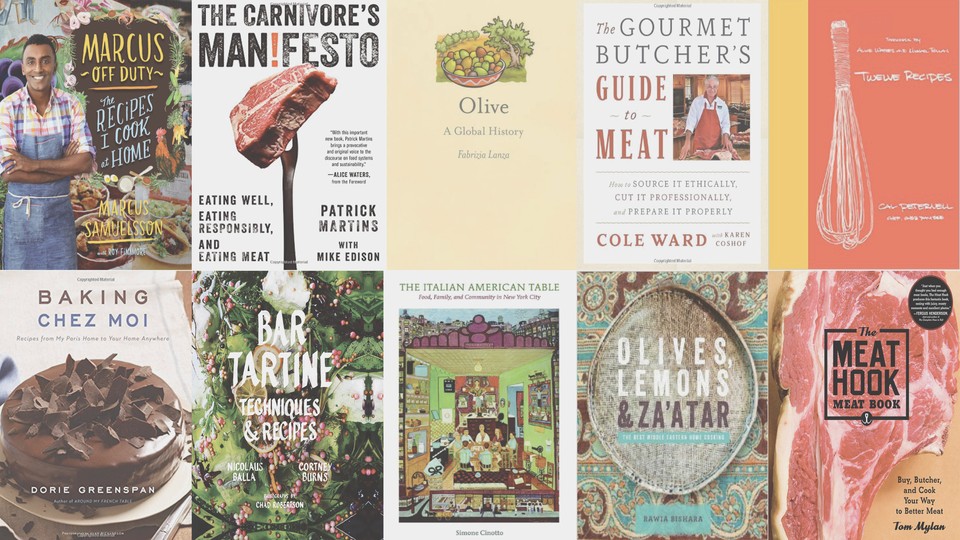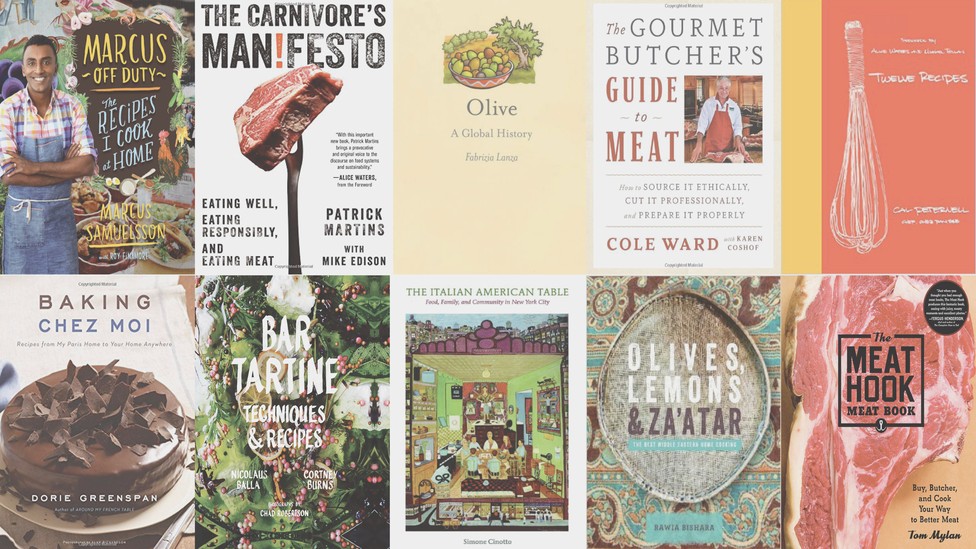 If food books last year were about adventure, exoticism, and bringing the lab right into your own kitchen, this year they're sticking closer to home.
Already in recent years, chefs-cook-at-home books (Mario Batali and his two sons, John Besh and his four sons) were taking hold—last year in interesting juxtaposition to some of the most technically challenging chef books that had appeared in a long time (Gabriel Rucker's Le Pigeon: Cooking at the Dirty Bird, David Kinch's Manresa: An Edible Reflection). When Marcus Samuelsson set out to write his entry, he had an unusual variety of homes to draw on: his native Ethiopia, his adoptive Sweden, his adopted home of New York City. Like all chefs, he had the experience of repetition and discipline, which he detailed in his moving, precisely observed memoir, Yes, Chef.
Samuelsson has a gift for teaching kids and a strong commitment to Harlem, the neighborhood he settled in and, as he described in his memoir, has come to fiercely love. He shows up. I saw this when I recently visited the West Harlem Community Healthy Food Hub, an innovative food pantry where New York City public and neighborhood-health agencies joined forces with the Laurie M. Tisch Illumination Fund to create in essence a market with free and affordable foods (including from a nearby farm) that will offer cooking classes, nutritional counseling, and guidance in getting food assistance. There he was, demonstrating a Chinese-influenced poached chicken with ginger-scallion sauce from his new book, making sure the locals sampling it wouldn't be intimidated by finding sesame oil or shredding scallions.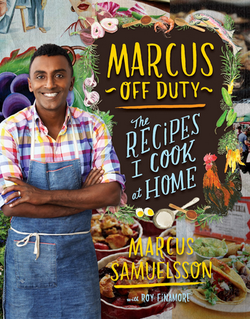 The ginger chicken appears in Marcus Off Duty: The Recipes I Cook at Home, written with the practiced and practical cookbook writer Roy Finamore. Samuelsson takes the same friendly and encouraging approach, with the unusually wide cultural influences he has brought to all his cookbooks. His recipes range from as simple as the winter salad that I and everybody else makes—orange-fennel, this with garlic, paprika, and chopped pecans—to as festive as harissa-crusted turkey with red onions and sweet potatoes. Serve the turkey with hot brussels sprouts slaw, the thinly sliced sprouts first cooked in bacon fat and butter, and you'll have your own new holiday staples.
Anyone who has dined at a local-organic-farm-to-table restaurant in the past two or three years has been subjected to enough home-pickled everything to wish the pickling, drying, fermenting, and canning phenomenon would go back to the farms and home larders it came from—where freezers long ago replaced root cellars anyway. But salting, brining, pickling, and curing are today's flavor labs, as I wrote recently about the Nordic Food Lab, and they won't go away, even if the powders and gelling agents and dehydrating machines of Modernist Cuisine might. (No one this year is likely to outsize Nathan Myhrvold's oversized 2013 The Photography of Modernist Cuisine, an art exhibit in itself.)
The godfather of the brining movement is of course Sandor Ellix Katz, whose Art of Fermentation remains the essential guide to theory and practice. And this year there is a beautifully produced, encyclopedic guide to preserving and canning, based on a rightly popular blog: Cathy Barrow's Mrs. Wheelbarrow's Practical Pantry: Recipes and Techniques for Year-Round Preserving, with typically simple, inviting, naturally lit photographs by Christopher Hirsheimer and Melissa Hamilton. (Last year's picture-book entry was the worthy and stylish Saving the Season, by Kevin West.) If you've been even remotely tempted to make jellies, jams, chutneys, or pickles, this will give you confidence—and Barrow's mandate broadens to stocks, confits, and cheeses.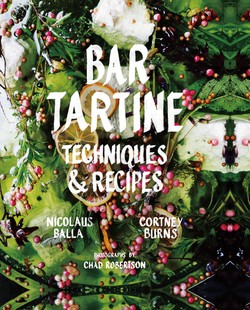 Bar Tartine, the must-go-to restaurant of San Francisco, has brought out Bar Tartine: Techniques & Recipes, particularly useful for the 150-page first section of techniques to make your own, say, charred chile paste or burnt bread crumbs for thickening (I regularly if inadvertently make these by setting our toaster-oven on fire); or kefir cream or koji, the fermented Japanese base ingredient of the moment; or sprouted nut milk. It doesn't call for equipment more complicated than a dehydrator, which is both cheap and optional. The recipes, as with most restaurant books, are often more than you might be ready to take on. Warm beet soup with smoked brisket and brussels kraut is "a bit of a project," as the brisket takes three days and the kraut takes…months. The project I'll want to attempt when I next fire up a gas or charcoal grill is the restaurant's signature smoked potatoes, which are one of the country's great bar snacks, with recipes here for the accompanying black garlic vinaigrette and ramp mayo. And since the chefs who wrote the book, Nicolaus Balla and Cortney Burns, work closely with the founders of the must-go bakery in perhaps the whole country, Tartine (I claim full and doubtless spurious credit for discovering the couple who started it, Chad Robertson and Elizabeth Prueitt; I devoted a chapter to them in my Pleasures of Slow Food), there are recipes for dessert—many of them exotically rustic (steamed parsnip cake with cider, kefir, honey, and bee pollen) but some as simple as brown-sugar hazelnut butter and strawberry jam cookies.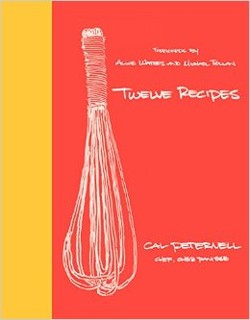 There might be a genre of photogenic chefs teaching their photogenic sons how to cook. I already mentioned Batali and Besh; this year there is the longtime chef of Chez Panisse, Cal Peternell, teaching the oldest of his three sons how to cook in Twelve Recipes—a skill he realized he'd neglected to pass along while he was growing up, even if Alice Waters in her foreword calls Peternell "one of the greatest teachers I know." (He also helped Michael Pollan in his cooking ventures, too, as Pollan writes in his own foreword). In friendly fashion he tells readers how to make frittata, bean soup, marinara, carbonara, polenta, mashed potatoes, roast chicken, "bunkhouse dressing" with yogurt and vegetable oil substituting for oil and vinegar if you're out, and other essentials (there are a lot more than 12 recipes). The book is encouraging and discursive, like the letter from father to sons that it is. And this being from the Bay Area, the very first recipe is for toast.
A far more lavish teaching book is Dana Cowin's Mastering My Mistakes in the Kitchen. Rather than call up a chef father or mother, Cowin calls friends who know how to cook—and, as she's the editor of Food & Wine, her friends have names like Dan Barber, Daniel Boulud, David Chang, Eric Ripert, Jonathan Waxman, and Andrew Zimmern. What saves this from being just glossy and name-droppy is the engagingly personal tone Cowin takes, telling stories of serving harshly acidic steak au poivre that was supposed to be a big treat for her husband; running out of the kitchen to escape a lobster climbing out of the pot; tearing off a huge chunk of turkey skin while trying to lift it from the roasting pan and scalding herself in the process. The recipes she presents are fairly family-friendly. But what might stick with you the longest are the chef's tips with almost every recipes, which Cowin nimbly translates to make sense for the home cook.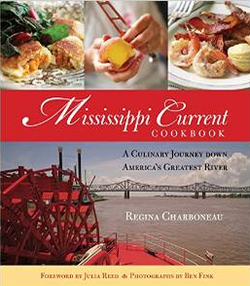 Two anchor contributors to The Atlantic's Food Channel during its three-year run have published new books, so naturally I urge you to buy them—and they're both filled with recipes you'll want to try. Regina Charboneau is an indefatigable host, as my pal Kim Severson recently chronicled while describing her annual Thanksgiving for 145 in her home in Natchez, where she runs both a B&B and a restaurant (Charboneau wrote for us about brisket as "a new Thanksgiving meat" she prefers to turkey). Her new Mississippi Current Cookbook: A Culinary Journey Down America's Greatest River starts at the headwaters with recipes inspired by St. Paul and Minnesota, continues through Missouri, and winds its way down to her own bayou and Natchez. Charboneau is not just a professional cook who knows how to deliver big portions of high-quality food (this could be a caterer's guidebook) but a student and observer of the South—the part of the book, along with recipes for burgoo and biscuits and coconut cupcakes with seven-minute icing, I'll long prize.
Aglaia Kremezi is always directly with the times and usually half a step ahead of them. As a cultural observer of her native Greece as well as teacher, she is nonpareil (I wrote about one of the cooking classes she teaches with her husband, Costa, on the island of Kea, the closest island to Athens, here). Although not a vegetarian, her recipes, regionally and historically grounded as they have always been, feature far more vegetables than meat, she realized as she was going through the hundreds of recipes she has written and taught. Thus Mediterranean Vegetarian Feasts, which collects recipes so appealing visually and in description that you're unlikely to notice missing meat (unlike the impression you'll get from year's crop of vegan cookbooks, which is large and effortful). Artichokes with baby carrots, fennel, and orange vinaigrette; roasted potatoes with garlic, orange, and mustard; sautéed olives and carrots with preserved lemon and thyme—all of them will start to warm up the long winter we seem to be settling in for.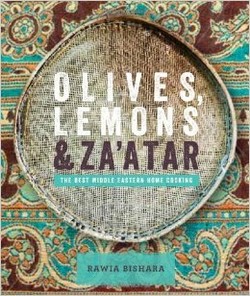 More Mediterranean cooking you'll want to use, particularly if you're one of Yotam Ottolenghi's Jerusalem and Plenty adherents (and who isn't), is Olives, Lemons & Za'atar: The Best Middle Eastern Home Cooking by Rawia Bishara, the chef-owner of Tanoreen, a Palestinian-themed cult Brooklyn restaurant. She adds spice to what her mother in Nazareth already used, so you'll use more of the sumac, thyme, rosemary, sweet and hot peppers Ottolenghi accustomed you to, and of course, and za'atar, the blend of oregano, sesame seeds, and sumac that varies cook to cook. Start with eggs and za'atar, which has already transformed many readers' breakfasts.
For brief background reading—and for stocking stuffers—try one of the short books in the Edible Series from Reaktion, a division of the University of Chicago Books. Since 2008 it has been publishing monographs on subjects from pancakes to chocolate to the one I recently read: Olive, by Fabrizia Lanza, an art historian and scholar who has taken over the Anna Tasca Lanza Sicilian cooking school, which her mother started on the family's Sicilian estate—a town, really, and an immersion into fin de siècle rural aristocratic life. The book takes olives from the bible to a skeptical northern Europe that set olive oil at war with butter to today's Mediterranean diet, and of course includes recipe, illustrating the account with photographs of art and archaeological finds.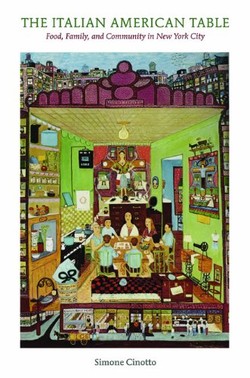 More history for anyone who loves Italian food, and what's become of it in America, comes from the historian Simone Cinotto in The Italian-American Table: Food, Family, and Community in New York City. I started reading the book out of interest and out of loyalty to the University of Gastronomic Sciences in Pollenzo, Italy, started by Slow Food, where we both teach. But I kept reading for the picture of immigrant life I knew about piecemeal, and the finely textured portrait of what life was like for the mostly southern Italian immigrants in the New York of the 1920s through the postwar era. Though there are nostalgic pictures of fruit-and-veg street vendors and the kind of corner stores selling olives, cheese, and homemade bread we all want to return to, Cinotto does not romanticize the erosion of the traditional Italian family structure as children wanted to assimilate, or the disappearance from immigrant tables of the foods we now want to go back to—particularly the bitter, strange vegetables many Italian-Americans rejected generations ago like broccoli rabe and, yes, kale.
"Vegetarians, You Have Blood on Your Hands!" So reads one of the chapter headings in Patrick Martins's loose, angry, funny Carnivore's Man!festo: Eating Well, Eating Responsibly, and Eating Meat (the exclamation point in the title will give you an idea of the tone). Martins, founder of Heritage Foods USA, was also the founder of the American branch of the Slow Food movement, and never lost its ideals or its founder, Carlo Petrini's, habit of "shooting first, apologizing later." His way of taking action has been to start a national network of farmers who raise and sell meat. Despite his business and the title of the book, he isn't trying to convert vegetarians back to eating meat. He does invite them to examine their convenient underlying assumptions about the virtues of their choice, as does the former environmental lawyer and now rancher Nicolette Hahn Niman, who wrote often on our site about her choice to raise and sell but not eat meat, and has now collected her thoughts in the elegant, strongly argued Defending Beef. In this endearingly bombastic manifesto, much of which sounds dreamed up in long bar sessions with his co-author, Mike Edison, Martins offers one of the best and most succinct arguments for buying sustainable food, which is sustaining the community that makes and sells it: "Spreading your dollars over many small businesses and encouraging independence is a key to the sustainable food movement."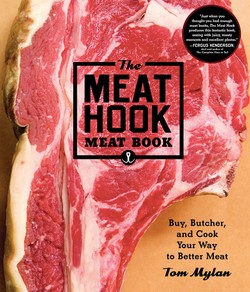 Martins advocates choosing your butcher "the way you choose your life partner"—another case of his acting on his beliefs, in that he married his cheesemonger, the great Anne Saxelby. Like him, Tom Mylan, another Food Channel contributor, is exuberantly profane. His Meat Hook Meat Book, named for the Brooklyn butcher shop he started with his two best friends (a venture he admits was a recipe for disaster but was the very rare case that resulted in stronger friendships) is less a recipe book or a guide to understanding cuts of meat, though it is both, than it is to understanding the mind of a butcher. (The diehard meat cook who just wants the well-illustrated, concisely explained facts will find help in The Gourmet's Guide to Meat: How to Source it Ethically, Cut it Professionally, and Prepare it Properly, by Cole Ward with Karen Coshof, which comes with a CD.) Mylan loves what he does, and that comes through in his advice about picking knives, picking cuts, buying grinders—all of it the result of hard-won knowledge and mistakes, yes, but more importantly all of it things he really cares about. Keeping farmers solvent and building a community of customers (whom he invites to come with him and his workers on rambling jaunts to visit farmers) is, as with Martins, his reason for staying. He's exactly the kind of artisan you hope to find far outside of Brooklyn and pick, if not as a life partner, as someone you want to keep in your neighborhood.
Each year seems to bring more and more books for reading as well as cooking, and my favorite this year is Samuel Fromartz's In Search of the Perfect Loaf: A Home Baker's Odyssey, a memoir of finding order in a suddenly disordered world by baking (think 2008 and making your living as a freelance writer). Fromartz, executive editor of the invaluable FERN, or Food and Environment Reporting Network (which TheAtlantic.com also partners with), is a marvelously sympathetic and instructive narrator who will show you how to bake a loaf that day after day will please, soothe, and challenge you. This is the book for beginning and would-be bread bakers, with information on flours, sourdough making, loaf formation, and oven rejiggering anyone needs. And it's terrific to read.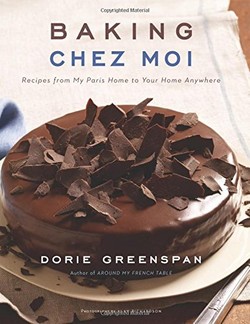 Certain cookbook writers are reliable time after time, seemingly effortlessly. That means you imagine armies of assistants behind them. In the case of Ina Garten, that's probably right; in the case of Dorie Greenspan, it probably isn't. Greenspan has the gift of clarity and making even the complicated seem doable, which in her hands it is. In Baking Chez Moi: Recipes From My Paris Home to Your Home Anywhere, Greenspan takes up the Parisian research she has long been conducting in her enviable second home. As usual, she has twists like crème brulee tart that will make you think you're creating something in your own kitchen, not a kind of paint-by-numbers recreation of a pastry-shop window. It's time, for example, for a rustic macaron backlash, to combat the luridly colored, too-perfect disks that are starting to look like they're out of some nightmarish Candyland; indeed, Greenspan gives a reassuringly off-kilter, slightly lumpen-looking version. And she gives a recipe for the easy, light, crunchy pastry that should sweep macarons off every shelf: chouquettes, hollow cream puffs with a rock-sugar crackling crust. The single best contribution to the holiday season would be a blizzard of chouquettes falling from bakery shelves into white wax-paper bags all next year.