One of the Happiest Stories in Soccer May End Soon
The Saints survived a summer exodus and started the season well, but this weekend, they were reminded why they're still underdogs.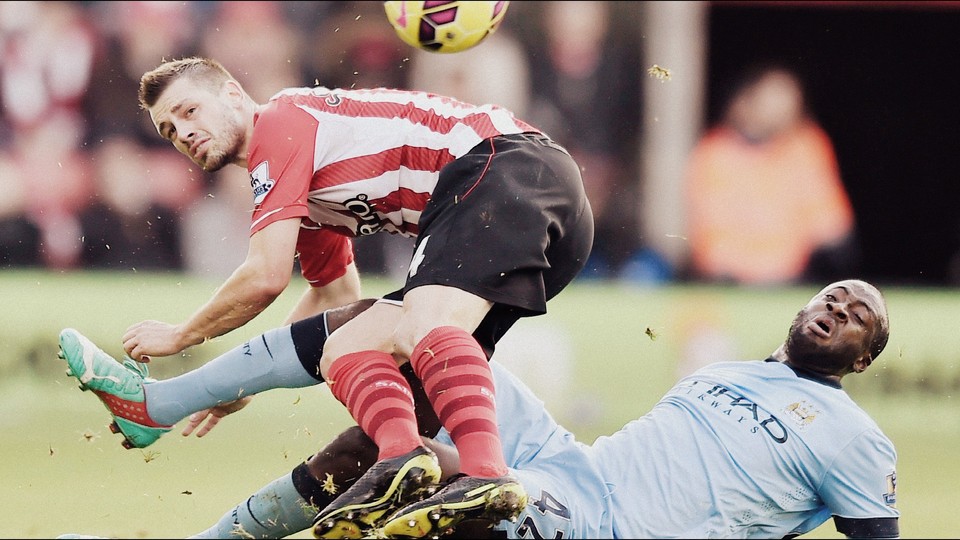 Southampton F.C. provided one of the best stories in the English Premier League last season, starting hot behind a dynamic group of youngsters and a high-pressing style, and going on to finish in eighth place. For a club that skirted bankruptcy in 2009—while they were in English football's third division—this was more than respectable. It was success.
But this Cinderella story was followed by a messy divorce.
Like prodigies Gareth Bale and Theo Walcott before them, Southampton's stars left for richer, more renowned clubs at the end of the season. Both young fullbacks departed: Luke Shaw to Manchester United, Calum Chambers to Arsenal. Liverpool bought the alliterative trio of Lovren, Lambert, and Lallana, and the Saints' manager, Mauricio Pochettino, headed to London to try his hand at glory with Tottenham Hotspur. Even when player sales bring in over $150 million, replacing a coach and half a lineup is a massive challenge.
Southampton seems to have met it. The little club from the south coast of England is riding so high that The New York Times is celebrating its remarkable ability to rebuild. They are the team that lost its best players, and then started playing better.
This backstory is what made Manchester City's visit to St. Mary's Stadium on Sunday so alluring. City, the champions of England, Abu Dhabi's favorite club, were actually chasing the second-placed Saints. Southampton hadn't lost at home all season, so their new coach was optimistic. "I feel happy and not afraid for this week," said Dutchman Ronald Koeman. "I am positive, and I know that we have a strong team and we can beat everyone in the Premier League. And we have to show it."
First, Koeman's men just had to survive. City's passing was slick and accurate from the start, and the home side labored to keep possession for any substantial period. Fifteen minutes in, they were lucky not to concede a penalty when Jose Fonte upended Sergio Aguero in the box—referee Mike Jones, mystifyingly, gave the City striker a yellow card for diving.
Perhaps that stroke of fortune settled the home side's nerves. After Aguero's booking, Morgan Schneiderlin lifted a delicious chip into the box for the Southampton's top scorer, Graziano Pelle. Pelle could only wave a leg at the ball, but the chance fell to his teammate Steven Davis, who forced City goalkeeper Joe Hart into a fine save. Then it was City's turn to come close, with Toby Alderweireld clearing off the goal line from Stevan Jovetic's strike. Southampton survived, halftime came, and St. Mary's could take a breath.
Within a few minutes of the restart, City were ahead. Yaya Toure, all long legs and Cadillac brawn, steamed onto an Aguero layoff to find the back of the net via a ricochet. Toure's dithering later gave Southampton's Shane Long an opening—and forced Eliaqium Mangala into a second yellow card for bringing down the charging Irishman. Shorthanded, City then sprung forward to double their lead from a classic Frank Lampard finish. Gael Clichy nabbed a third goal with minutes remaining, sealing the 3-0 win. City never looked uncomfortable down a man. In fact, they looked as dominant as 10-man Bayern Munich did against them in Europe last Tuesday. City stole a victory that day, and this win reopened the title race—the Chelsea juggernaut's lead is down to six points.
Koeman admitted it wasn't his team's best day on the pitch. "We had the possibility to show our qualities and it was not good enough," the coach told BBC Sport. "Only two or three of the players reached the level that they can show."
In a sense, though, what happened in the locker room at halftime was more indicative of the Saints' prospects. Star midfielder Morgan Schneiderlin—who wanted to leave this summer as well, until ownership put its foot down—had injured his thigh and couldn't continue. His usual understudy, Jack Cork, was sick, so Alderweireld, a defender, stepped into midfield and Southampton lost much of their craft. This type of forced reshuffle isn't often required of clubs like Manchester City, where international stars fight for places on the bench. Southampton will face more obstacles like this as the season runs on, and with Arsenal and Manchester United up next, Koeman knows better than anyone whether his squad is truly deep enough to challenge for a Champions League place. The bookies say no.
As the players lined up to take the field, Kenny Loggins's "Danger Zone" rattled through the tunnel. Southampton aren't in the danger zone: They've rebuilt too well, come together too quickly, shown too much promise to finish anywhere near the bottom of the table. But on Sunday, against the league champions, the Saints might have been reminded of a different '80s classic. Because the underdog's success in soccer is relative, fleeting. Failure is hungry like the wolf.