Jean Beliveau's Astonishing Grace
The legendary hockey player, dead at 83, lived life with the same elegance he showed on ice.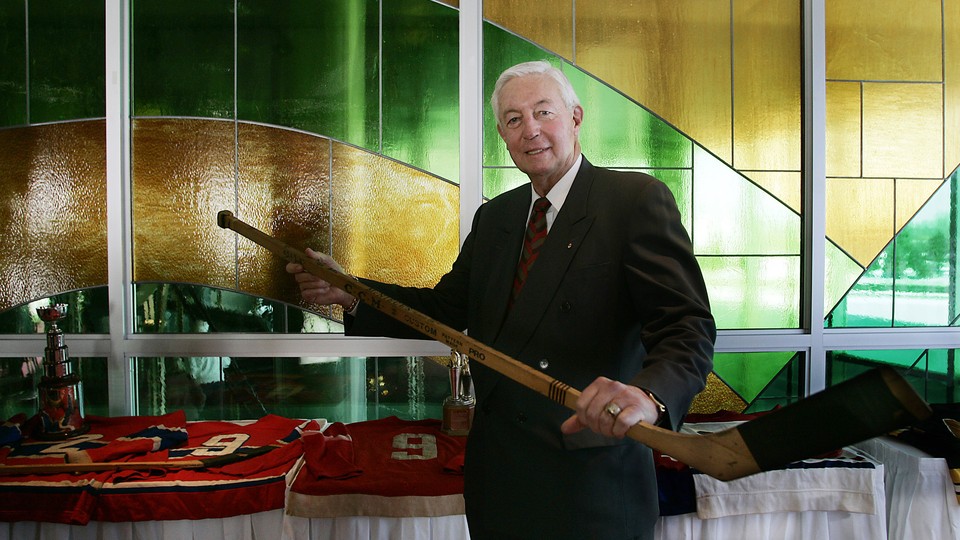 Jean Beliveau, a Quebecois child of the Great Depression, grew up next to a church and when the altar boys were late or missing for mass the priests would come knocking on his door. "I served at weddings and funerals, too," Beliveau told Canadian writer Hugh Hood in a 1970 biography. "The families would always tip the altar boys. I served High Mass often."
The church in Victoriaville was named Les Saint-Martyrs Canadiens, which surely must be seen, then and now, as a sign from God. After Beliveau prayed there, he would return home to the backyard hockey rink his father created and nurtured every cold Canadian winter. There, Jean would skate—and grow. Over time, over generations in fact, Jean Beliveau would skate and grow into one of the most transcendent hockey players in history, into one of the most beloved public figures in the 137-year history of the Canada, and into one of the most revered sports figures in the world.
Beliveau, who died in Montreal Tuesday night at the age of 83, glided through life the way he glided on ice. As a player, he won ten Stanley Cups with the Montreal Canadiens (the team purchased an entire league in Quebec to get the rights to him). As a member of the Habs's front office, he won seven more. Seventeen Cups for one man—more than any other team in the long history of the National Hockey League. He was captain of the team for 10 years and, despite a series of health problems over the past decade or so, still a fixture at home games at the Bell Center until shortly before his death.
In a province that lives or dies its hockey, Beliveau was a superstar before he could vote. In 1952, before he came to play with the Canadiens, he was living the life of legend. From Andy O'Brien, a long-dead Canadian sports writer, comes this story about how Beliveau, at age 21, handled the second car he had been given for his exploits on the ice:
Jean parked his convertible directly in front of the main entrance of the famed Chateau Frontenac Hotel and we went up to my room. He poured himself a beer and was in the act of lighting a cigar when there came a knock on the door. I opened it and in walked a Quebec City policeman. Taking off his fur cap, the cop said in French. "If you will let me have your key, Jean, I'll park your car." Without interrupting his discussion, Jean threw the cop his keys. The cop backed out of the room apologetically.
Watch him briefly here, 13 years later, as he leads the Canadiens to the Stanley Cup championship in Game 7 of the 1965 final against the Chicago Blackhawks. Watch the long stride and the reach and the elegant manner of his actions. In a violent, brutal sport, where the object of the game is to impede your opponent's rush to the net, Beliveau skated like an angel, his height and frame allowing him to fly above and beyond most of the heaviest traffic. (That's the legendary Danny Gallivan with the play-by-play, by the way).
As a private citizen, Beliveau's reputation was such that 20 years after he was nominated to the Hockey Hall of Fame he was offered the position of governor general of Canada, which would have made him the queen's official representative in her former dominion. (Beliveau diplomatically declined, the story goes, to spend time with his grandchildren after the sudden death of their father, his only daughter's husband). In 1998, he was awarded Canada's highest civilian honor, the Order of Canada. You can still find Canadian Beliveau stamps if you look hard enough.
Those were just some of his accomplishments, the stuff of obituaries and post-mortems. But what Beliveau really gave to everyone around him, from friends to acquaintances to his millions of fans, was a relentless stream of dignity and grace, poise and presence. Somewhere between the Victoriaville priests and the crucible of center ice, between his hardworking father, a lineman for Shawinigan Power, and ever-adoring public, Beliveau became what every father wants of his son—and what every son wants in a father: a kind, solid, honest, decent, noble, classy man.
Beliveau never forgot his father's influence on his life. In Beliveau, My Life in Hockey, Beliveau and his ghost writers offered this: "Around Victoriaville, Arthur Beliveau commanded great respect from everyone he met, and had taught his children many valuable lessons. 'Jean,' he said, 'no matter how people will approach you with money and gifts and offers that seem ridiculously easy, you must remember that nothing comes free in this life, and that hard work and discipline will make you who and what you are.'"
Watch him here, 20 years ago, talking about his dad, and about the idea of winning and losing, and about the role he played on the Canadiens in the 1950s:
He played like he lived and lived like he played. Smooth. Even-mannered. Determined. Not afraid to speak his mind but not looking for a fight. He dies as one of the best and most productive hockey players in the history of the sport—and also someone whose influence on the game is profound. He was the big, play-making center that every team now covets. His long strides helped the Canadiens transform the offensive nature of the game. Like Mickey Mantle, he carried the torch in the 1950s and 1960s from one legend (Maurice Richard) to another (Guy Lafleur). Unlike Mantle, he stayed healthy practically his whole career.
It's no wonder that Quebec, and then Canada, and then the rest of the world gravitated toward him. He was larger than life for virtually his whole life—even his nickname, "Le Gros Bill," came from a French folk hero. He met his wife in 1950, when it was all starting. They were married in 1953, the year he signed with the Habs. And they remained married until now. He was loyal to his woman. He was loyal to his team. He was loyal to his country. It's not easy to be a good sport in every aspect of your life. Yet he seemed to do it effortlessly—just like he skated, just like he scored.