J. Cole: Still a Classic Album Away From Greatness
The talented rapper's newest record 2014 Forest Hills Drive suggests that he might never find his throne in a genre of self-proclaimed kings—but that's not necessarily a bad thing.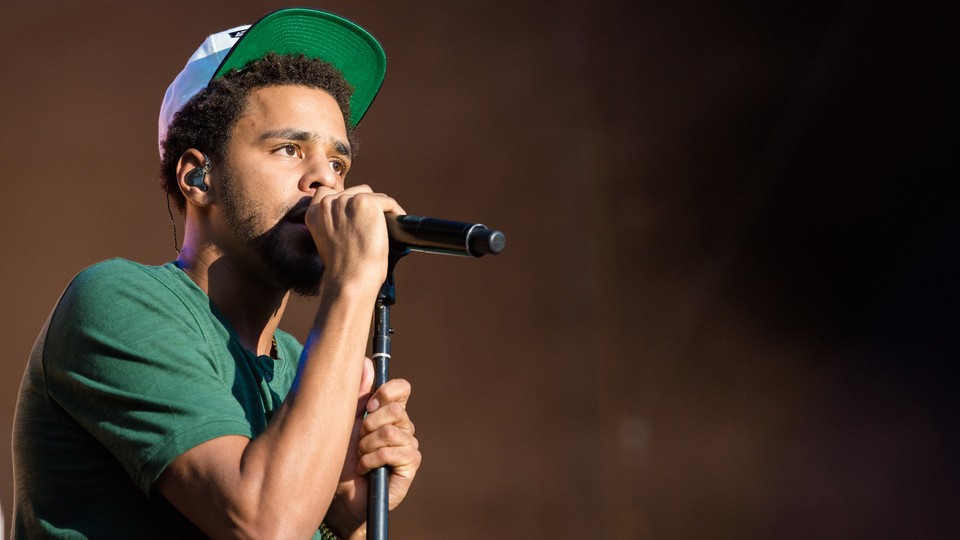 While an impressive rapper and storyteller, J. Cole doesn't quite fit the labels given to other hip-hop artists—the poignant and introspective, R&B-influenced Drake; the confident and aggressive street persona of Jay Z. In a genre littered with colorful personalities, Cole at times seems shrouded in hues of grey and brown. Until now, he's been generically good. On his new release 2014 Forest Hill Drive however, the North Carolina native attempts to carve out a clearer niche for himself—and succeeds, even if he doesn't exactly shine.
Toward the end of the promotional video for the album, Cole says that there are "a lot of people in Hollywood right now who have been there for a long time, and they've forgotten about their small-time lives because they feel like this life is better." This is the thought behind 2014 Forest Hills Drive, an attempt to keep himself anchored to his humble beginnings. It's part childhood story, part tale of triumph.
For this album, Cole has stopped trying to make radio-friendly singles. That's a complete reversal from last year's commercially successful Born Sinner, which was replete with easy hits, namely the über-successful "Power Trip." Cole's new album is a more cohesive, narrowly focused project, and a shorter one at that, with a mere 13 tracks.
The slightly somber, almost hypnotic "Intro," begins with Cole singing (to the best of his ability): "Do you wanna be happy? Do you wanna be free?" Free from what exactly? "Free from pain, free from scars, free to sing, free from bars." If the album itself is a journey through his youth, the "Intro" contains the thoughts of an embryonic Cole, outlining his hopes for the future as well as warning himself about the pitfalls that await. The next song "January 28th" is fittingly Cole's announcement to the world that he's arrived. It's named for Cole's birthday (he turns 30 next year), and it's the first sign that 2014 Forest Hills Drive isn't merely a collection of subtle references to his past but a first-hand tour through his early life in modest North Carolina.
Here, Cole touches on Ferguson and issues within the black community: "What's the price for a black man's life, I check the toe tag, not one zero in sight." Cole continues, "I turn the TV on, not one hero in sight, unless he dribble or he fiddle with mics." Cole's addressing the plight of young black men who at most only see their career prospects lying in sports and music. It's not a groundbreaking acknowledgement by any means, but it's still welcome and meaningful.
The album's high points are clustered early on. "Wet Dreamz," Cole's light-hearted tale of awkward teenage sexcapades, showcases his storytelling chops. Those narrative skills are put to work in a far more dramatic fashion on "03 Adolescence," and ode to the year he moved to New York City to attend college. Cole delves deep into his one-time fascination with the fast cash of the drug trade, recounting a conversation where his dealer-comrade scoffed at Cole's request to become a mentee of sorts: "So how you look up to me when I look up to you? You about to get a degree I'ma be stuck with two choices." For Cole, who would eventually graduate with honors from New York City's St. John's University, it's a harrowing look back at the turn his life could have taken.
"On a Tale of 2 Citiez" Cole channels Charles Dickens's classic tale, but here Paris and London are swapped out for the more familiar surroundings of New York and Fayetteville, Cole's hometown. Cole vacillates between the perspective of someone (likely Cole himself) wanting to "make it" living an honest life chasing his dreams in New York and a drug dealer back home who wants to get rich as well, though by more illicit ways. Both characters want to be successful, but while though their end goals may be similar, their paths couldn't be more different. The track's closest recent analogue may be Kendrick Lamar's "m.A.A.d. City."
Speaking of Lamar: Last year, the L.A. rapper's now-infamous verse on Big Sean's "Control" sent shockwaves through the industry when he directly called out some of hip-hop's biggest stars and goaded them to try to be better than him. Cole, among those called out, didn't take it lightly. On his new record, he appears more self-assured, as if Lamar's statements spurred him to play the role of the overly confident artist. Cole does so vociferously, lauding his own skills. "There's no way around it no more I am the greatest, a lotta n***** sat on the throne I am the latest."
It's a sudden, disingenuous, and odd change. On last year's Born Sinner, Cole often seemed reluctant to talk himself up, saying on "Let Nas Down": "God bless the idols may they never be your rivals." Now Cole believes he too has arrived at the pantheon: "I am the bravest, go toe to toe with the giants, I ain't afraid of you n*****." Cole has yet to put out an album lauded widely as a "classic," so these claims come across as hollow posturing, as if Cole thinks it's what he should be saying to be truly respected in the genre, a habit that's cropped up throughout Cole's catalogue. At times he speaks in such overtly reverent tones about rap's gatekeepers that it feels like pandering.
Another highlight is "Fire Squad," which blends the simplicity of a '90s-style beat, a sample of Chilean band Aguaturbia's 1969 song "Heartbreaker," and multi-layered 'boom-bap' drums. In this ego-stroking exercise, he's unapologetic with his clever wordplay: "So ahead of my time, even when I rhyme about the future I be reminiscing." He also harps on the culture-jacking of hip-hop, specifically calling out white artists including Justin Timberlake, Eminem, Iggy Azelea, and Macklemore. But Cole backtracks in the very next line, saying "I'm just playin,'" as if to deflect any possible backlash.

For Cole's second straight album there are no rap features, and the back half of the record suffers for it. As with some of his previous work, the songs being to meld into each other, and it becomes hard to truly differentiate between them. "G.O.M.D." includes an incredulous George W. Bush sample, "No Role Modelz" has Cole looking back at his fatherless adolescence, and the record ends with "Note to Self," which reads like the credits of the album hearkening back to Kanye West's "Last Call."
No doubt, the album will fit in nicely with his existing catalogue, and the production here is more layered and sophisticated than what he's had before. Like Cole's earlier albums, at first listen it appears to be a borderline classic, with a sense of depth and nuance. But with each subsequent listen, it loses its luster as Cole continuously utters half-hearted maxims without the conviction of some of his peers. Expectations had been high for Cole in his early years, but he's no longer an up-and-coming rapper. He debuted at a time when the rap genre was reeling and Nas argued that "Hip Hop Is Dead." As a result, he was prematurely anointed as one of the genre's saviors. Three albums and no classics later, I'm beginning to think that Cole maybe isn't the hip-hop Messiah he was promised to be, perhaps he just a guy who raps well. And maybe that's okay.