Don't Count These Actors Out of the Oscar Race Quite Yet
A taxonomy of long-shot awards contenders, including Scarlett Johansson and Ben Affleck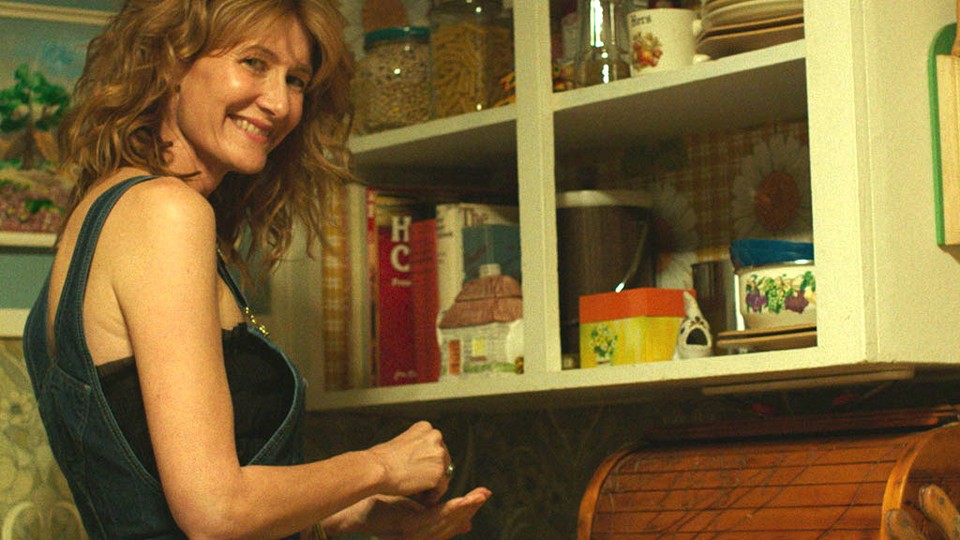 With the Golden Globes, Screen Actors Guild, and most recently the Broadcast Film Critics having released their respective nominations, all the major Academy Awards precursor organizations have spoken. What was once a wide field full of possibilities among actors and actresses has winnowed down, as it always does, to a small handful of performances that keep getting nominated. If you've seen one slate full of Michael Keaton, Patricia Arquette, Edward Norton, J.K. Simmons, Benedict Cumberbatch, and Julianne Moore, you've seen them all. So where does that leave everyone else?
Contrary to common awards-follower wisdom, getting shut out of SAG and the Golden Globes doesn't slam the door shut on one's hopes for an Oscar nomination. The crack in that doorway is slim, but it's there. Surprise nominations don't happen every year, but they do frequently enough that it's easy to find some precedent for 2014's thus-far passed-over hopefuls. Looking at awards history, you can see a few categories of underdog nominees who might give hope to this year's longshots.
The Mom Everyone Feels Good About
Laura Dern, Wild
Reasons for Optimism: Toni Collette, Best Supporting Actress nominee for The Sixth Sense in 1999; Samantha Morton, Best Actress nominee for In America in 2003
It's somewhat surprising that Dern hasn't found more favor with awards-givers this year. Wild is a hugely liked movie (92 percent on Rotten Tomatoes); Dern herself is a former nominee from a Hollywood family, and she's been typically charming doing press for the film. Most significantly, she has an incredibly sympathetic role in Wild, one that has often proved conducive to success: the lovable mom. That quality might mean people shouldn't count Dern out yet. Toni Collette didn't have half the name recognition Dern has now when she pulled out a surprise nomination for The Sixth Sense, a film in which she played the harried but fiercely loving mom to a son who saw dead people.
Of course, The Sixth Sense was a Best Picture nominee with long coattails; thus far it's looking unlikely that will be the case with Wild. Which brings us to In America, which in the leadup to the 2003 nominations was only really supposed to factor in Best Original Screenplay according to pundits. At the last minute, stars Samantha Morton and Djimon Hounsou pulled out acting nominations, Morton for playing a loving, loyal, grieving wife and mother. It's a type that awards voters respond to, time and again. And if Academy members stop seeing Wild as a one-woman show, Laura Dern might be able to benefit from that.
The Ascendant Star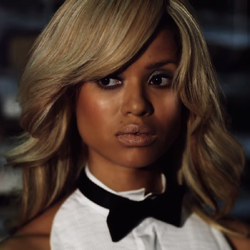 Gugu Mbatha-Raw, Beyond the Lights
Reason for Optimism: Edward Norton, Best Actor for American History X in 1998
Collectively, we didn't do right by Gugu Mbatha-Raw this year. Not many people went and saw her in Beyond the Lights, an imperfect but fascinating film in a too-small genre: romantic dramas with a decent sense of how the world actually operates. As a Rihanna-style pop singer struggling with how much of herself she needs to give away in service to that stardom, Mbatha-Raw is fantastic and the best part of the movie by a good margin. She's also young, beautiful, and poised to become a huge star if Hollywood (and audiences) would just take the bait. Some awards nominations could have helped that cause, for either Lights or her historical drama Belle that came out earlier this year. Nothing so far. That was the case for Edward Norton in 1998 at this stage, after his star-making turn in the controversial (and under-seen as a result) American History X. Oscar voters corrected that oversight, though they were probably helped by the fact that Norton—a nominee in 1996 for Primal Fear—was already on their radar.
The Jilted Leading Man
Ben Affleck, Gone Girl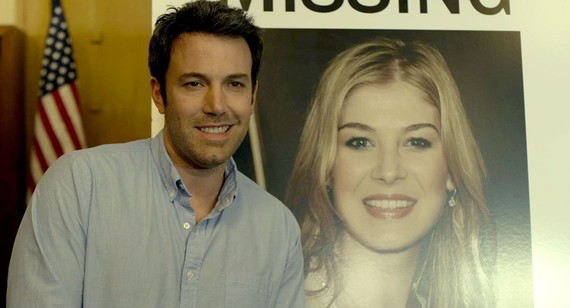 Reason for optimism: Clint Eastwood, Best Actor nominee for Million Dollar Baby in 2004
After having been nearly counted out of awards season—beyond Rosamund Pike's sure-to-be-nominated performance—Gone Girl rebounded with the Golden Globe and Broadcast Film Critics nominations, where both the film, the screenplay, and director David Fincher were recognized. Still left out is leading man Ben Affleck, whose contributions to the film, rightly or wrongly, have been reduced to a did-you-see-it glimpse at his penis in a shower scene. The Argo Oscar win in 2012 proved that the most potent phrase in Hollywood is "poor Ben Affleck," a rallying cry that took him from a Best Director snub to the Best Picture podium. We're probably fresh out of "poor Ben Affleck"s for the next decade at least, but it is curious that such a big star is this conspicuously absent when the rest of his film is finding some traction.
It was tough to say "poor Clint Eastwood" in 2004, too, as he was barely a decade past winning the Oscar for Unforgiven. But Hollywood really liked him, and despite not being expected to show up on the ballot in Best Actor (not when he had a Best Director nomination in the bag), there he did. The fact that he was acting in his own directorial effort probably helped Eastwood get a leg up, but Affleck is a director, if not Gone Girl's director. That might help him snag votes from people who just want to work with him.
The Plus-One
Kristen Stewart and/or Alec Baldwin, Still Alice
Reason for optimism: Maggie Gyllenhaal, Best Supporting Actress nominee for Crazy Heart in 2009
Much like Wild, Still Alice is being treated as a one-woman show, with Julianne Moore as the film's presumptive lone nominee (and possibly a winner after four previous nominations). Perhaps that will change once the movie actually opens and real audiences start to see it, but this is a film that's being voted on based on screener DVDs (and, okay, maybe a Sony leak here or there), so waiting on public opinion to support the film's other virtues might not be a good idea. Back in 2009, it was assumed that Crazy Heart was merely a vehicle for Jeff Bridges to finally bag an Oscar after four previous nominations. But on nomination morning, the big surprise was a nod for Bridges's love interest in the film, Maggie Gyllenhaal. Here's hoping that kind of surprise awaits either Baldwin (as Moore's less-than-long-suffering husband) or Stewart (as Moore's youngest daughter), who are both doing excellent work and could find some welcome room on Moore's coattails.
The Crusty Old Antagonist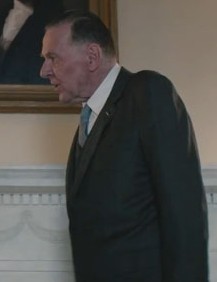 Tom Wilkinson and Tim Roth, Selma
Reason for optimism: Alan Alda, Best Supporting Actor nominee for The Aviator in 2004
Selma seems to be peaking at the right time for awards attention. It wasn't finished in time to screen for SAG voters, but it got under the wire for Globes consideration, where it pulled down nominations for Picture, Director, and Best Actor. In addition to those nominees, Carmen Ejogo was recognized by the Independent Spirit Awards in the supporting actress category. Is there room for any other actors to sneak in? While the film was in development, it seemed like Wilkinson and Roth, both former nominees gifted with plum roles (Lyndon Johnson and George Wallace, respectively), might have a shot, but neither has gained any traction. Character likeability is always a factor, but Best Supporting Actor has long been a category far friendlier to the villains (recall the 2007-09 stretch where Heath Ledger's Joker, Javier Bardem's taciturn serial killer, and Christoph Waltz's giddy Nazi all triumphed). Back when The Aviator was hauling in all sorts of nominations, the acting attention was all on Leonardo DiCaprio and Cate Blanchett. But in snuck Alan Alda for his relatively brief role as a Senate antagonist to DiCaprio's Howard Hughes.
The Previously Ignored Art-House Option
Scarlett Johansson, Under the Skin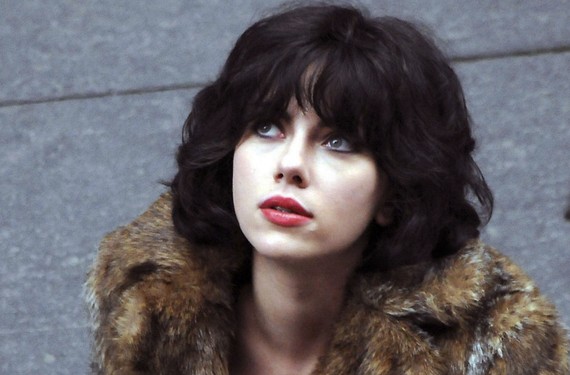 Reason for optimism: Gary Oldman, Best Actor nominee for Tinker Tailor Soldier Spy in 2011
It's not like Scarlett Johansson hasn't given the Academy plenty of opportunity to take notice. She was, after all, the lead actress in Best Picture nominee Lost in Translation. She has reaped dozens of critics' awards and precursor nominations for films like Girl With a Pearl Earring, Match Point, Don Jon, and Her. She's a hugely recognizable star and a nice get from a red-carpet perspective to boot. But she has been completely shut of out the Oscars game. Now, for all we know, she finished sixth all those times. But the impression has become that she's not to Academy voters' tastes. She's certainly no Amy Adams.
Gary Oldman was long thought to be anathema to the Academy as well, though that had more to do with his oft-prickly personality. Still, he managed to surprise with a Best Actor nod for the otherwise-overlooked Tinker Tailor Soldier Spy. It's that kind of "sometimes it's about the work" attitude that could see a surge of votes for Johansson, though Under the Skin is a far more impenetrable indie than Tinker Tailor ever was.
The Auteur and His Actress
Hilary Swank and Tommy Lee Jones, The Homesman
Reason for optimism: Ed Harris and Marcia Gay Harden, Best Actor and Best Supporting Actress nominees for Pollock in 2000
Hilary Swank has had an interesting career: two Oscars for Best Actress (Boys Don't Cry and Million Dollar Baby) and then a massive series of flops, from Conviction to Amelia to that one that looked like Dangerous Minds II. So once word came out of Cannes that The Homesman was actually good, folks started preparing for Oscar number three. That doesn't look like it's happening, but there's still a small chance at a nomination. The best historical precedent for something like The Homesman is Ed Harris's Pollock, his 2000 biopic about the painter. After nabbing a few critics' awards, the film, and its celebrated supporting actress Marcia Gay Harden, were left behind when the Globes and SAG came calling. Both Harris and Harden got surprise Oscar nominations, though, and Harden even parlayed her good fortune into a win. So, about that third Swank Oscar …
The Critical Cause Celebre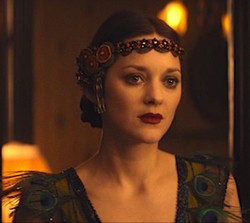 Marion Cotillard, The Immigrant (or Two Days, One Night)
Reason for optimism: Michael Shannon, Best Supporting Actor nominee for Revolutionary Road in 2008
Poor Marion Cotillard. Adored by critics. Ignored by Harvey Weinstein, studio head in charge of The Immigrant, which is barely getting any kind of Oscar campaign. Sure, she won a Best Actress Oscar in 2007, but critics really love her now. What sort of unkind god would refuse her the appropriate attention for her work this year? Michael Shannon was similarly showered with praise for his Revolutionary Road performance, bug-eyed and slobbery as it was. SAG and the Golden Globes looked elsewhere (Tom Cruise in Tropic Thunder? Hey, why not?), but in the end, the critical fave had his day.