Baseball's First Openly Gay Major Leaguer Is an Umpire
Dale Scott has called games for nearly three decades. Starting in April, he'll be the latest man to break a key cultural barrier in professional sports.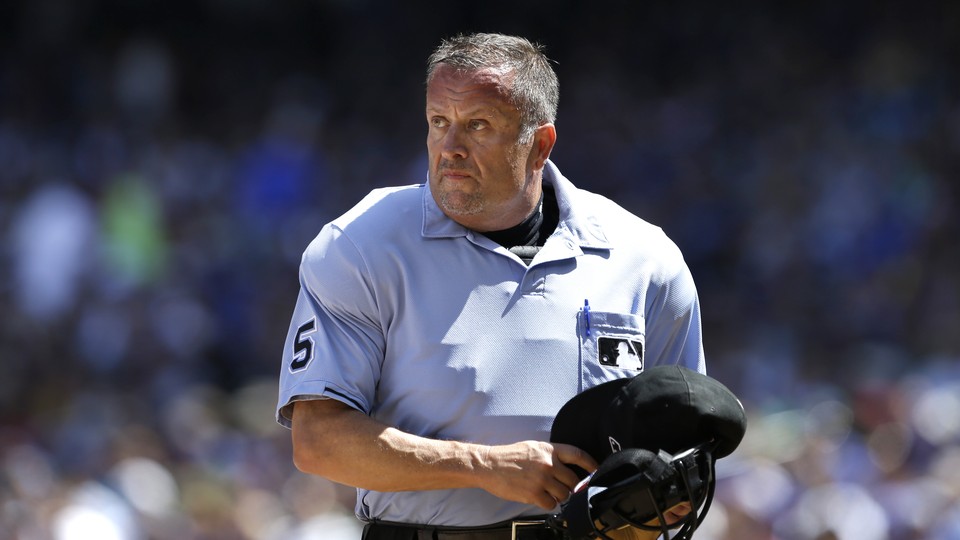 Major League Baseball doesn't currently have an openly-gay player, but beginning in April, there will be an umpire. Dale Scott, a 29-year veteran who has called games during three World Series and three All-Star Games, disclosed in an interview published Tuesday on Outsports that he married his longtime companion, Michael Rausch, over a year ago.
Scott's coming-out announcement was nothing like those of Jason Collins or Michael Sam, who went to Sports Illustrated and The New York Times as part of their bids to become the first openly-gay players in the NBA and NFL, respectively. Scott didn't initially make any public statement at all: He simply sent a photo of Rausch and himself to Referee magazine to accompany a profile that the small-circulation trade publication ran in October. As he explained to Outsports, Scott knew exactly what he was doing. "It could be picked up, but it's not Time magazine," he told Jim Buzinski. "I made that decision to go ahead and do it because I felt it was the right thing to do."
While not a household name, Scott is a familiar figure to legions of baseball fans who tune into games for six months a year. He never hid his relationship with Rausch, he told Outsports, and Rausch was listed as his same-sex domestic partner on his employer-provided insurance policy long before they got married last November. "I am extremely grateful that Major League Baseball has always judged me on my work and nothing else and that's the way it should be," he said.
In a statement on Tuesday, MLB Commissioner Bud Selig praised Scott as an "outstanding" umpire. "To his friends and colleagues throughout the game, Dale is universally regarded as a class act," Selig said. "All of us at Major League Baseball are very proud of him, just as we have always been."
Scott said he's never had a negative exchange about his sexuality with any umpire. As for players, some of them may also have been aware that he was gay. Andy Martino, a baseball writer for the New York Daily News who often covers the intersection of social issues and sports, wrote on Twitter that one player told him, "players have known for years."
Baseball has had players who have come out as gay after their retirement, most notably Glenn Burke, a former Los Angeles Dodger and Oakland Athletic who died of AIDS-related causes in 1995 and whose orientation was known to his teammates and team owners in the late 1970s. He told The New York Times that he left the game in 1980 at age 27 because of "prejudice."
Sam hasn't appeared in an NFL game, and Collins retired just a year after his announcement, but with the rapid progress of the gay rights movement, it's only a matter of time before baseball has its own barrier-breaking player. Until then, Scott will have that corner of the diamond all to himself.