The Frail and Human Roger Federer
The 33-year-old tennis star won't be around forever—but he won't be going quietly.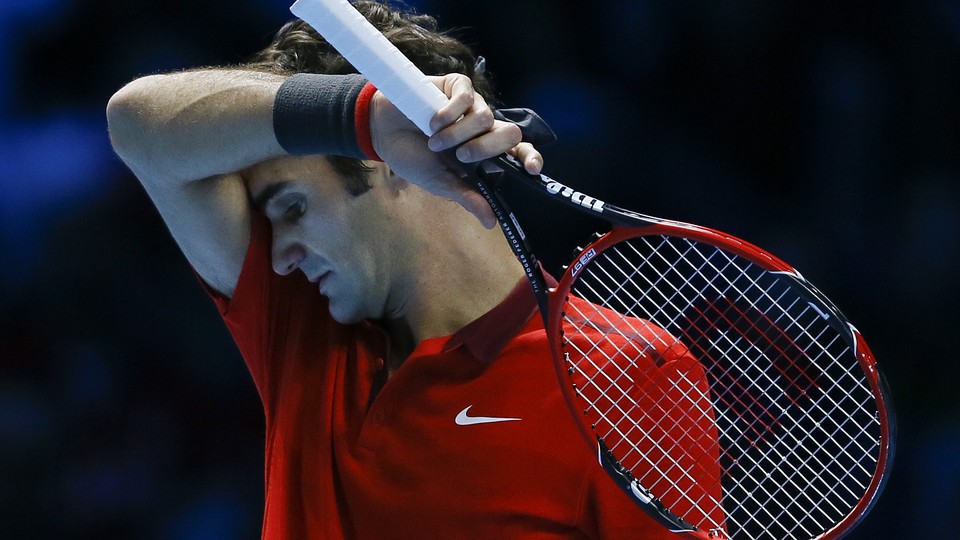 Those who follow sports learn quickly that athletic glory is a fragile and fleeting thing. The moment an athlete reaches the peak of their performance it becomes easy to foresee a not-too-distant future when that same athlete, as a result of injury or age or the kind of failing motivation that can accumulate over time, is caught helplessly on the downward slope, struggling to repossess the same magic that once came so easily. One day you're a champ, and the next you're traversing the weird retirement circuit/circus of hall-of-fame induction ceremonies, autograph signings, and guest appearances in the color-commentary booth.
This idea of top-level athletes as living reminders of the human mortality is what makes Roger Federer's withdrawal from yesterday's championship match of the Barclays ATP World Tour Finals so depressing. It's not just that tennis fans were robbed of the opportunity to witness another potentially classic match between the top two players in the world. (Federer and Djokovic squared off five times already this season and produced one of more sublime bouts of tennis in recent memory at the Wimbledon final; their rivalry continues to thrive and is arguably the best in men's tennis today.) It's that Federer's withdrawal on account of a back injury that has plagued him in years past brings into question how much longer the dapper Swiss, one of those rare athletes to whom the word "genius" is often applied, can continue to compete at the highest level.
Sunday marked only the third time Federer has withdrawn from a match, an astoundingly low number in a pro career that dates back to waning years of Bill Clinton's presidency. Yet at 33 years old, an age at which most tennis players have long passed their primes, Federer's career carries with it an increasing sense of frailty, as if he is always one misstep away from falling off the pinnacle and beginning the inevitable slide from world-class athlete to shadow of his former self.
This idea of frailty stands in stark relief with the Federer's unwillingness to go quietly. He spent much of the past year assaulting the notion of athletic excellence as ephemeral, giving hope to fans who'd like to believe they'll be able to watch the Swiss parlay his unique athletic gifts for years to come. At the start of the season Federer took the court with a wider racket and new coach. He went on to lead the ATP tour in match wins and amassed a 3-2 record against Djokovic. He got better with age, winning 32 of the 35 matches—including two Masters 1000 tournament championships—that he played since turning 33 in August. And he was an integral member of Switzerland's Davis Cup Team, which qualified for that tournament's finals for the first time since 1992. Not bad for a father of two sets of twins.
The reemergence of Federer's back injury, however, conjures memories of his abysmal 2013 season, one in which that same body part severely restricted his on-court movement. He subsequently suffered through his worst year on tour in over a decade. Throughout 2014 Federer insisted that his return to form was primarily due to a once again pain-free back, not the new racket or the presence of Stefan Edberg in his box. He moved with such grace on the court it seemed as if he had found a way to stymie that particular injury once and for all. Sunday's withdrawal shows that's not the case, and now the question is how long the 17-time grand-slam winner can continue to endure the month-to-month grind that is professional tennis. Federer still exudes a type of enthusiasm for competing on the ATP tour that's more commonly found in players many years his junior. Whether or not his body will cooperate is unknown.
Federer already has a habit of surmounting career setbacks that would devastate lesser athletes. When Rafael Nadal defeated him in the final at the 2008 Wimbledon final and subsequently displaced him atop the rankings, speculation about the Swiss player's place in the pantheon of tennis greats became supplanted by speculation about what many foresaw as his imminent downfall. It was as if the final point of that epic match started a clock counting down the minutes until Federer would cease to dominate.
But just a few months after that defeat, Federer won the 2008 U.S. Open, thus setting the template for quickly responding to a setback by exceeding expectations. When he lost to Nadal in the finals of the 2009 Australian Open and openly wept on court, the notion that Federer was "finished" surfaced once again. A few months later he won the French Open for the first time. Since then Federer has been prone to suffering his fair share of devastating losses—the quarterfinals of Wimbledon 2010, the semi-finals of the 2011 U.S. Open—only to reassert his ability to compete with the best.
To doubt Federer's ability to overcome his back injury would be to ignore the lessons of tennis history. And yet he will face significant hurdles in addition to age and his on-again, off-again back injury in the coming season. Men's tennis has a crop of promising young players with the potential to contend for grand-slam titles and upend the established hierarchy. There's Milos Raonic and Grigor Dimitrov, two 23 year olds whose boyish looks and manicured hairstyles could lead them to be mistaken for founding members of a barbershop quartet, as well as the physically imposing Marin Cilic (who won this year's U.S. Open in surprisingly dominant fashion) and the exceptionally skilled Kei Nishikori. Not to mention Djokovic, Nadal, and Andy Murray, the other three members of tennis' nominal big four who still have plenty left in the tank and are still a few years away from their own 30th birthdays.
One hopes Federer's game for the fight. There are few things more thrilling in sports than watching an aging champion defy the notion that good things must, eventually, end.