'Sesame Street ... Will Be a Disappointment In the Long Run'
The Atlantic wasn't impressed when it reviewed America's most beloved children's television show in 1971.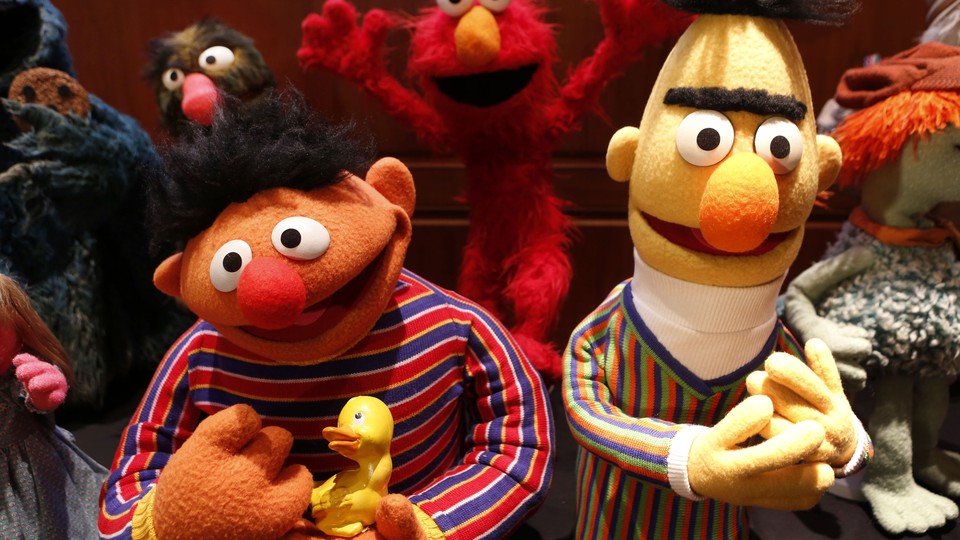 Sesame Street
, which celebrates its 45th birthday today, is undeniably a staple of American culture. Malcolm Gladwell once called its creators "television's answer to Beatrix Potter or L. Frank Baum or Dr. Seuss," the show has received more Emmys than any other television series, and over the years has featured guest appearances from such diverse figures as
Michelle Obama
,
Buzz Aldrin
,
Kofi Annan
,
Nina Simone
, and
Benedict Cumberbatch
.
But although
Sesame Street
has been teaching children about the difference between "over and under," and how to count to 20, and the fact that
we all sing in the same voice
for over four decades now, there were times when its longevity was called in question, as well as its value as an educational tool.
Reviewing the show for The Atlantic in 1971
, John Holt admitted that he loved "Ernie, Bert, the monsters, and indeed all the puppets," but felt "very strongly that
Sesame Street
has aimed too low, has misunderstood the problem it is trying to cure, and will be a disappointment in the long run."
The problem, Holt argued, was that Sesame Street was trying to compensate for an educational system in which "schools are rigged against the poor."
Sesame Street schedules a couple of minutes to "teach" the difference between the words "more" and "less," or between the words "think," "hope," "imagine"; to teach that the corners of a square are all alike, that the numeral 7 has the name "seven," that people don't change just because they put on different clothes, or whatever it may be. The continuum of, life, or experience, is everywhere destroyed; the separate bits of one Sesame Street program can be interchanged with the separate bits of any other.
Holt also critiqued the show for "putting great stress on the alphabet," and for introducing children to the world of numbers by teaching them to count, which "leads many of them to think that numbers are a kind of procession of mythical figures, dwarfs maybe, always walking in the same order."
This acknowledgment that Sesame Street was perhaps misjudged 43 years ago is brought to you today by the letters S, O, R, R, and Y.