After 61 Losses, You'd Celebrate Tying 0-0, Too
Behold San Marino's soccer team, ranked 208th in the world, after it held Estonia scoreless.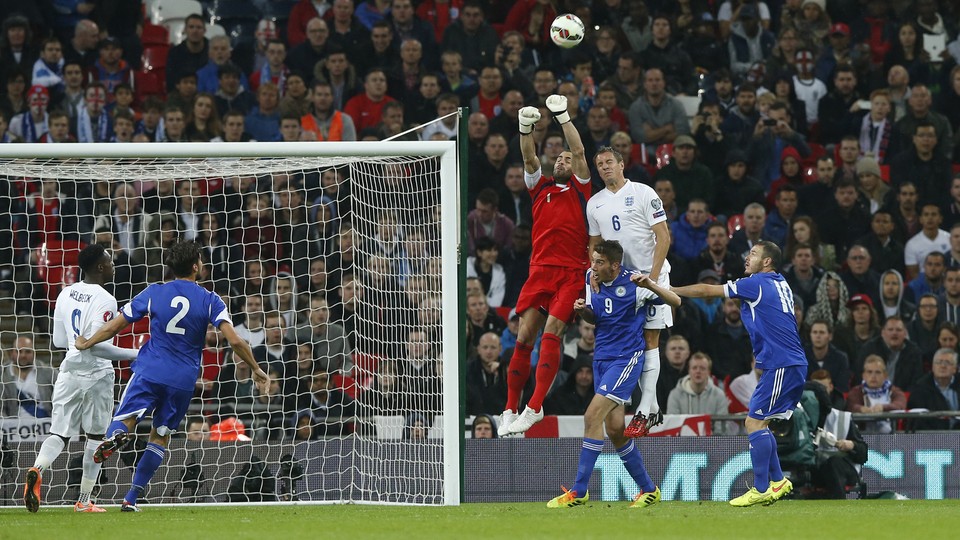 "The only thing certain is that we will lose." - San Marino manager Giampaolo Mazza, October 2012
They're back at their day jobs this week, putting on their hats, trudging through the Apennine rain. Aldo is an accountant. Alessandro works in a ceramics shop. Mirko, that rascal, is actually a professional soccer player.
I'm talking about the members of San Marino soccer team, who last Saturday ended a run of 61 consecutive defeats with a 0-0 draw against visiting Estonia. Goalkeeper Aldo Simoncini was the hero. His twin brother David didn't make it off the bench. Both of the Vitaoli brothers started, though. In a nation of 30,000, you're going to need some sets of brothers on the team.
Now, Estonia are no titans themselves, but when your team is tied with Bhutan for 208th place, for last place, in FIFA's international rankings, not losing is cause for celebration.
Celebrate they did. (This video has no sound. So maybe soundtrack it with San Marino's anthem, L'inno Nazionale della Repubblica, or preferably, "Eye of the Tiger."
What's important are the visuals: Look at that poor Estonian, prone, sobbing into the turf. Look at San Marino's Stadio Olimpico, less a fortress than a cheap motel. Look at the (nearly) victorious men in blue, hugging, yelping, happy—this is the scene at the Alamo had Santa Anna called a truce before the slaughter was finished.
San Marino won, once, in a friendly match in 2004. Captain Andy Selva curled a free kick into the top corner, and Liechtenstein were undone. But theirs is generally a story of heavy, heavy defeat. Holland beat them 11-0 in 2011. Germany won 13-0 in 2006. And yet the team nicknamed La Serenissima really do remain the most serene, the most zen. They can't let a loss ruin their night. After all, they usually have work in the morning.