Mike Nichols, the Great Adapter
The late director excelled when bringing books and plays to screen with humanity and strong performances.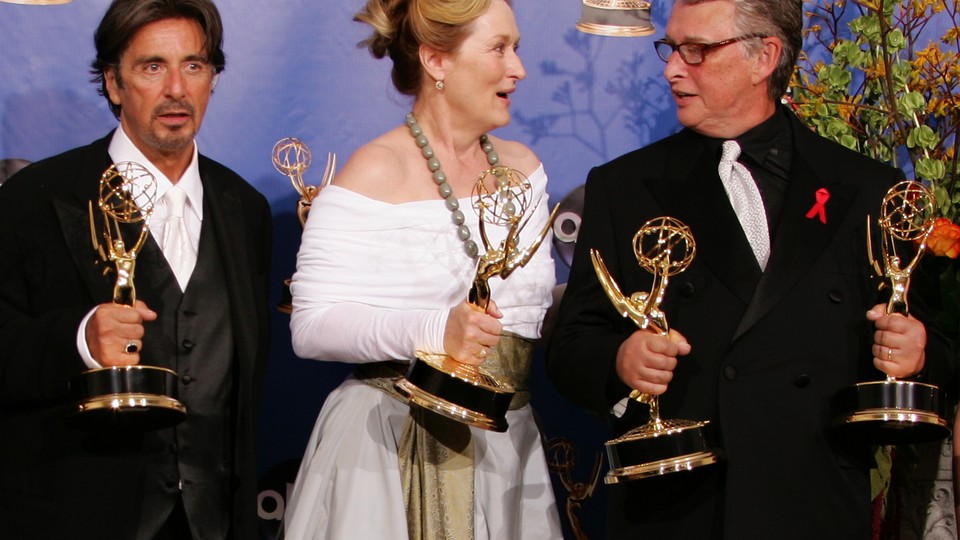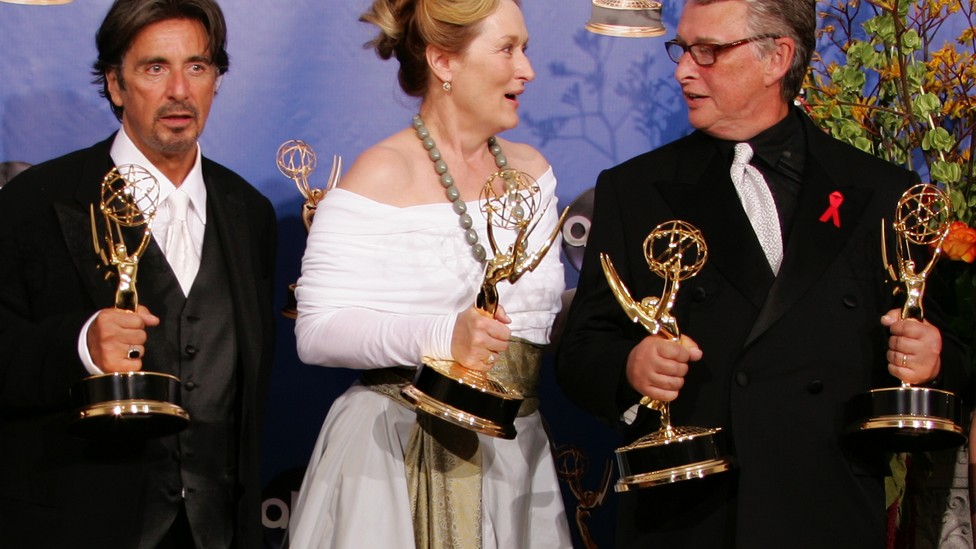 When a famous film director dies, there's something of a mad rush among well-intentioned eulogizers to sum up his or her career in a few words, pertaining to a signature style. With the death of Mike Nichols today at age 83, this becomes a tricky task. He's one of the most successful directors of the last 25 years; The Graduate was only his second film, and all that did was define an entire generation on screen. And yet his filmography is intriguingly (or maddeningly, depending on how faithful you are to auteur theory) heterogeneous.
In other words, it is tough to sum up what a Mike Nichols movie looks like. A big part of the reason for that difficulty is that Nichols made a career of adapting the great works of others. Stage plays, novels, even the odd other film have provided fodder for Nichols to craft some of the most celebrated and memorable movies of the last 40 years. The man had a gift for adaptation, and it's easy to overlook just what a gift that is until you actually sit down with the great adaptations in his filmography.
The following 10 movies represent the best of Nichols's work; the source materials for each presented their own challenges, but Nichols made each of these films undeniably his own.
Who's Afraid of Virginia Woolf? (1966)
Nichols was not quite 35 years old when he set out to adapt Who's Afraid of Virginia Woolf, a Tony-winning Edward Albee play starring the most famous movie-star couple in the whole world, Elizabeth Taylor and Richard Burton. Imagine any director today, much less a first-time director in his mid-30s, tackling an adaptation of The Coast of Utopia with Brad Pitt and Angelina Jolie and you might have some idea of the ambition here. Nichols turned in an acidic, vulgar, powerful character study that earned all four cast members Oscar nominations (and wins for Elizabeth Taylor and Sandy Dennis) and kicked off a 40-plus-year career.
The Graduate (1967)
On the heels of Virginia Woolf came another monumental challenge, turning Charles Webb's 1963 novel into the generation-defining movie of the late 1960s. Nichols's process in adapting the novel is detailed in Mark Harris's book Pictures at a Revolution, and from daring casting (Dustin Hoffman was no one's idea of the WASP every-boy) to the signature Simon and Garfunkel music, Nichols crafted one of the all-time great films.
Catch-22 (1970)
Joseph Heller's World War II satire was not considered one of Nichols's great successes, suffering as it did in comparison to other like-minded films like Dr. Strangelove and M*A*S*H. But as with any work of art as enduring as Heller's novel, or a filmmaker as enduring as Nichols for that matter, the movie has accumulated fans over the years. It certainly shows how fearless Nichols was in choosing his high-profile adaptation projects.
Heartburn (1986)
We fast-forward all the way to the mid-'80s for Nichols's next major adaptation, a re-teaming with Nora Ephron after their very successful collaboration on 1983's Silkwood. This one also starred Meryl Streep, essentially playing Ephron herself in a rendering of her autobiographical novel. Ephron and Nichols make for a fantastic team, each one in possession of a kind of muscular sentimentality. They both value the human relationships in their stories more than plot, and Heartburn is emblematic of that more than almost anything else. Everyone's neurotic in this movie; the world is full of absurdity, but it's never flighty. There's strength in the way Streep's character weathers everything from her husband's infidelity to the kind of small-scale everyday indignities that go hand-in-hand with living in a world with other people. It's Ephron's strength, and Nichols finds it time and again.
Postcards From the Edge (1990)
Another autobiographical novel, this time from Carrier Fisher, who presents a fractured mother/daughter relationship to parallel her own with Debbie Reynolds. This is the third of his four collaborations with Streep, who earned an Oscar nomination for playing Fisher's stand-in, opposite Shirley MacLaine. For all the substance abuse and familial recriminations, this is a fun movie with a lot of memorable moments, from Streep's ledge-hanging fantasy to MacLaine's spotlight-hogging piano-top rendition of Sondheim's "I'm Still Here."
The Birdcage (1996)
La Cage aux Folles began as a play in 1973, then a film in 1978, then a 1983 stage musical, then finally in the mid-'90s Nichols steps in to adapt an American version of the 1978 film, casting Robin Williams and Nathan Lane as the central pair, a gay couple at a drag club in Miami (Williams owns it, Lane headlines) who have to put on an increasingly farcical deception for the benefit of the conservative parents (Gene Hackman, Dianne Wiest) of their son's fiancée. What should stand as a retrograde nightmare of sexual politics instead really holds up, in part due to the performances but also for the balance Nichols strikes between comedy and dignity. Nichols never once surrenders the basic decency and humanity of his characters, nor does he stop letting them be screamingly funny.
Primary Colors (1998)
Adapting a roman-à-clef about a sitting president written under cover of anonymity would be a challenge for almost any director, but by 1998, Nichols was pretty much untouchable in the Hollywood firmament, so much so that Primary Colors almost comes across as safe. Which is crazy to think about when you consider John Travolta and Emma Thompson playing stand-ins for Bill and Hillary Clinton in a film that tags "Jack Stanton" for serial infidelity, including at least once with a teenager, and both with the tacit responsibility for Kathy Bates's character's suicide. In Nichols's hands, none of this seems sensational or snide, and his handle on a tone of wide-eyed wonderment at what strategic electoral politics looked like in the 1990s is absolute.
Wit (2000)
Sticking with new muse Emma Thompson, Nichols next tackled Margaret Edson's Pulitzer Prize-winning play about an English professor enduring Stage IV ovarian cancer. The HBO TV movie was a smash with critics, who hailed the pas des deux between Thompson and Nichols and further cementing Nichols as one of the all-time great directors of actresses.
Angels in America (2003)
In many ways, Angels served as a culmination of so many strands of Nichols's career, reuniting him with performers like Streep and Thompson, and putting once again an all-time great stage work in his capable hands. The authorial credit for any version of Angels in America is always going to go to Tony Kushner, and rightly so. You have nothing before you have Kushner's massive gift for vision and the poetic way he braids together massive, barely graspable concepts like politics, plague, sexuality, religion, and human progress. Nichols's talent, and why I will fiercely argue that he was the perfect man to bring Angels to the screen, is in preserving the poetry of those braided concepts while pulling them down into the bodies of flesh-and-blood actors. There are no weak spots in this cast, and all of its members, from Al Pacino to Jeffrey Wright to Mary-Louise Parker and Justin Kirk and Patrick Wilson, operate with what seems to be supreme confidence in their director.
Closer (2004)
Nichols's adaptation of Patrick Marber's acidic play about the constantly fracturing relationships of four deeply unhappy people (Julia Roberts, Clive Owen, Jude Law, and Natalie Portman) in contemporary England is one of the director's more divisive works. It won many fans upon its premiere, and nabbed first-time Oscar nominations for Portman and Owen. The presentation is stagy, though, in a way Nichols's adaptations rarely were, but once again his gift with actors could not have been more apparent. Portman and Owen give my favorite performances, but I'm always drawn to stick up for Roberts and Law, who were less heralded, perhaps partially because their characters didn't call for praise. But getting a luminous all-caps Hollywood Star like Roberts to dig into the banal ugliness of her character—who isn't evil or depraved, just maddeningly, humanly weak and fickle—isn't something that just any director would have been able to do.
That was Mike Nichols for his entire career, though. He managed to build up a web of trust that actors and actresses allowed themselves to fall back into, and it's that kind of trustworthiness that made him so great at adapting the work of others. He was no mere conduit for these works to make it onto movie screens. Every Mike Nichols movie has his stamp on it, in one way or another. But no source material ever got lost in the fog of a Nichols adaptation either. He took what was powerful about toxic relationships, or personal struggles, or coming of age, or media-driven politics, or a world constantly spinning forward, and equipped those stories with performances and structure and an overlaying humanity that ultimately unites all Nichols films. These are the films I end up watching over and over and over again. Familiar but muscular and deeply satisfying every time. He gave the mainstream a good name.