One Guidebook for the Entire World?
With growing competition from online review services, Lonely Planet and other makers of travel books are experimenting—for better and worse.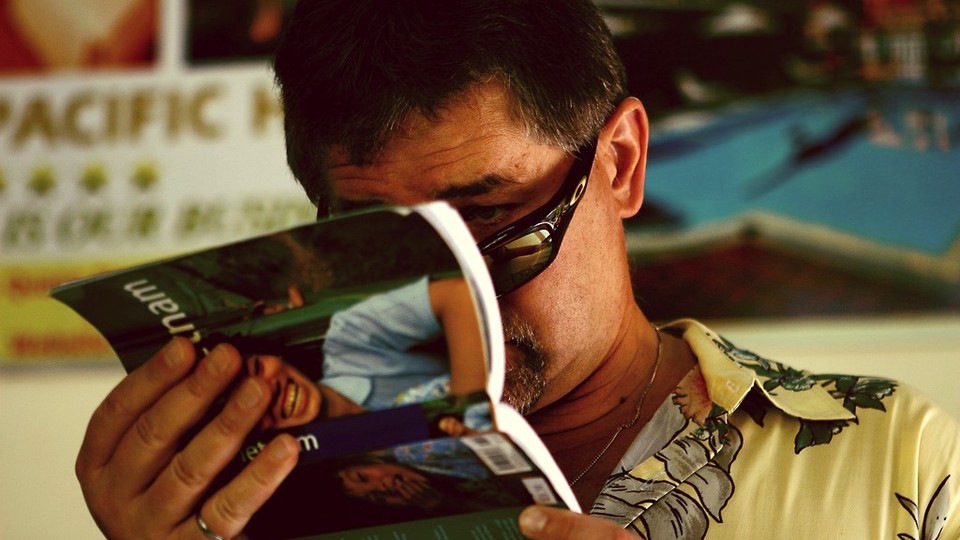 In the past 10 years I've lived in four countries and visited a dozen more, and along the way I've picked up my fair share of travel guides. In France I took my cues from Rick Steves; Lonely Planet's South America on a Shoestring helped me navigate from Argentina to Ecuador; in Kyrgyzstan I used an old Odyssey Illustrated Guide until my neighbors' young children ripped the pages out to decorate their walls. I've never set foot outside the U.S. without a trusty guidebook in hand: The regional histories are brief but intriguing, the recommendations are honest, and the detailed downtown maps have proven invaluable each time I try to get my bearings in a new city.
Lately, though, it seems like that's not enough. Guidebook makers, like every other sector of the publishing industry, have been hit hard by the proliferation of free digital alternatives—in their case by recommendation services like Yelp and Urbanspoon. Since 2007, sales for the top five travel publishers—Lonely Planet, Frommer's, Fodor's, DK and Moon—have dropped more than 40 percent.
It's easy to see why. When I moved to Mexico last year, I brought not one but three guidebooks. At first I carried them with me, just as I had as a wide-eyed undergrad in Buenos Aires, but within a few weeks those books came to rest more or less permanently on my bookcase under a growing layer of dust. In the year since my most current guide had been published, several of the restaurants it recommended had moved or closed, and one whose doors were still open offered such poor food and service that I began to question the judgment of my guidebook's author. Having grown accustomed to the hundreds of reviews and aggregate scores available for many businesses in the U.S., I found it difficult to give much weight to the opinions of one or two wandering souls who passed through town a year ago. There is, of course, a distinct pleasure in finding new venues by trial and error, but in every situation in which we might have used a guidebook, sooner or later my girlfriend and I would turn to each other and ask, "Why don't they have Yelp here?"
Unfortunately for travel publishers everywhere, Yelp heard our cries. The company launched in Mexico, its 25th international market, last March; today it operates in 29 countries, mostly in Europe. In Puebla, where I lived for most of last year, there are barely a dozen reviews for each business compared the hundreds you might find for a popular restaurant in a major U.S. city. But participation will almost certainly increase over time—especially in Mexico City and anywhere else with a steady stream of American millennial tourists accustomed to taking nothing but pictures and leaving behind nothing but long-winded opinions about the temperature of their enchiladas.
The rapid growth of Yelp and similar services is not lost on traditional travel publishers, which have tried aggressively—one might say frantically—to stem their losses. Rough Guides, for instance, spent several years pushing the guidebook's purview to its limit. Alongside familiar titles like The Rough Guide to New York City and The Rough Guide to Scandinavia, the company offered The Rough Guide to The Lord of the Rings, The Rough Guide to Windows 7, and The Rough Guide to Pregnancy and Birth (which is not an arena in which roughness is often sought). The Rough Guide brand was acquired last fall by Penguin shortly before Penguin itself merged with Random House. These larger publishers wisely pulled Rough Guides back to their exclusive focus on travel, saving the series from diluting itself into a kind of Lonely Idiot's Rough Guide for Dummies.
Lonely Planet's home page, likewise, is an eye-crossing collage of 28 diverse services, offering to help visitors find flights, rental cars, hotels, insurance, weather forecasts, tours, and "inspiration," among other things. In an interview last month, Lonely Planet CEO Daniel Houghton said that as book sales remain far below their mid-2000s peak, the company is shifting somewhat from guiding people on their travels to inspiring them to travel in the first place through videos, essays, and its books. The culmination of this effort is this year's impossibly ambitious Lonely Planet guide to The World.
At first glance, The World falls squarely within the traditional purview of travel guides. It's absurd enough, when you think about it, to try and squeeze every worthy sight in a large country like China or the United States into a single book, but we crossed that bridge long ago. Why not keep zooming out until 221 countries fit in a single tome? This is not the scale, however, on which people actually travel. Perhaps in the hands of a visiting Martian the book would serve some function, but to us native Earthlings it has no practical use on the road. The World is a coffee table book in adventurer's clothing, designed more to get the reader thinking about where she'd like to go than how she'll get there. The book's introduction supportively concedes that "where exactly you want to go and how you proceed from here is entirely up to you, but we encourage you to get out there and do it!" Thanks, book.
The World has less in common with traditional travel guides than it does with another genre entirely: the relatively new category of bucket-list books. The bucket-list genre began with the 2003 publication of Patricia Schulz's 1,000 Places to See Before You Die. Following Schulz's lead, the Quarto Group has subsequently published 30 books such as 1,001 Historic Sites You Must See Before You Die, 1,001 Cars to Dream of Driving Before You Die, and 1,001 Plants You Must Grow Before You Die. All told, Quarto has enumerated 26,026 things (and counting!) for all of us to experience, try, watch, hear, read, see, play, grow, or dream of before we die, not to mention 1,001 children's books to read before we even grow up and 3,003 battles, ideas, and inventions that changed the course of history, the way we think, and the world respectively.
The bucket list genre was not created in a vacuum, of course—Quarto's books are strongly reminiscent of Phaidon Press' massive coffee-table art surveys, starting with The Art Book in 1994. The main innovation of the modern titles is the clickbaity way in which they're presented: "1,001 [plural noun] to [verb] before you die" might just as well be the first book put out by BuzzFeed Press. The underlying product, however, is no different from the English literature anthologies I had to lug around in college. The Before You Die books and Lonely Planet's The World, as well as Rough Guides' Make the Most of Your Time on Earth: A Rough Guide to the World, are all attempts to establish a canon of places and things.
There is at least one member of the literary canon, though, who might approve of The World and its competitors. In his essay "Self-Reliance," Ralph Waldo Emerson argued that travel is a waste of time, since most things worth knowing can be gleaned from books and private reflection.
On one hand, reading The World might save a curious person the trouble of ever leaving the house. On the other, a list of the planet's wonders might only whet the reader's appetite. If The World and books like it remain popular, we may well be on our way anthologizing the 1,001 best bucket lists. If they don't catch on, however, we may soon have the chance to read a book called 1,001 Publishers to Prop Up Before They Die.