Are You Watching the Greatest Skier in History?
Americans might do well to notice Tina Maze, the Michael Jordan of an under-appreciated spectator sport.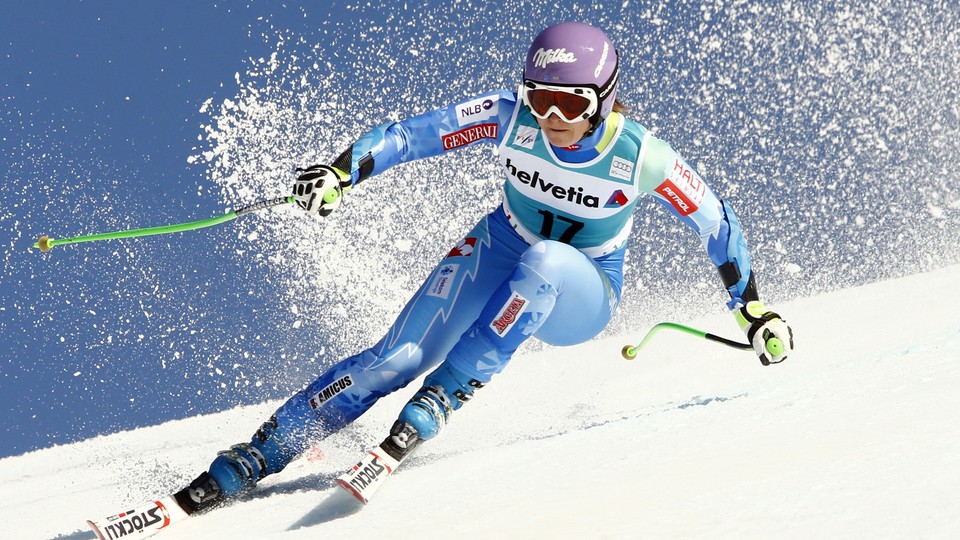 The most exciting seconds in sports could come in the last lap of a Formula One race, or as the clock spins to zero and the point guard hangs in mid-air as he tries for one last three-pointer. These are examples of high tension at the end of a long sporting event, in which the excitement inevitably crests and falls. It's not to everyone's taste to watch more than an hour of cars going around in circles, but just about anyone finds that the final lap of the race glues you to the television and forces you to your feet.
But there are some sports that embody only that final lap, the bottom of the 9th with your team a run behind and the bases loaded; the minute sprint that decides it all.
On December 8, 2013, the world's greatest skier stood at the start gate, on a mountain at Lake Louise, Canada, fighting Arctic conditions of -25 degrees Celsius. She looked even more like a superhero than usual, with her face covered in green bandages against the skin-peeling wind and cold.
The world's greatest skier, Slovenia's Tina Maze, came in a decent sixth that day, with her arch-rival, American Lindsey Vonn, settling for 11th. German veteran Maria Hoefl-Riesch came in first. The difference between Hoefl-Riesch in first and Maze in sixth was 0.51 seconds. That's hard to wrap your head around. It's less time than it takes for you to read the first word of this sentence.
But for Maze, the far-and-away winner of that year's women's alpine ski season, the best season ever for a skier, it felt like an eternity—half a second meant abject failure. At the Sochi Olympics, where Maze further solidified her world title with a pair of gold medals, the difference between her gold in the giant slalom and Austrian Anna Feininger's silver was .07 seconds. That's about a quarter of the time it takes the average person to blink.
Despite the fact that America is a nation of avid skiers, professional skiing is not a popular spectator sport here. Aside from the Winter Olympics, you'd be hard-pressed to find an American, even one with a chalet on the slopes in Vail, who follows the professional World Cup ski circuit, or who could name one professional skier beyond Vonn. Though Vonn has tremendous talent, she's a celebrity more for her tabloid attractiveness and dating of Tiger Woods than the fact that she won Olympic gold in 2010 by beating her teammate, Julia Mancuso, by 0.56 seconds in the downhill event. And since most Americans are a little fuzzy on the world of professional skiing in general, it is no surprise that few could answer the question of who is the world's best skier.
Despite Maze's triumph at Sochi and world-record season, few would recognize her as the Michael Jordan of her sport. In central Europe, however, where skiing is followed with the ravenous attention of a baseball fan in Boston, Maze (pronounced Mah-zay) is a household name. She is, quite literally, the greatest skier in the history of the sport. In 2013 she scored more points—far more points—over the course of a single professional ski season than anyone, male or female, had ever before. But because she hails from a tiny country (Slovenia, a former-Yugoslav nation of two million, tucked between Venice and Vienna), and excels in a sport with a limited viewership outside of central Europe, her incredible feat has been largely overlooked.
Maze was born in 1983, when Slovenia was a region of Yugoslavia (it won independence in 1991). She made her World Cup debut at the impossible age of 15, while the youngest skiers in the professional circuit are normally 18 years old. She leapt to dominance in 2009, with her first major victories. One of the reasons for her success is evident from watching her in post-race interviews, or even moments after she crosses the finish line. She has anything but a poker face, often near tears if she does not win. She is her own toughest critic, and seems greatly affected by atmosphere and her personal mood. Even a second-place finish can leave her bereft.
When Maze is not on the slopes, she is also making headlines: She moonlights as a model for Armani, endorses a clutch of products, and even put out a decent pop song that was viewed on YouTube 400,000 times in the first three days of its release. Her personal life, including a long-term relationship with her former trainer, Andrea Massi, has also drawn attention. But it is her efforts on the slopes that electrified her native country.
Despite its small size, Slovenia produces an astonishing number of world-class athletes, particularly in the winter disciplines. Slovenes follow Maze's every move, her every victory making front-page headlines, while her second or third place finishes feel like gross failures. The media holds autopsies of what's been going wrong, with each race studied from all angles, and Maze's mood and post-race interviews combed over by guest psychologists on morning talk shows. Slovenes can be fair-weather fans, quick to hop on a winning bandwagon, or off it just as quickly, but that year, the nation was held enraptured by their champion.
Maze is one of only six women in history to have won all five World Cup alpine ski events (Vonn is another), and one of only three who managed to win all five disciplines in one season. While Maze is an all-rounder, Vonn is all about speed: she's like a closer in baseball, striking fear in her opponents, particularly with the high, hard stuff—she's far better at the sprint events than the dexterous slaloms. But Vonn was also injured for much of the last two seasons, and she did not participate in the Winter Olympics. It was a disappointment to fans of great rivalries, for Maze vs. Vonn is like the Red Sox vs. the Yankees.
In the 2011 World Cup season, Vonn came in second overall, and Maze in third. In 2012, Vonn came in first overall with 1980 points, and Maze in second place with 1402. Then came 2013 and Maze's world record. Vonn won the downhill title, her strongest event, but Maze dominated in the rest of the disciplines: first place in super G, a speed event; first place in the more technical giant slalom; and first place in super combined, a single event made up of one downhill and two slalom runs. Maze finished with a world-record 2,414, eclipsing the former record of 2000 points, held by the Austrian skier Hermann Meier. To put her dominance in 2013 in perspective, the second-place finisher that year, Höefl-Riesch, managed only 1,101 points—less than half of Maze's total. The top male skier that season, Marcel Hirscher, won the World Cup with only 1,535 points—nearly 1,000 less than Maze.
During the 2012/2013 season, everything went right. The following season was less promising, but this was largely due to the impending Winter Olympics. Maze demonstrated that she had been saving herself, taking home a pair of gold medals at Sochi. But her arch-rival, Vonn, did not participate at all, nursing an injury and, as she recently revealed, debilitating bouts of depression.
The new women's alpine ski season is just beginning, and it will showcase the Maze-Vonn rivalry, though there are a half-dozen athletes who can match them race-for-race. There are a good dozen skiers who have a chance to come in first on any given day. Maria Hoefl-Riesch is solid and consistent; another Olympic medalist, Anna Feininger, is strong and young. Is there a rookie with the chops to challenge Maze's record? Possibly—American Mikaela Shiffrin came in 5th overall in 2013 at just 18 years of age. If she keeps up her current level and improves over the many years she has ahead of her, than she's got a shot.
Croatian skier, Ivica Kostelic, Maze's friend and the 2011 Men's World Cup winner, thinks Maze's record is there to stay, with no male or female skier looking primed to overtake it. "I don't see anyone at the moment [who could challenge it.] This record could be broken only if a skier performs well in all disciplines in a single season." Between the 2013 season and the Olympics, Maze rode lightning in a bottle. Maze started this season with a first-place finish in the slalom race at Levi, Finland. This coming weekend, she will stand atop the mountain at Lake Louise, Canada once more, with Vonn squaring up beside her. With Vonn now back in play, and the competition fierce, there is every reason to tune in this winter.
If you're a skier, or just a fan who enjoys the last lap of the race or the final seconds on the clock, then this is the season to watch skiing. The Babe Ruth of the sport will be racing this winter. Stand up in front of your TV and feel your heart shudder as Maze plunges down the slope at 95 miles per hour. It's the most exciting sport you've never watched.