Is Pixar's Run of Greatness Over?
The announcement of Toy Story 4 is the latest sign that the studio has come down with a bad case of sequel-itis.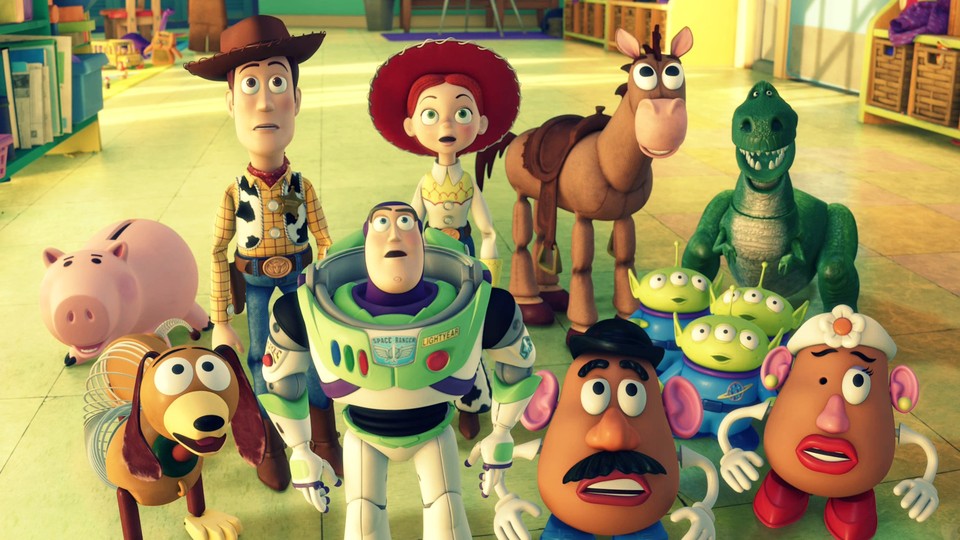 I've written before (more than once, I'm afraid) about the dispiriting decline of Pixar over the past few years. After a run of success over its first 11 films unparalleled by anything else in contemporary cinema—a run that culminated with the astonishing trifecta of WALL-E, Up, and Toy Story 3—the studio seems largely to have lost its way.
It began with 2011's Cars 2, the leading contender for the worst Pixar film to date. Things improved with Brave the following year, and then regressed again in 2013 with Monsters University. This summer proved to be the first since 2005 in which Pixar did not release a feature at all: The Good Dinosaur, which was slated for release in May—having already been relocated from a 2013 date—was pushed back yet again, until late next year. The movie has undergone a very un-Pixar level of behind the scenes drama, with the original director, Bob Peterson, being removed from the project midway through. In August, voice actor John Lithgow explained that the film was being "completely reimagined."
Which is a long way of saying that this week's announcement that Pixar will be releasing another Toy Story installment in 2017 strikes me as very bad news indeed.
To be generous, let's start with the case for the glass being half-full. First, Toy Story was the studio's first, groundbreaking feature, and its two sequels to date were both exceptional. Second, the movie will be directed by John Lasseter, Pixar's chief creative officer and presiding guru from the start, who also directed Toy Story and Toy Story 2.
The case for the glass being half-empty (three-quarters-empty? bone-dry?) consists of pretty much everything else we know. Begin with the theoretically good news that Lasseter will direct himself. It takes nothing away from his storied career to note that his last two outings as director have been the disappointing Cars in 2006 and its far more disappointing sequel in 2011. (He passed the directorial torch for Toy Story 3 to Lee Unkrich.) And I don't know whether it is a bad sign that this newest Toy Story sequel is being written by Rashida Jones and her screenwriting partner Will McCormack, but given their slender resume (they wrote the 2012 rom-com Celeste & Jesse Forever) it hardly seems grounds for optimism.
More to the point, the announcement of Toy Story 4 is yet another example of Pixar's disturbing descent into sequel-itis. For the studio's first 15 years, it declined to make sequels for any of its films except Toy Story. Since then, it's hardly seemed capable of making anything else. Apart from Brave, we've had Cars 2 and Monsters University. The Good Dinosaur, as noted, hasn't been able to make it to theaters at all, and who knows when or if it will.
The future slate looks still grimmer in this regard. Again, first the good news: Next year we should see Pete Docter's Inside Out, which sounds like the best bet for classic Pixar magic in half a decade. (Docter directed arguably the studios most underrated feature, Monsters Inc., and arguably its best, Up.) And Toy Story 3's Unkrich is working on a movie based on the Dia de los Muertos that does not yet have a release date.
… And the bad news: Every other upcoming Pixar feature that's been announced is a sequel. Finding Dory in 2016, Toy Story 4 in 2017, and (as yet unscheduled) The Incredibles 2 and (brief shudder) Cars 3. For those keeping track at home, that's a total of four announced sequels and two announced non-sequels. It's tough to think of a more conspicuous advertisement that the creative wells at Pixar are running dry.
Alas, the reasons for this shift seem clear enough. Lasseter oversees not only Pixar, but also its fellow Disney properties Walt Disney Animation Studios and DisneyToon Studios (which produced the lamer-than-Cars spinoffs Planes and Planes: Fire and Rescue). If the Pixar oeuvre has suffered from his being stretched thin, at least Disney's offerings (notably Frozen) may have benefited. Nor is he the only member of the original quartet (Lasseter, Docter, Andrew Stanton, and Brad Bird) who directed Pixar's first 10 movies to have developed side interests: Stanton has dabbled in live action (John Carter), and Bird may have moved there full-time (Mission: Impossible—Ghost Protocol, the upcoming Tomorrowland).
And let's face it, Disney is Disney, with all that comes with that: the theme parks, the merchandise, the shorts and direct-to-video features, the ice shows, the cruise-ship rock musicals, and on and on. It's no particular knock on the corporation to note that the tug of its many overlapping financial interests will be insistent and unending. These include, principally, keeping its signature "brands," of which Toy Story is one, in the public eye as much as possible. Memories fade, after all, and with them, economic opportunities.
I think it's safe to say that most viewers—myself emphatically included—felt that Toy Story 3 offered Woody, Buzz, et al. the most sublime sendoff they could ever have hoped for, with owner Andy passing them on to another child when he set off for college and adulthood. But since the movie was released, Pixar and Disney have already been nibbling away at that closure with shorts (Hawaiian Vacation, Small Fry, Partysaurus Rex) and a TV special (Toy Story of Terror!).
Viewed in this light, another Toy Story feature was perhaps as inevitable as a reboot of Spider-Man or Star Wars. For a decade and a half, Pixar seemed to float above such "franchise" concerns, a lucky collective of independent yet overlapping talents (albeit one that happened to make a tremendous amount of money). But economic gravity is strong, and all indications are that it has finally pulled Pixar back down to Earth.