How the Internet (and Volkswagen) Made a Dead Folksinger Into a Star
Nick Drake, who died 40 years ago, was too ethereal to compete with 1970s showmen like David Bowie and Elton John. But he was the perfect musician for the digital era.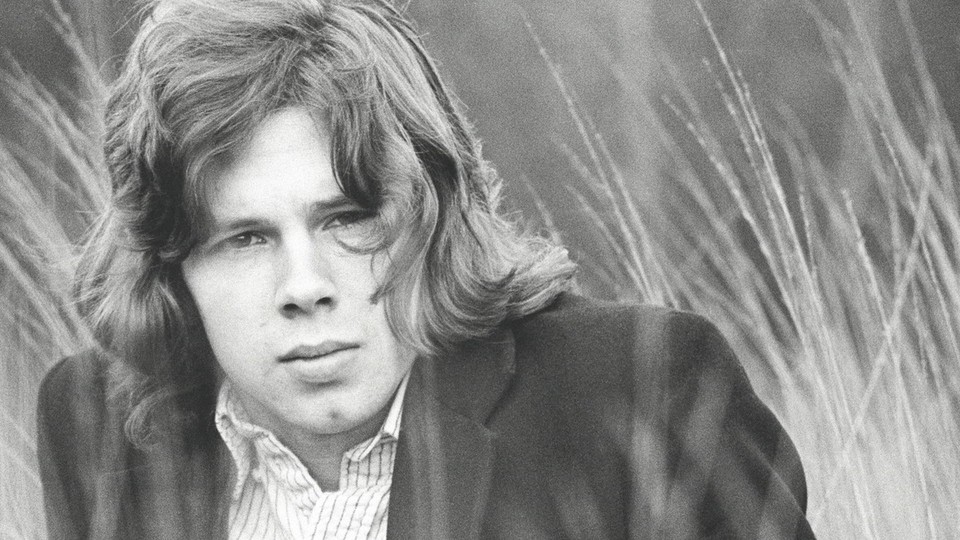 In the summer of 1970, a young American musician named Brian Cullman was invited to play at Les Cousins, a legendary folk club in London's Soho district. His own performance was forgettable, he later admitted. But he never forgot the strange set Nick Drake played just after him:
His shyness and awkwardness were almost transcendent. A tall man, his clothes—black corduroy jacket and pants, frayed white shirt—hung around him like bedclothes after a particularly bad night's sleep. He sat on a small stool, hunched tight over a tiny Guild guitar, beginning songs and, halfway through, forgetting where he was and stumbling back to the start of that song, or beginning an entirely different song which he would then abandon mid-way through if he remembered the remainder of the first. He sang away from the microphone, mumbled and whispered, all with a sense of precariousness and doom. It was like being at the bedside of a dying man who wants to tell you a secret, but who keeps changing his mind at the last minute.
It's been 40 years since Drake died on November 25, 1974, after overdosing on antidepressants in his childhood bedroom. He was 26 years old and he'd already stopped playing live shows. Cullman's account hints at why: Drake was a brilliant musician, but he never had enough confidence or charisma to hold an audience's attention.
Even the people who knew him the best haven't been able to offer much insight into who he really was. When Live Aid producer Trevor Dunn set out to write the biography Darker Than the Deepest Sea: The Search for Nick Drake, he interviewed just about everyone who had any meaningful relationship with the singer. Drake's childhood friends remembered him as a well-behaved boy from a good family. His Cambridge advisor described him as an underachiever who smoked too much weed. He never had a real girlfriend (or a boyfriend, for that matter), and the friends who spent a year living with him in France looked back on him as a fairly unremarkable guy. They liked hearing him play guitar at night, but it never occurred to them that he might be a star someday.
Once Drake started making albums, reviewers weren't sure what to say about them. He had talent, but his songs were hard to pin down, too jazzy to be folk and too folky to be jazz. Some were so loaded down with horns and strings that they sounded like lounge music. Others—especially on his final album, Pink Moon—could have been recorded in his bedroom, with nothing more than his shy voice and acoustic guitar.
His lyrics were dark and portentous, about black-eyed dogs and things behind the sun and loved ones buried under the sand. "The more you listen to Drake," wrote Mark Plummer in a May 1972 issue of Melody Maker, "the more compelling his music becomes—but all the time it hides from you … It could be that Nick Drake does not exist at all."
How did such an elusive character become famous, decades after his death? During the 1970s and 1980s, he had a small following, mostly in England. (The Cure is said to have taken its name from a Nick Drake line about "a troubled cure for a troubled mind.") Then, in 1999, the title track from Pink Moon found its way into a Volkswagen Cabriolet commercial. It was the first VW ad to ever appear on the Internet (this was several years before YouTube), and online viewers were given the option to download the music. For the first time ever, a Nick Drake song made it onto the Billboard Hot 100.
Because this was the Napster era, a new generation of Nick Drake fans soon began swapping his songs on a massive scale—the three official albums and a number of unreleased tracks, including an intimate monologue he recorded while watching the sun come up. The chronic shyness and mental illness that made it hard for Drake to compete with 1970s showmen like Elton John and David Bowie didn't matter when his songs were being pulled one by one out of the ether and played late at night in a dorm room.
During the early 2000s, Drake's songs started showing up on the soundtracks of quirky, youthful films like The Royal Tenenbaums, Serendipity, and Garden State. Grammy winner Norah Jones covered "Day Is Done." Island Records released Made to Love Magic, an album of outtakes and remixes that sold far better than any of Drake's records ever did during his lifetime.
By that time, it was easy to forget that Nick Drake had ever been an actual person. It didn't make a difference that he'd been an utter failure onstage, that he'd never had his Lizard King moment or played "The Star Spangled Banner" at Woodstock. Nobody minded that he'd never been on television and let out a final, unforgettable howl. The stories that turn dead musicians into legends can also keep them just out of reach, like exhibits in a glass case.
There's no glass case around Drake. It's easy to listen to a song like "Know" and imagine that he's singing directly from the grave: "Know that I love you / Know I don't care / Know that I see you / Know I'm not there." As far as today's fans are concerned, Nick Drake was never really there. That's why he is everywhere.