FIFA's Corruption Report Gets a Red Card
Soccer's governing body clears Russia and Qatar of any wrongdoing in their World Cup hosting bids, but the ethics committee member who actually ran the investigation disagrees.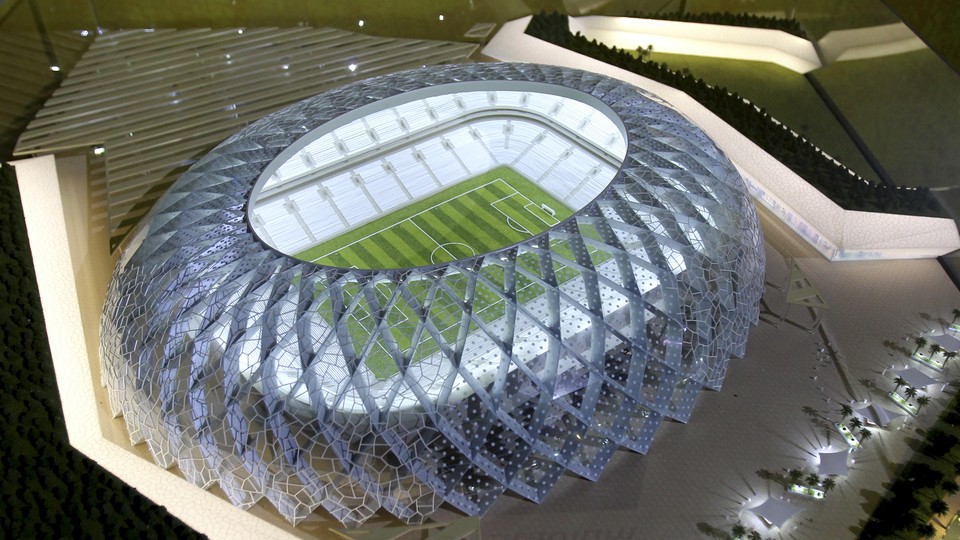 The next two World Cup tournaments are being hosted by two authoritarian governments with shaky human rights records (and in questionable environments for soccer matches). Political problems, weather, and rampant claims of corruption have led to calls for the 2018 and 2022 games to be moved from Russia and Qatar, but the results of a new investigative report into their hosting bids has led FIFA to conclude that nothing is amiss.
There's just one problem: The person who actually wrote the report claims the report doesn't say what FIFA says it does.
On Thursday, the chair of the adjudicatory chamber of the FIFA ethics committee, Hans-Joachim Eckert, released an executive summary of a longer report filed by Michael Garcia, the chair of the investigatory chamber of the same ethics committee. Eckert's conclusion of Garcia's two-year inquiry is that despite some irregularities, none of the issues with the Russia or Qatar bids are serious enough to pull the games from their country. In short, the ethics committee considers the matter closed.
Garcia, on the other hand, was not amused. Within hours of Eckert's pronouncement, the lawyer issued a statement slamming the committee's ruling.
Today's decision by the Chairman of the Adjudicatory Chamber contains numerous incomplete and erroneous representations of the facts and conclusions detailed in [my] report. I intend to appeal this decision to the FIFA Appeal Committee.
So just to recap: FIFA's lead corruption investigator is appealing the conclusions of a report that he wrote himself, because the ethics committee cannot give an honest assessment of corruption within FIFA.
According to Sports Illustrated's Grant Wahl, there are several elements of Garcia's report that are apparently missing from Eckert's waterdown version; among them are pointed criticism of FIFA President Sepp Blatter and other members of the executive committee who took part in the 2010 votes to award the Cup to Russia and Qatar.
Even more hilariously, Eckert's version leveled harsh criticism at the United States and England, who both bid for the Cup, but did not win. Meanwhile, Russia avoided a yellow card despite destroying computers and documents that Garcia had requested for his investigation.
Given FIFA's history overlooking claims of bias and bribery, it's highly unlikely that Garcia's appeal will do much good or that either country will lose their bid, but it's another black eye for the people tasked with running the world's most popular sporting event.