Arsène Wenger: A Victim of His Own Success
The Arsenal coach's brand of soccer brings plenty of joy, but not always victory.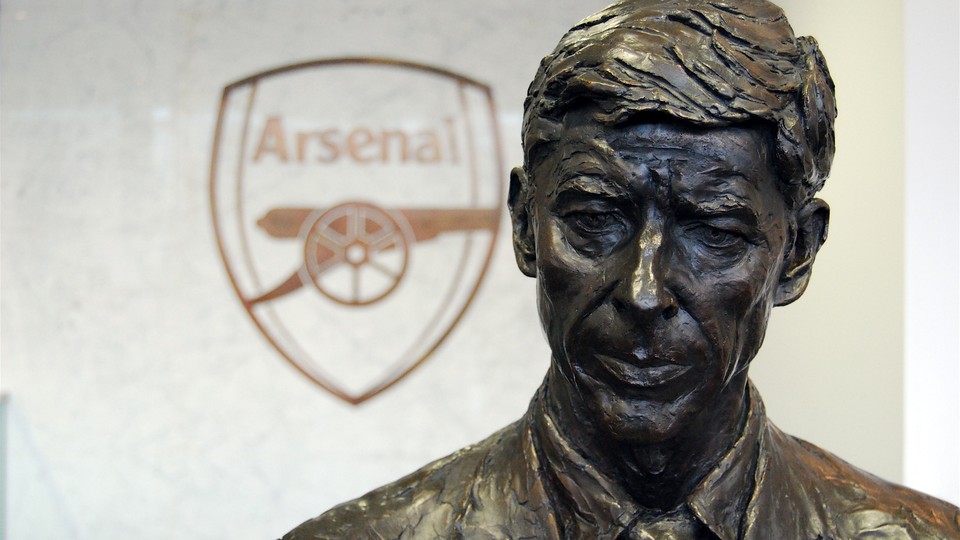 Eighteen years ago, the French soccer coach Arsène Wenger came to England and started a revolution. Piles of pasta instead of pints of beer. New training methods, focused on short passing and ball retention. A scouting network with a continental scope.
The Arsenal coach has never lost faith in his playbook: Squeeze as many dainty attacking midfielders as you can onto the pitch, and have them try to walk the ball into the net (see this delightful goal from Jack Wilshere). Bonus points for names with accents graves. Give Wenger a lock to pick, and he'll use a procession of ever-smaller paperclips while the hammer rusts in the corner. This style has led to lots of beautiful performances and rather fewer championships. But Wenger's influence is everywhere, and his favorite type of player—the foreign playmaker—is now ubiquitous. This week muscular Stoke City trotted out the cherubic ex-Barcelona prancer Bojan Krkic to play between the lines. Even the West Ham manager "Big Sam" Allardyce—the last, truest practitioner of the English ethos, of hoofing it to the big lad up front—turned to the mercurial Mauro Zarate to support his wingers.
English soccer, quite simply, has changed.
This week it seemed England had rubbed off on Wenger too: His starting lineup for Saturday's 2-1 defeat at home to Manchester United featured six Brits, including Danny Welbeck, a big, athletic English center-forward. And his best player was the $58 million man Alexis Sanchez. Frugal by nature, the Frenchman has had to get the wallet out and try to keep up with the Joneses, the Pochettinos, and the Mourinhos.
But so much else about this defeat felt like classic Wenger. The Gunners dominated possession and created the better chances, but they didn't get the goal they needed until it was too late. The great weakness of United's back three is the space it leaves down the wings; the home side's midfield schemers didn't exploit it. And after Kieran Gibbs's own goal put Arsenal behind, they pushed too many men forward, leaving them open to a counter attack from which Wayne Rooney predictably profited. The Premier League's longest-serving manager was left lamenting his team's "naïve" defending.
It's hard to think of another manager in football who so divides public opinion. Is he the man who led Arsenal's "Invincibles" of 2003-04 to an undefeated season, who kept the club afloat and in Europe through a difficult stadium-building process? Or the man who recently presided over an eight-year stretch without a trophy—the stubborn ideologue reciting party doctrine while the palace crumbles around him? His status really depends which Wenger burns brighter in the memory. Right now, all that's certain is that this is Arsenal's worst-ever start to a Premier League season.
The big subplot here concerned two strikers who have swapped clubs in recent years. Robin van Persie threatened little before his substitution. His counterpart Danny Welbeck had a point to prove to the team that sold him, but he offered a reminder instead—that he's a quick, hardworking, talented forward who simply doesn't score enough goals.
But this Saturday's match wasn't all about gloom. Olivier Giroud scored a stunning half-volley to mark his return from injury, and even if the result was depressingly familiar, Arsenal can take some positives from the way they dominated proceedings. This season is young yet.
For United, there were signs that this expensive, disjointed team is coming together. Fresh off a strong week for the England side, Wayne Rooney was back to his bruising best, and Angel Di Maria offered some of those brilliant roadrunner moments as he wove through defenders while his skinny head bobbed. David de Gea was imperious in goal, and the young defensive group settled in nicely after a rough opening half hour. United are back in the top four—coach Louis Van Gaal will want them to get used to it.
The international breaks in a Premier League season are like the MC's bits at a comedy show: There's some polite clapping and some valuable information imparted, but really everyone's just waiting for the show to start. The show, ladies and gentlemen, is back. Mr. Wenger will hope it won't be his last.