The Suspension of Adrian Peterson
The star running back resolved his child abuse case with the courts, but now faces punishment from the NFL.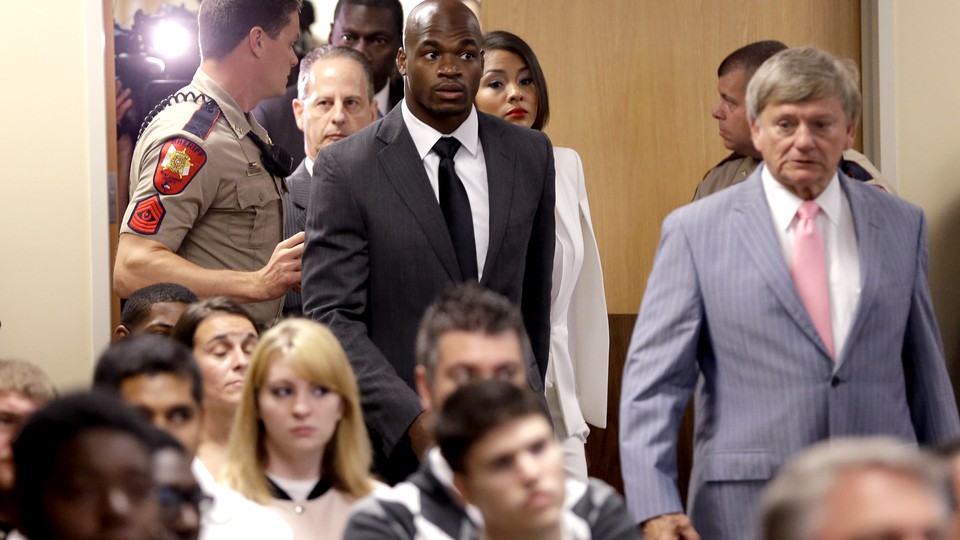 Adrian Peterson will not play any more games for the Minnesota Vikings this season. According to ESPN's Adam Schefter and others, the NFL has informed the former MVP that he is suspended without pay for at least the rest of the 2014 season and will not be considered for reinstatement until April 15, 2015 at the earliest. Peterson plans to appeal the suspension immediately.
Peterson was indicted on September 12 on child abuse charges stemming from an incident in May in which the 6-foot, 1-inch, 215-pound running back repeatedly struck his four-year-old son with a wooden switch. The boy suffered cuts, bruises, and marks across his lower body. Peterson said that he never intended to injure his son but expressed little remorse over the incident, claiming that his behavior was consistent with punishment he received as a child.
Shortly after the indictment, Peterson agreed to be placed on the NFL's exempt list until his legal case was resolved. That designation prevented him from participating in any team activities, but he continued to be paid. He missed nine of the Vikings first 10 games.
Earlier this month, Peterson reached a plea agreement with prosecutors that allowed him to avoid jail time, raising hopes that he would soon suit up for the Vikings. Barring a successful appeal to Tuesday's suspension, Peterson will instead wait until next year.
The NFL has dealt with numerous high-profile domestic violence incidents in 2014. In August, the league passed a new policy that suspends first-time violators six games and second-time offenders for life. The Vikings have six games remaining in 2014 and are unlikely to make the playoffs.
Tuesday's statement included a letter written to Peterson by NFL Commissioner Roger Goodell. In addition to criticizing the Vikings star for the severity of his abuse, Goodell also doubted whether Peterson had learned his lesson.
You have shown no meaningful remorse for your conduct. When indicted, you acknowledged what you did but said that you would not "eliminate whooping my kids" and defended your conduct in numerous published text messages to the child's mother. You also said that you felt "very confident with my actions because I know my intent." These comments raise the serious concern that you do not fully appreciate the seriousness of your conduct, or even worse, that you may feel free to engage in similar conduct in the future.
Goodell's letter also suggests that if Peterson were to run afoul of the league's Personal Conduct Policy again, he could be permanently banished from the NFL.
The NFL Players Association was critical of today's decision, saying it "is another example of the credibility gap that exists between the agreements they [the NFL] make and the actions they take." Their statement added that "the discipline imposed is inconsistent and an NFL executive told Adrian that his time on the Commissioner's list would be considered as time served."